Titan Sand Wraiths
I don't want to start a fight and I'm not mad at anyone but Does anyone think that a titan sand wraith is a little... Creepy looking? I've been looking into titan sand wraiths because I wanted to grow RiverRider into a titan... But they are so angry looking and RiverRider is more of a momma's boy/Cuddle bug and I want him to have that cute adorible look like he has now. All I'm asking as a bit less of an "angry" look
Sat, 09/16/2017 - 20:08
#1
Eh...some dragons look super
Eh...some dragons look super ferocious, others are big cuddle bugs. I think the titan sand wraith looks fiercer because it has a flatter head, thus making it squintier. But honestly, titans are the kings of their class, they should look like they wouldn't be afraid to put up a fight. I know once I get a chance I'll probably titan my sand wraith as she's my best racer and battles well, and she's my first, so she's kinda my all-around go to dragon.
As far as I know titans don't fly faster, but stay happy longer. If you don't really want to titan your dragon, use those gems for something else, or titan another dragon.
Sun, 09/17/2017 - 09:38
#2
It's the correct expression
But that's supposed to be the expression of the true Sand Wraiths.
This is what an actual Sand Wraith looks like: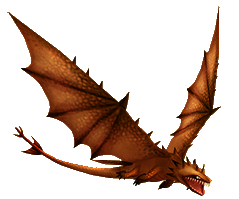 You can see the expression and flatter head matches that of SoD's Titan Sand Wraith. It' always had a really cool "sinister" expression that set it apart from the Night Fury.
The reason the SoD Sand Wraith looks so incorrect as to be "cute" is because SoD went a lazy route in designing it...either because of lack of time or lack of people or lack of money, I'm not sure, but it resulted in a lazy model. All they did was take a Night Fury model, strip it of the numbs and spines, and then put Sand Wraith spikes and patterning on top of it. They didn't both to remodel anything to make it accurate. Even the spikes on the head, which should all be evenly-sized, are sized more like Night Fury plates instead.
Here's a picture I drew that outlines the differences. I didn't include the wings, but there is a circle where the wing joint should attach and a line where the wing goes down. (Warning: my art skills aren't the best):
So basically, when SoD made their so-called Sand Wraith, they didn't actually give us a Sand Wraith; they gave us a spiky Night Fury.
So I think the reason we have the Titan Wing Sand Wraith that we have is because School of Dragons heard the folks saying their Sand Wraith is inaccurate, and when they tried to give us a bigger and spikier one, they also tried to make some of it a little more accurate.
So that's why the Titan Sand Wraith has the expression it has; SoD was trying to correct their mistake.