Titan... But Not Titan... Or is it?
I sure have Titaned my Dramillion, because my goal is to have all Titans and dragons, so yeah... I saw Fluffy's post about the Titan Dramillion, and I was completely agree with that. This Titan is kinda lazy maked and has gotten less votes than the Scauldron, and it STILL gets first? I sure like the Dramillion, but I think Scauldron should get more attention since it's one of the oldest dragon in-game. I love SeaWave and I really want her Titan! Looks like I'm gonna need to wait till January before seing the next Titan :T
Anyway, back to the Titan Dramillion!
I actually knew a new Titan was coming today, but I didn't expected it to be the Dramillion, and I'm quite disappointed...
- No changes
- Bigger size
- Fire change
- More firepower
- Different colors options
- Really lazy and disappointing design...
- Unable to change underbelly and horns colors...
These are the only things about this Titan I have to say... and I spended 500 gems for it while I could have used my Runes, but I keep them for my Favorite Dragons.
Not Titan
Titan
The blue color of Doom seems to have disppeared of his wings... and he is now of a extremely dark brown color when he is supposed to be black... the beggining of the tail also seem to not have been fixed.. it still black even though its supposed to be colored as the white underbelly. The horns also seem to have gotten a darker shade of gray...
The fire is the only thing I like of this Titan. It looks like the Titan Sentinel fire fusionned with the Titan Speed Stinger fire on the impact. It does 19 damages, so two more damages than the regular Dramillion. The fire icon also changed to blue.
Here are two other Titan Dramillions I came accross earlier, I thought both were regular until I saw the fire. It is really confusing to know if it's Titan or not...
Here is another picture of the size comparaison of the Dramillion and Titan Dramillion.
My opinion?
Laziest Titan ever... (sorry Dramillions Lovers)
Tue, 12/18/2018 - 06:57
#1
Swoopin' In!
I knew SoD has been slacking off with their Titans lately (mainly with what you can color) but passing THIS off as a Titan is probably their worst offense. Do they really expect us to waste 500 gems/50 Titan Runes on a Titan whose PATTERNS don't even change? When they actually DO change? It seems like the only real effort they're putting into these Titans are going into the fire animation; I love it too much for this guy. . .
Now, some may argue that Titans really are just bigger versions of normal dragons; the Hideous Zippleback is an excellent example of this. And yet, the Hideous Zippleback is not just a bigger version of itself here; in other words, it's WORTH 500 gems. The Monstrous Nightmare is bigger and it gets a pattern change but we see it get more than that; another Titan that I don't mind spending 500 gems to get. But we've seen the Titan Wing Dramillion in the show and it stands out far more from regular Dramillions than the Titan Dramillion we got here.
Titan Dramillion from Race to the Edge: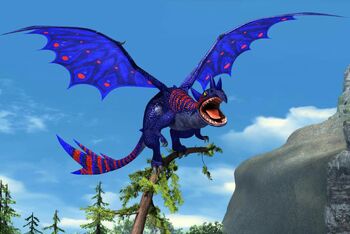 Regular Dramillion from Race to the Edge:
I wouldn't be too-too upset if they AT LEAST let us change the color of the horns (they do change color for the Titan). But. . .nope. We got a Titan that changes so little, it might as well not be a Titan! Not even the size change helps because I remember earlier I came across a Titan Dramillion and it was pretty much the same size as my standard one (though I was on mobile). Overall, incredibly disappointed with this Titan. It's not even worth half the price of a Titan dragon. I know I shouldn't be expecting any changes, considering SoD didn't listen to any of the concerns we've had regarding the previous Titans, but the hopeful side of me hopes that they actually fix this. It's very disappointing the direction Titans have been taking lately. . .how did we go from Titans as great as the Woolly Howl, Stormcutter, and Buffalord to Titans as bad as this.
That all being said, I'm a bit happy the Titan Scauldron hasn't been released yet. It's not that I'm against the idea but this is one of the oldest dragons we're talking about. It needs the best Titan treatment and SoD has NOT been giving the Titans the best treatment lately. I would hate to see a dragon that looks as good as does now have a bad Titan form; it already happened to the poor Triple Stryke and the Death Song!
Edit: I thought the wing patterns were present on both sides of the wings but they aren't and the SoD Titan does have them. . .doesn't make me any less disappointed and I found yet another difference they could've implemented for the Titan.