Tired Of Glitched Battle Chests?
So, you do the battles every two hours. You do well, and get gold or silver chests. You know to wait and open them from your backpack because that reduces your chances of it glitching.
Yet the chest still glitches every now and then, and you don't get your prize.
I think I figured out why.
Before you battle, check your UDT score. Remember it. When that battle is over, check it again. If the points from the battle have not been added, DO NOT open the chest. Fly around the Training Grounds for a minute, or try switching dragons. When the battle points have been added to the score, then open your prize chest. This hasn't failed me yet, and I hope it works for everyone else. :)
__________________
Hello! I'm Brynne.
This gorgeous lil' gem of a picture drawn by TosiLohi. :)
By the wonderful Katarile!
Made for me by the lovely Georginia47
so cute XD
by me
Pudding Cup by ShiroKageFox. TYSM! :D
~The Amazing Pudding Cup~ by the talented KittyLlama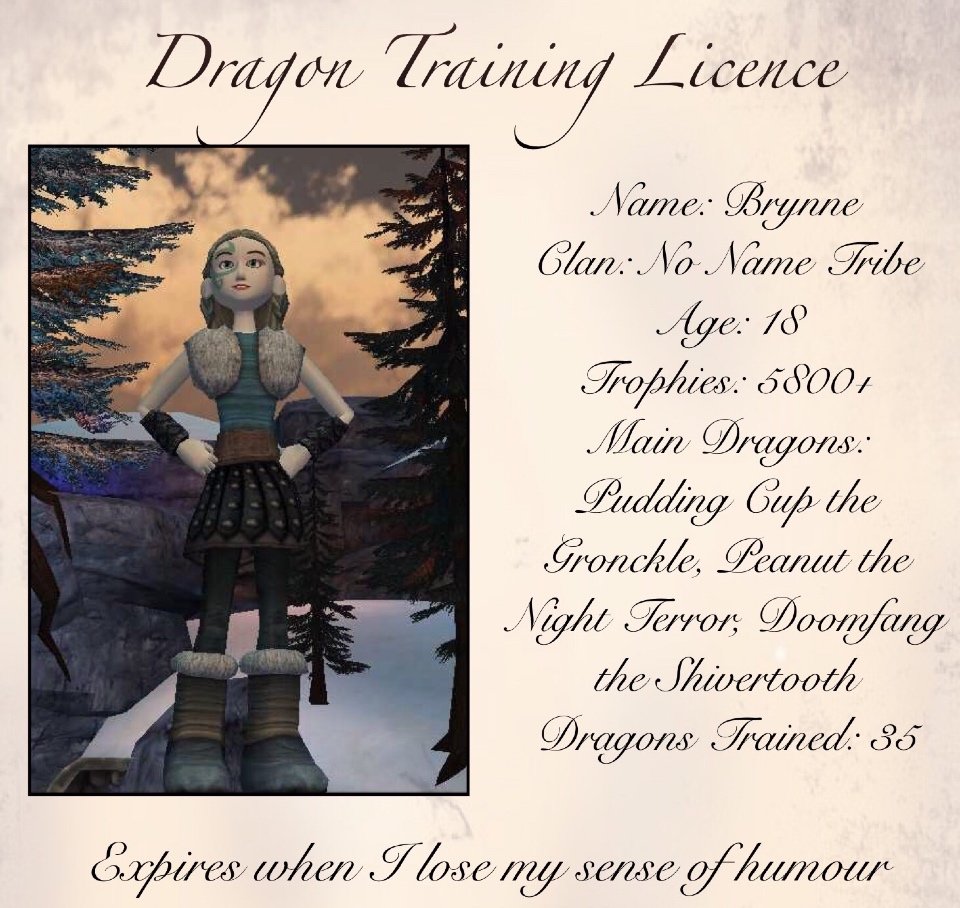 license by the sweet Hestia82 :)
UDT:
400,000 points. >:D
Friend Code:
ENJIYH
Dragons:
Pudding Cup, Female Gronckle- Sweet and always dependable. She sleeps cross-eyed.

Violet, Female Changewing- Named after Violet from The Incredibles. Fond of swimming, and up for any adventure.

Norbert, Male Death Song- Really likes firing at other players. He's... not quite right in the head, and may retain some cannibalistic instincts. Not afraid of the disgusting smell of the Dragon Bloom.

Zappy, Male Shockjaw- Fast. Really fast. We do a lot of racing together, and he doesn't put up with nonsense.

Oddmund and Dinkly, Male Zippleback- When I first

hatched

these guys (this guy? who can tell), I took them to practice their fire skills at a fire pit. They lit it successfully, then promptly laid their heads in the flames and went to sleep. True story.

Lucius, Male Groncicle- Named after Frozone from The Incredibles.

Adelaide, Female Raincutter- Named after Snotlout's little sister from the HTTYD books. Likes battling Berserkers.

The Hulk, Male Rumblehorn- Likes going on stable quests, doesn't really like to be ridden.

Dash, Male Speed Stinger- Again, named after Dash from The Incredibles.

Puddles, Female Mudraker- She's pink, and lives up to her color.

The Whisperer, Male Whispering Death- Cranky, stubborn, tries to eat me occasionally. His name sounds uncreative, but I love the Mysterious Benedict Society. :P

Horrorcow, Female Razorwhip

Eggingarde, Female Flame Whipper- Helpful and good at racing.

Tony

Stank

, Male Armorwing- Iron Dragon? No?

Dr. McCoy, Male Boneknapper-

hurhurhur

i'm

so punny

Doomfang, Male Shivertooth- Named after the Doomfang from the books. Affectionately nicknamed Dinosaur.

Old Wrinkly, Male Smokebreath

Susan Storm, Female Typhoomerang- Because she looks like Torch's sister.

Cinnamon, Female Monstrous Nightmare

Emergency, Male Singetail

James, Male Eruptodon

Florence, Female Hobblegrunt

Squirrel, Female Moldruffle

Dottie, Female Sweet Death

Furious, Male Terrible Terror- Even Furious was a baby once. Hard to imagine, isn't it?

Max, Male Skrill

Madgesty, Female Stormcutter

Thunda

From Down Unda, Male Thunderdrum

Lloyd, Female Thunderdrum

Tricycle, Female Triple Stryke

Peanut, Female Night Terror

Innocence, Arrogance, Patience, and Huh?, Male Snaptrapper

Tater Tot, Female Hotburple

Hairy Scary Librarian, Male Wooly Howl

Fulgurite, Male Ruby Wraith

Beatrice, Female Fireworm Queen

Hokey Pokey, Male Thunderpede

Luna, Female Silver Phantom

Twigs, Male Timberjack

Kateena, Female Sentinel
Second Viking:
CrystalSnowdrop
Clan:
Isle Of Gazoo
Main Dragon:
Icy Boi, Male Groncicle
You can PM me for art requests if you like. :)
Mon, 05/01/2017 - 22:55
#1
Thank you so much :3
Thank you so much, this glitch was really annoying thanks for letting me know how to fix it. :3
__________________
Hey! I'm InfinityGalaxyy,
But you can call me Infinity :D
Anyho, welcome to my siggy!
(I'll warn you now, it's sorta long..)
Signature banner made by the amazing LuLu6161!
Contents:
1. My viking
2. My Dragons
3. My backstory
4. Art Section!
5. Art made for meh
6. Topaz (My Night Fury OC)
7. Expansions
----------------------------------------
~ A Chief Protects His Own,
The Alpha Protects Them All.. ~
My Viking:
Name: Infinity
Age: 19
Status: Multi-Dragon Trainer
Main Dragon: Giozzalth
(Silver Phantom)
Clan: Wulf Pack
AmAzInG art by ScarfyWings! (My Viking, Infinity)
----------------------------------------
My Dragons
CrimsonWing-Female Flightmare (Lvl 13)
LightningNettle-Female Deadly Nadder (Lvl 11)
DiamondScale-Female Razorwhip (Lvl 28)
GalaxyTooth-Male Thunderdrum (Lvl 13)
NeonSpine-Male Eruptodon (Lvl 13)
CloudJumper-Male TITAN Stormcutter (Lvl 22)
SpiritClaw-Male Armorwing (Lvl 6)
AmberJaw-Male Deathsong (Lvl 13)
IcyWing-Male Groncicle (Lvl 11)
WildTail-Male Singetail (Lvl 12)
Essar-Male Sand Wraith (Lvl 14)
Toothless-Male Night Fury (Lvl 19)
CenninWing-Male Scuttleclaw (Lvl 10)
ChiorrithTalon-Male Smothering Smokebreath (Lvl 10)
EvylthFlare-Female Flamewhipper (Lvl 25)
Giozzalth-Male Silver Phantom (Lvl 22)
Tremere-Male Shivertooth (Lvl 10)
Neptune-Female Scauldron (Lvl 30)
Chardas- Male Hobblegrunt (Lvl 11)
Glacier- Female TITAN Snow Wraith (Lvl 21)
Saphira- Female Raincutter (Lvl 10)
Driller- Male Whispering Death (Lvl 10)
Maui- Male Triple Stryke (Lvl 2-ADULT)
Nala- Female Prickleboggle (Lvl 10)
Shadow- Male Boneknapper (Lvl 10)
----------------------------------------
My Backstory:
(IN PROGRESS)
Many of my friends have really interesting backstories, whereas I was born on Berk. I always looked upto the professional dragon riders and dreamt about having my own dragons!
At the age of 6, I was given a flightmare egg for my birthday, and learnt to raise and ride her (I named her CrimsonWing). Although flightmares are supposed to be one of the most dangerous dragon species in the archipelago, I learnt to tame her and gain her trust. As long as I feed her and take her racing often, she protects me when I need it. Although, as I grew older, I realised that Crimson wasn't the fastest dragon ever.
One day, Crimson and I were flying over one of our favourite spots; Glacier
Island when suddenly CrimsonWing heard a distant wailing noise. It didn't take long until I could hear it. She soared towards the imperfect melody and the sound grew louder. Crimson slowly descended and I dismounted her.
Cautiously, I shuffled towards the noise, and I dropped to the ground and
peered over a snow-covered rock. The sight which I saw was unexplainable.
In plain-sight, laid a wounded, yet powerful-looking Silver Phantom. They
were and still are known to be one of the biggest, rarest, if not critically
endangered. Plus, no one on Berk had ever trained one. What should I do,
help it and ride it home, or run home for help? You know me, I tried to help
him and approched him. He was amazing, with his ocean-blue, silver and
moonlit purple colossal wings outstretched and his two ivory horns at the
apex of his head. Even looking at him, he looked like a zenith dragon. I told
him that everything was going to be okay (not like he could listen) and
tossed him a salmon from out of my backpack. I stretched my hand out,
closed my eyes and hoped he would trust me. I felt his smooth head against
my hand and I turned around. I exhaled in relief.
His beautiful, golden, amber eyes slowly blinked. Luckily, Gobber and I had
made a saddle in-case-of-emergency that fit all dragons. I slowly walked to
his back, applied the saddle and scratched his chin, reassuring him. That
night, I rode him home, with Crimson following. From that day onwards, he has been my best companion :)
----------------------------------------
ART SECTION! <3
---- Art By Others ----
Giozzalth
I honestly can't get over the cuteness of this AMAZING drawing of Giozzalth! By the incredibly talented ScarfyWings! :3
Thank you so, so much!
AMAZING art of Giozzalth By dogloven! Thank you soooo much!! <3
AMAZING doodle of Giozzalth by the incredible Arrowalker! Thank you!!
Another Amazing Piece Of Artwork By The Extremely Skilled BoomBox74! Thanks so much! <3
Wonderful GIF Of Giozzalth! (Picture: ScarfyWings) (GIF: mrizky2121) Thanks so much!!!
Infinity
Amazing picture of Infinity by the WONDERFULLLL ScarfyWings! :D
Amazing Art Of My Viking, Drawn By The SUPER Talented DuskDayBreak! TYSM!!
Astonishing sketch of Infinity by the amazingly talented FireFlash! TYSM!!
Beautiful drawing of Inifinity by the wonderful Marg The Loony! TYSMMMMMMM

Infinity And Giozzalth
This amazing drawing of Infinity and Giozzalth! By the EXTREMELY TALENTED TosiLohi! :DD TYSM!!
Beautiful drawing of Infinity and Giozzalth by FireFlash!! TYSM!
Some really amazing art made by the wonderful caterina_17! Thanks so much! Its gorgeous!
Seasonal
Amazing Harvest Haunt drawing of CenninWing by Arrowalker! TYSM!!
Stunning drawing of Infinity and Giozzalth by Aelyras! TYSM!!
Spoopy drawing of Giozzalth on Harvest Haunt by ScarfyWings!! TY!
Other
AMAZING artwork of Topaz by NeverendingSilverstorm! Thanks so much! :P
Another one of Topaz by nightfuryatom4! Tysm!!
The most stunning drawing of LightningNettle By GreenAsSin!! :D
Cutest drawing of Giozzalth and AmberJaw (Huehuehue i ship it :P) by snowflake12298!
Amazing Easter art made by the amazingly talented Laykary!
----------------------------------------
Welcome to this part of my siggy were I dedicate this
part to my Night Fury O.C ! (Topaz!)
This is Topaz:
About her:
Name: Topaz
Age: 19 (like my viking)
Personality: Loyal, caring, powerful, agile, determined, curious,
daring, mischevious.
Likes: Flying at maximum speeds, aerial acrobatics
Dislikes: Being stuck inside/not doing anything.
----------------------------------------
Expansions completed:

#BraveTheStorm
You reached the end!
sorry.
Who's online
There are currently 27 users and 110 guests online.