The Thunderpede is Shaking Things up with its Pulverizing Strength!
The school has been shaking with excitement as Thunderpede eggs arrive to Johann's trading Post! Thanks to Fishlegs and Meatlug, Vikings can now find a new Boulder Class dragon in need to training. Are you skilled enough to take on this famed boulder smashing companion into your stables? Get yours today: http://smarturl.it/Thunderpede!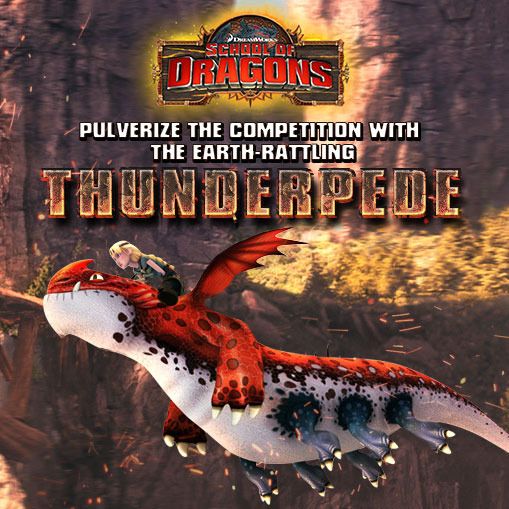 This Boulder Class Bruiser is like no other, showing unrivaled strength in its abilities to pulverize boulders with their large and boisterous bodies; not to mention its many fast-moving legs. And although it is not known for being the speediest of fliers, the Thunderpede makes up for that particular weakness in its overall physical, and brute strength.
Just the other day, Fishlegs and Meatlug stumbled upon the first known Thunderpede on campus that had been smashing boulders around the Training Grounds. Feeling the vibrations on the ground, the duo followed the loud smashing sounds to find a lone Thunderpede, working to secure the coastal cave where it had built for its large nest of eggs. This was the first of its kind to be seen at School of Dragons, so Fishlegs knew it was alone and approached the area with a bit of caution. After an intense encounter that involved fireballs and having to maneuver past gigantic forearms, the dragon seemed to trust the Viking, noticing that he possessed a strong bond with his Gronckle, Meatlug.
Determined to learn more about the Thunderpede, Fishlegs decided to welcome the dragon to his stables, but he knew he could not take care of all of the dragon's eggs. So he did what he knew would be best, he gathered a few of his fellow Vikings like Astrid, to help transport the eggs to Johann's Trading Post, so that the soon-to- be-dragons would end up in the hands of trusted dragon trainers. Astrid took a special liking to the fearless dragon and made sure to keep an egg for herself.
And thanks to their efforts you can be one of the many Vikings taking the reigns on this Boulder Class bruiser during your journey toward becoming an Ultimate Dragon Trainer! Get yours TODAY and share a few screenshots of your dragon with us here on the forum: http://smarturl.it/Thunderpede