The Stingback had arrived!
This is the Stingback, a zippleback/speed stinger hybrid.
It is of the Mystery Class.
It's zippleback fire and speed stingers sting, coupled with It's speed on land and air, are a force to be reckoned with.
It's the first dragon I've created, so I was not quite sure what I was doing. XD it really needs a darker outline, but I couldn't change it so grey will have to do for now.
__________________
BEWARE MY WEARLE OF SIGGY GUARDIANS, THEY DO NOT TAKE KINDLY TO INTRUDERS.

PROCEED IF YOU DARE...
Although if you get to the end you may find something for you.
The Whitetalon Ice Woolly done by the amazing Speedyleaf. Thank you!
The dragon banners done by Dragonriders Fury. Thanks!
GET RID OF CAPTCHA! It's awful, and won't let
me post ANYTHING!
When I say hrrr, I'm not speaking something from Minecraft, I'm speaking dragontongue from the Last Dragon Chronicles. Right, now that's cleared up...
I am
-

FLITT

-
Elder of
Clan gifs made by the brilliant Madoka, thank you!
Made by The Bohemian Critic. :D
Made by EmeraldHuntress65. Thanks!I
And also
-Mythyque -
Leader of
Banners made by EmeraldHuntress65. Thank you!
main acc: flittIngerman
profiles on flitt's acc: Mythyque and Syndryus
chat ban acc: flittIngerfyre
chat ban acc: Syndrius
inactive acc: WarriorFyre
age: 16
I will eventually sort it out so it's not so chaotic
A little about me:
I like reading. I train chickens. I make wooden spoons. I've never made a phone call. I am home educated. I like writing, and I love dragons.
I occasionally creat a namesake dragon and send it to someone. You have been warned.
GRYFFINDOR
Some of my favourite books:
The Last Dragon Chronicles
The Inheritance Cycle
The Lionboy trilogy
Halo
The Erth Dragons
The Unicorne Files
The Hunger Games
The Books of Beginning
The Promises of Dr. Sigmundus
and the list goes on!
Things I don't like:
Rabbits
Masks (creepy)
Dolls (even more creepy)
Clowns (RUN!!)
When someone says 'let the boys do that', that really riles me.
When pens are left clicked on
Scarves. Why?
Is it scarves or scarfs?
Auto correct.
Mushrooms.
Colds.
Some Links:
The Empty Inn || A Short Story
Flightingale the Steaming Stormswallower, by Speedyleaf. Thank you!
Backstory: Flightingale never used to be a dragon. She used to be a farmer's slave, beaten, bruised, toiling away in the heat of midday. One night, she was standing by her window looking out at the moonlit mountains, when she heard a small scratching in her tiny room. She turned to see and sitting on her bed, looking quite pleased with itself, was a baby Stormswallow. Of course she was frightened, but it soon became apparent that it wouldn't hurt her. It leapt down to the floor and ran to the window, glancing from her to the window and back. She opened the window for it but it just stood there, looking at her sadly. She realised it couldn't fly, and in sympathy she picked it up, crept down stairs and quietly let herself out. Putting the dragon down she said; 'go on, young one, be free like I wish I could be.' It started to scamper off but then it stopped and turned back. She waved it off and began to make her way back to the house, then pain blossomed in her shoulder. The young dragon had scratched her. but it wasn't a bad pain, it spread through her like fire, kindling a dragons spark in her. That night Flightingale flew free as a dragon, and she still does to this day.
Gabryall the Catastrophic Sentinel by AndreaEaston, thank you!
Ka Ledasio, the skradder, by the amazing Speedyleaf.
Backstory: She is the mysterious leader of the mysterious Whitetalons, a group of dragons who all have the middle claw of their right foot white. She is feared among people, respected among dragons. Like a shadow upon a shadow she soars through the night, like a phantom of fleetness she swoops through the day. Any who meet her bow to get regalness, her strong will, her quick, clever eyes. Like a ghost of a story she flits on the edge of memory, always there, somewhere, yet just out of reach like a dream. She saw Flightingale's first flight, the young Stormswallower grow, Gabryall's loneliness broken. She was there for them all, leading in dreams, thoughts, small whispered words in their ears. Is she real? Or is she just a fantasy? Flying at the edge of minds. Maybe you will meet her, maybe you won't, who know but her and Whitetalons. Maybe, just maybe, she is with you now.
Vennomm the Poison Dart Fury by LilyStark. Thank you!
Clawwyng the Tingecutter by the talented AndreaEaston. Thank you!
Crimson the Giarogia By the brilliant ImDerpySheylaYT. Thanks!
Skye, the curly nadder ↑ and Whppersnap, the deadly claw ↓ both by the talented, amazing AndreaEaston. Thank you!
Flickering, my flightmare, by SangoMichiko13. Thank you!
Lyulf by the talented ZestyDragonWing. Thank you!
Newt the flamewhipper by Speedyleaf, thank you!
Arianwen my light fury by SangoMachiko13. Thanks!
Shader the Lightning Rod by kasanelover. Thanks!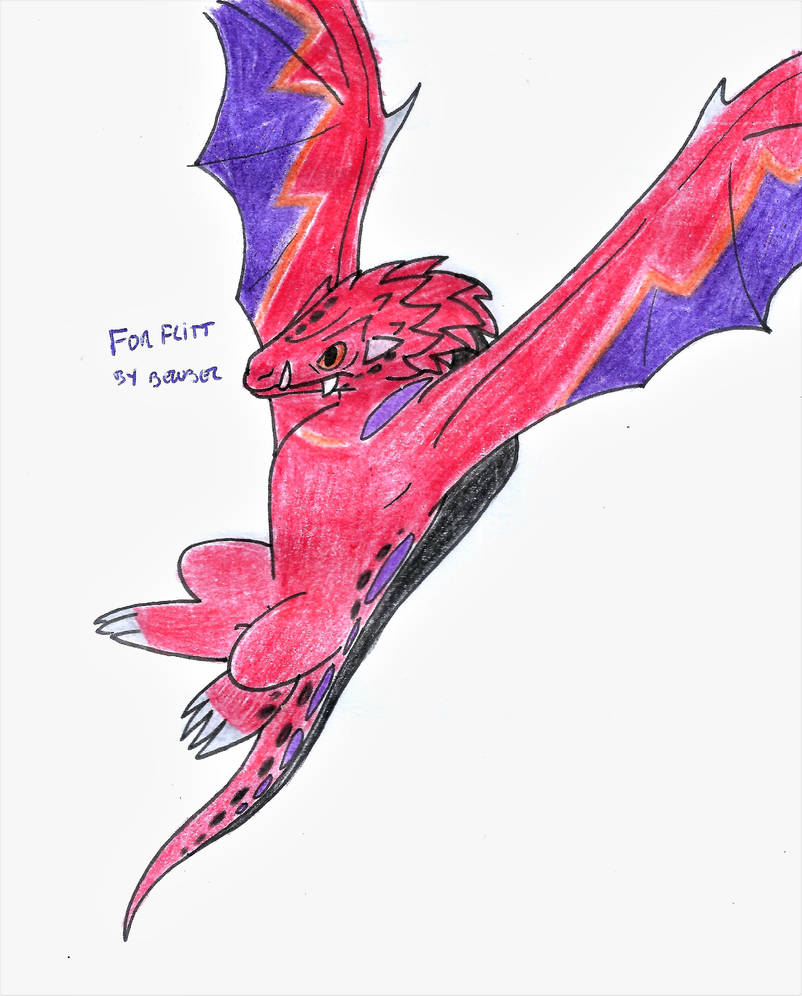 Irefyre the Ire Igneous by belubel, thank you!
flitt's Dragon Gallery
Flickering, my first dragon
My nadder, Glimmerwing
Conri my woolly howl
Me and Taron flying over the chasm.
Nightspark
Newt
Fyreryft
NightReaper
Meeting Galant for the first time.
Saphron
Galant
Gadzooks
Left n Right have seen something
Watching over the school with Crash n Smash
Flying with Nameless
Crick
Grockle
Jacynder
Sunflare
Galaxia
Unknowable.
Taron
Storm razore
The furious chick, Connwaer
Mythyque's Gallery
I saw someone else with a picture like this, so when Mythyque got Tallique, a sand wraith, I had to get it.
Open wide
flitt's dragons:
Flickering - flightmare (titan)

Nightspark - flightmare

Crick - m. nightmare

Nameless - m. nightmare

Grockle - groncicle

Hoverstrike - gronckle

Glimmerwing - deadly nadder

Jinx - screaming death (titan)

Hex - screaming death

Chaser - whispering death

Deadling - whispering death

NightReaper - deathgripper

Fyreryft -fireworm queen

Newt - flamewhipper

Cloudlord - stormcutter

Sunflare - stormcutter

Left n Right - hideous zippleback

Crash n Smash - hideous zippleback

Skybreaker - razorwhip

Galaxia - deathsong

Conri - woolly howl

Velocity - speed stinger

Unknowable - sweet death

Taron - skrill
Daggawing - armourwing
Jacynder - deadly nadder
Tywyll - flightmare
Storm razore - skrill
Gadzooks - grapple grounder
Galant - crimson goregutter
Saphron - sliquifier
Fyreking - fireworm
Lyulf - woolly howl
Toothless - night fury
Arianwen - light fury
Mythyque's Dragons.
Tallique - sand wraith
Sapphique - skrill
Eruptique - eruptodon
Esnique - raincutter
Unique - speed stinger
- prickleboggleunique
- grapple grounder
Toothless - night fury
Arianwen - light fury
Didn't think I had that many dragons!
MORE COMING SOON...
pm me the answer to this riddle to get yourself a dragon creation.
What am I?
Mon, 03/18/2019 - 10:35
#2
Hey Flitt :D
This is so cool, Flitt! :D I've never seen a successful zippleback + anything hybrid before, and I think it's awesome. Are you going to make them into adoptables?
__________________
Sooo, first things first. When I made this account I choose hookless as my username because hookfang and toothless were my two favorites out of the gang's dragons, and I combined their names. I just want to clear that up so people don't take it the wrong way. :)
Meet my siggy guardian, Final Inferno. Beware his plasma flames. They will consume your soul and scorch you alive if you dare touch the art in this siggy.
A super awsome surprise made by my buddy Flitt. Thanks so much!! :D
A cool present from my friend Bluetheraptor. Thanks pal! :D
Permanent WIP: Beware falling gifs and memes (in the meantime, plese enjoy this barfing gnome XD)
Table of Contents:
Info about me that you can live without XD
Art (which contains my OCs and some of their backstories or personalities)
Links and stuff (RPs, art threads,etc)
My Fandoms
Random jokes and stuff
Before you go further: I'M A SUPREME VIKING CHAMPION!! RESPECT MAH AUTHORITY!! XD
Names you can call me
Bolt, Potato, Chip, or Rowdy (I'm girl fyi xD)
Stuff about Me regarding the forums
I watch the forums like a hawk... ·_·
I can't directly post any of my personal pics. So they will most likely be in a file on some dead thread somewhere XD
may make an art request thread in the future
I use lots of exclamation points and capital letters.
Sometimes gets unnecessarily hyped about different, new things (hence the capital letters)
loves RPing and thinks wayyy too much about them XD
My bestest forum buddies: Bluetheraptor, DyliehIdol1214, The Bohemian Critic. You guys are awesome :D
Random stuff about me
I'm not as active in-game as I used to be :(
uh, I love drawing dragons (mostly of my own making or fan-dragons)
frequently fangirls about anything How to Train Your Dragon, Jurassic World, Avengers, Big Hero 6, The Flash or Gravity Falls related
If you like any of those, PM ME! I would love to have someone to scream and theorize with. :D
will randomly quote Gravity Falls whether it's relevent to the topic at hand or not.
just your friendly neighborhood biology geek who loves birds and reptiles. :)
I like puns and memes
My favorite color is blue. I think that was pretty obvious though XD
Time for art!!!
Featured Artists: All these people are extremely talented and were so generous to offer to make these awesome drawings. From the deepest part of my heart, I say, Thank You. I will always cherish these drawings :)
ZestyDragonWing
SangoMichiko13
AndreaEaston
Flitt
SpeedyLeaf
ImDerpySheylaYT
Rutvi123123
WildVanity
LilyStark
MatterPatter(Corv)
My Nightfury OC Orion by the incredibly talented, off the chart awesome ZestyDragonWing. I will forever be grateful :)
Another picture of Orion, by me!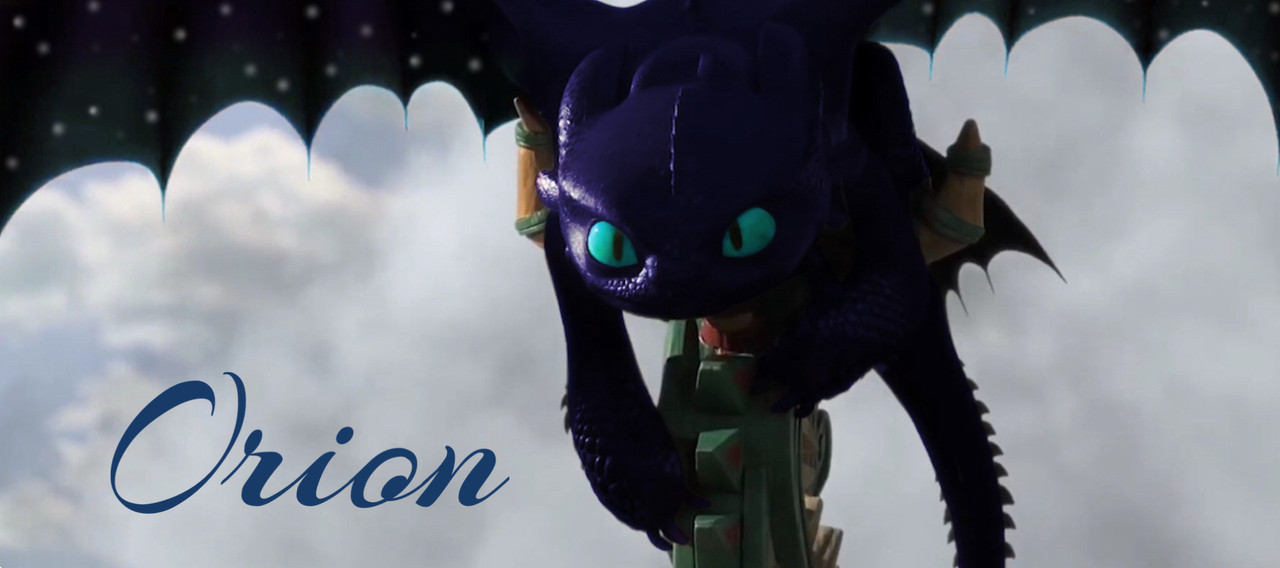 A wonderful edit of Orion by the wickedly talented WildVanity Thanks so much! :D
Personality: Orion is extremely protective of his twin sister, Andromeda and his three younger siblings. He's a warrior, extremely loyal to his family and friends, and will fight to the death to protect them. He's always on the move, whether he's training, hunting, or occasionally playing with his younger sibling. Loves to go mystery hunting with his family.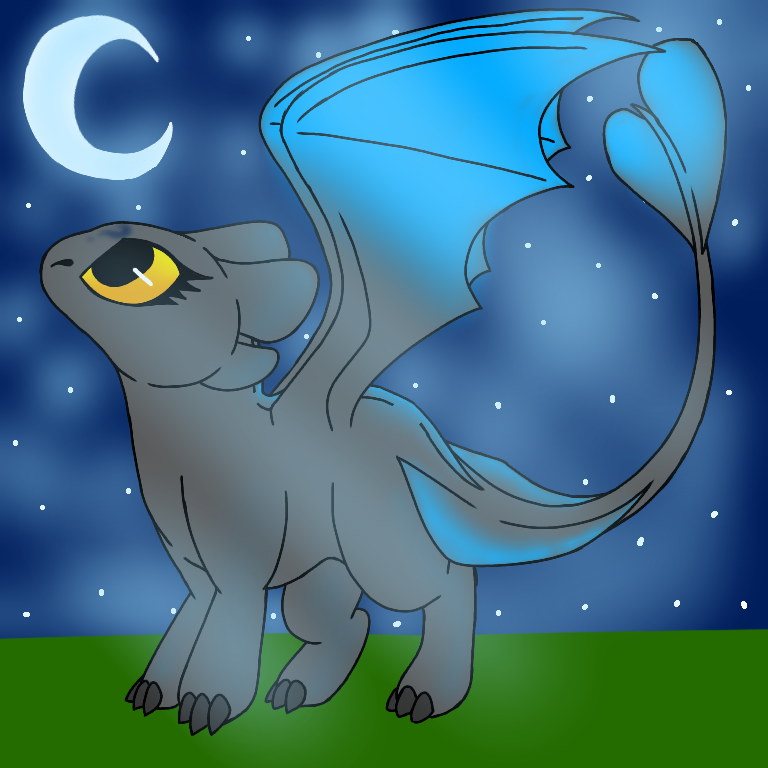 My Lightfury, Lunalight by the awesome SangoMichiko13. Thanks so much :D
My lightgripper, Scourge. By the incredible ImDerpySheylaYT THANKIES :D
Scourge's backstory:
Scourge had a very traumatic hatchling-hood. He was born on Grimmel's warship and was the only hatchling in his clutch. His mother and father were taken away from him at a very young age. Scourge was raised as a living war machine, and, for a while, he lived up to his name. However, several years past and he got tired of fighting other dragons day after day. He fought hard to escape, and barely survived his exodus from the warship. Meanwhile, SuperPotatoChip and his skrill Flash were flying over a nearby island. They saw the struggling lightgripper and, after gaining his trust, helped him back to Lightning Hills, Chip's island where he and all his dragons lived. Scourge has since become a wonderful addition to Chip's flock and is best friends with Flash, Dune, and Chip's nightfury Orion.
Scourge's personality:
Scourge has a warrior spirit, but is also very tenderhearted and kind to his friends. He's very protective of the younger dragons in Chip's flock, but he also has a jokish side and frequently pranks the other dragons along with his sandwraith buddy, Dune. He has slight PTSD and flashbacks from his experiences with Grimmel. He's always on the move and trains hard every day because he wants to get his revenge on Grimmel some day.
Gloop, my adorable Poisonous Dart Fury by the incredible LilyStark. Thanks so much :D
My Deadly Claw, Phoenix by the incredibly amazing AndreaEaston. Thank you so much! :D
Backstory:
After a horrible forest fire deep in the Amazon rain forest, a pair of peacocks found a small, defenseless hatchling alone and covered in ashes. Seeing as the little guy had no one to care for him, they decided to take him under their wings and raise him as one of their own. Due to the nature of how they found him, his peacock parents named him Phoenix. He is now full grown and happily living with his adopted parents and six siblings. He loves flying during the beautiful Amazonian sunsets and his family loves to ride on his back. They go everywhere together.
Gale, my Steaming Stormswallow by the awesome Speedyleaf. Thanks a bunch! :D
Gale's backstory:
Chip and his woolly Howl, Commander Wolf, were exploring an uncharted mountain range in the far north. A blizzard raged around them, and they ducked into a cave to escape the brutal weather. Little did they know, this particular cave was the home of a young Steaming Stormswallow. The young dragon was just returning from hunting and discovered Chip and Wolf in her cave. At first, she was very annoyed with these intruders. However, she soon discovered they meant no harm. Gale had been seperated from her pack since she was a little hatchling, so she befriended the weary travelers. Chip offered the dragon an opportunity to come back with them to Chip's island. After careful consideration, Gale decided to follow Chip and Wolf back to the island. Since then, she is always ready to entertain people and dragons alike. She is excellent with the hatchlings and plays constantly with just about everything.
My awesome Stingback, Alcor and Mizar by my buddy and awesome artist, Flitt Thanks so much :D
Full backstory: WIP
My Giarogia, Porpoise by extrememly talented artist ImDerpySheylaYT Thankies :)
Porpoise's Backstory:
Chip and his shockjaw, Hypershock were flying over the ocean in search of a rare species of fish. What they found insted was a playful dragon that kept leaping out of the water. Being a water loving dragon himself, Hypershock dove in, with Chip still on his back. They played with the friendly dragon until sunset. Then, they started to head home. When they got back to Chip's island, they realized the friendly Giarogia followed them home. Chip realized that the dragon had bonded with him and Hyper when they were playing. Chip named the dragon Porpoise due to her hyperactive and playful nature. She has been bringing joy to Chip and all the other dragons on the island ever since.
My Skradder Thunderspike, by the awesome Speedyleaf. Thanks a bunchies! :D
Thunderspike's backstory:
When Thunderspike was just a little hatchling, his parents were killed, and he was captured by dragon hunters. For a few years, his captors changed as he was moved throughout the archipeligo. However, one night, one of the guards failed to properly lock his cage. Thunderspike saw this as his chance. He burst through the cage door and started his attack. Not a single hunter survived the Skradder's fury. He destroyed the entire hunter base and freed all the other dragons. He is now constantly on the move and is known as "The Shadowed Scourge" both by humans and dragons alike. He doesn't hesitate to attack humans or dragons that get too close to him. He doesn't like being around others and never stays in one place for long. Rumours have it that his glowing aqua eyes are the last things his victims see.
My disaster child sandwraith, Dune, by awesome Zesty. I can not get over how awesome this is XD
Dune's personality:
As his mother says, Dune is chaos waiting to happen. He loves playing pranks on people, sometimes too much which leads him to getting into extreme trouble. Loves crashing through his mom's neatly tended garden. Basically, he's a little terror that breaks most things he comes into contact with. Also has a weird habit of eating bugs. He's way to smart for his own good, but only uses his smarts in his pranks and creating chaos. Basically a juvinile delinquent, but doesn't try to hurt anyone. He's just in for the laughs. XD
Floppers, my Tingecutter(hobblegrunt/stormcutter hybrid) made by the amazing AndreaEaston. Thanks so much!
Flopper's backstory:
Not much of a backstory because she doesn't really lead an active life XD Basically, she hatched. Had an uneventful childhood. Grew up. Chip (My viking) found her lounging around and blocking the entrance to his stables. She kinda just hangs out near Chip's house because she knows there's free food there. Great story right? XD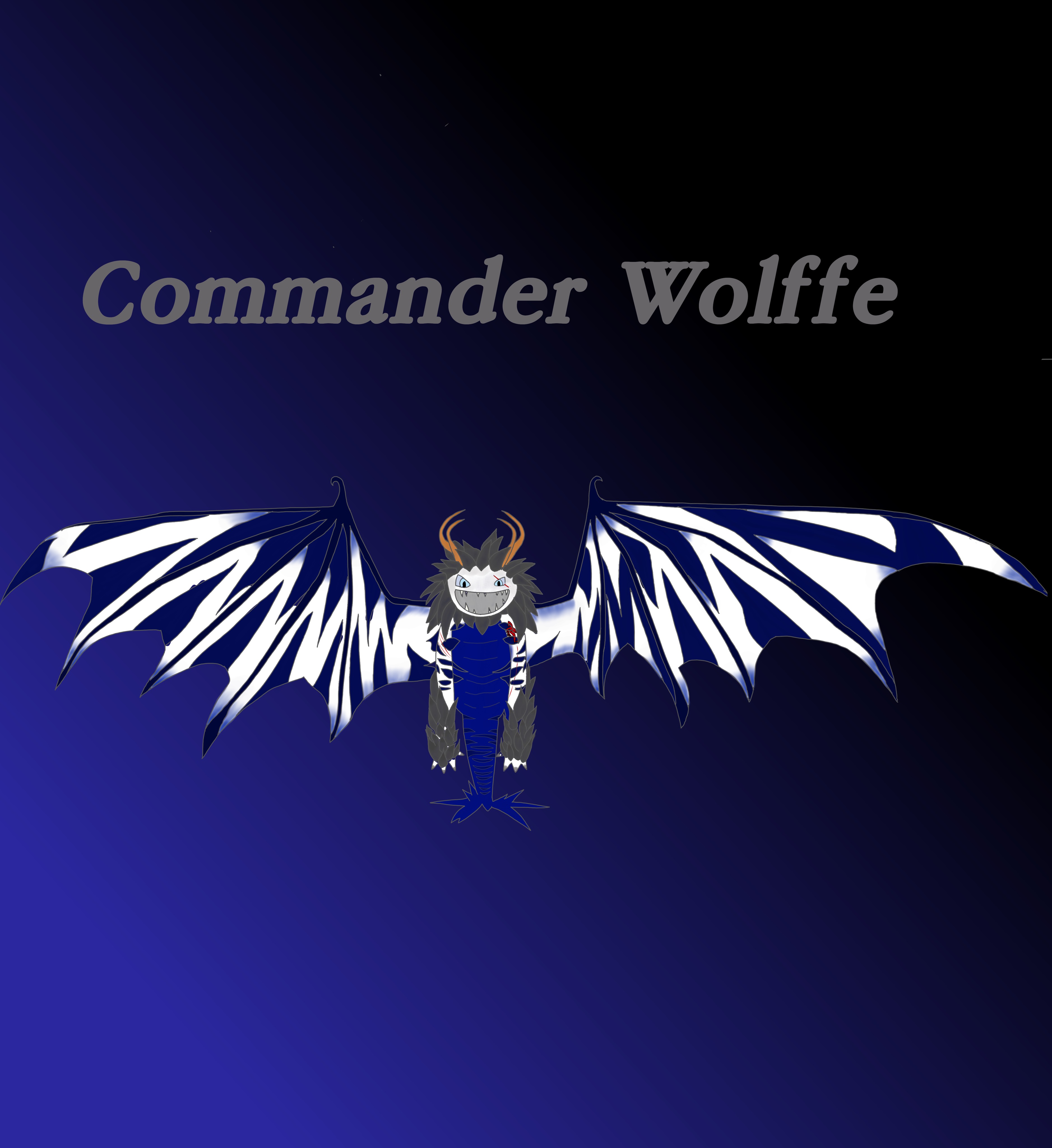 My titan woolly howl, Commander Wolffe. By the great Rutvi123123! Thanks so much! :D
Wolffe's backstory:
Wolffe was the leader of a proud pack of woolies. They travelled the archepeligo fighting against dragon hunters and freeing their fellow dragons. Missions were success after success. However, one day, Wolffe was gravely injured in a battle. His pack wasn't able to find him, and he was declared missing in action. His pack moved on, leaving Wolffe alone and left for dead. After attacking the same hunters as the woollies, Chip and his skrill, Flash found the wounded woolly and took him back to their island. They nursed him back to health, but his extensive eye injury prevents him from flying long distances. Wolffe is currently living out his retirement on Chip's island, teaching the young hatchlings how to fight and hunt.
My screamborn, Ravager. By the fabulous Flitt. THANKS SO MUCH!!! XD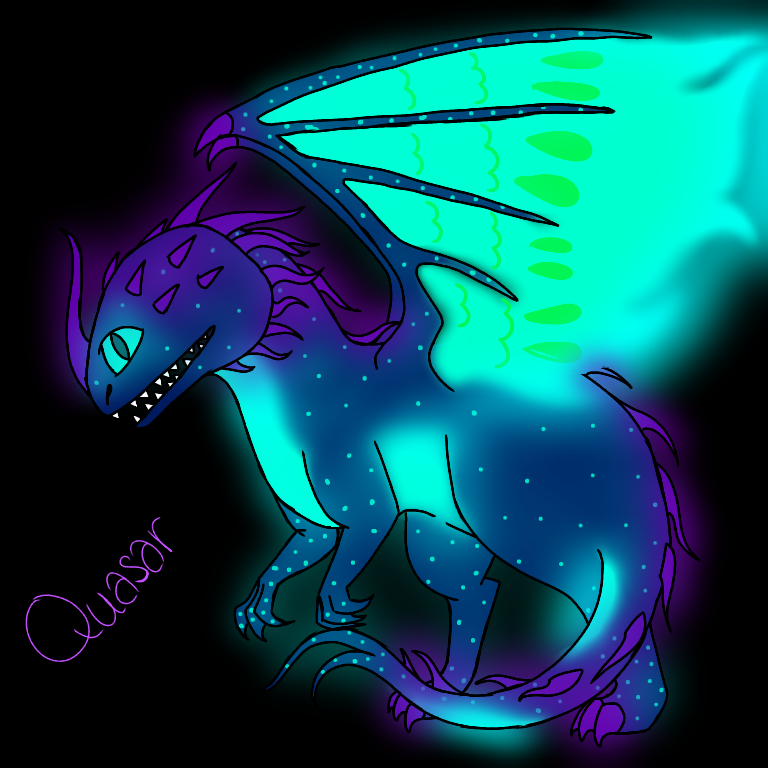 My Skrillmare, Quasar. Made by the generous SangoMichiko13. Thanks so much :D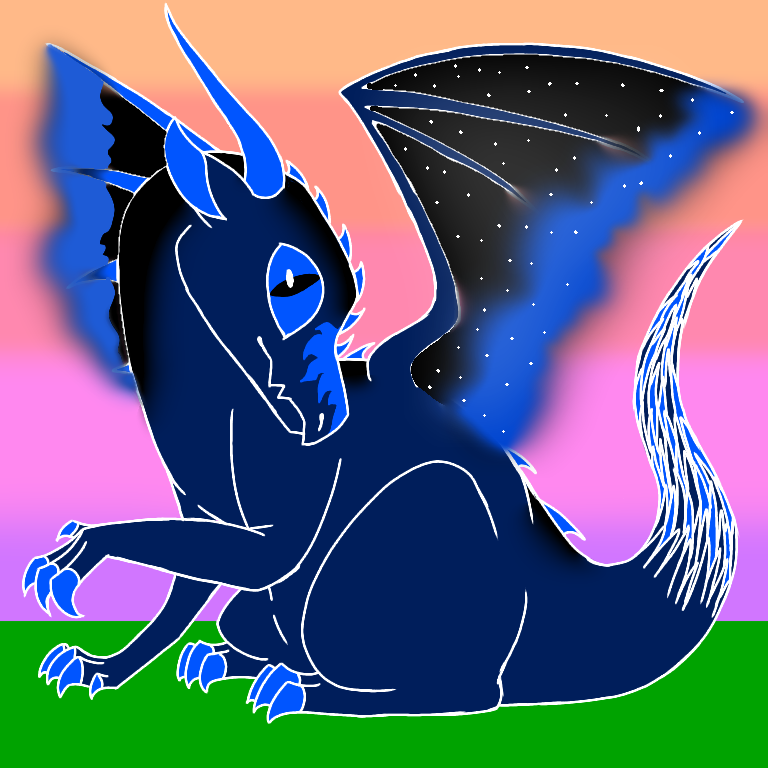 My fandragon, the Radiant Star-Ripper by awesome artist SangoMichiko13, Thank you! :)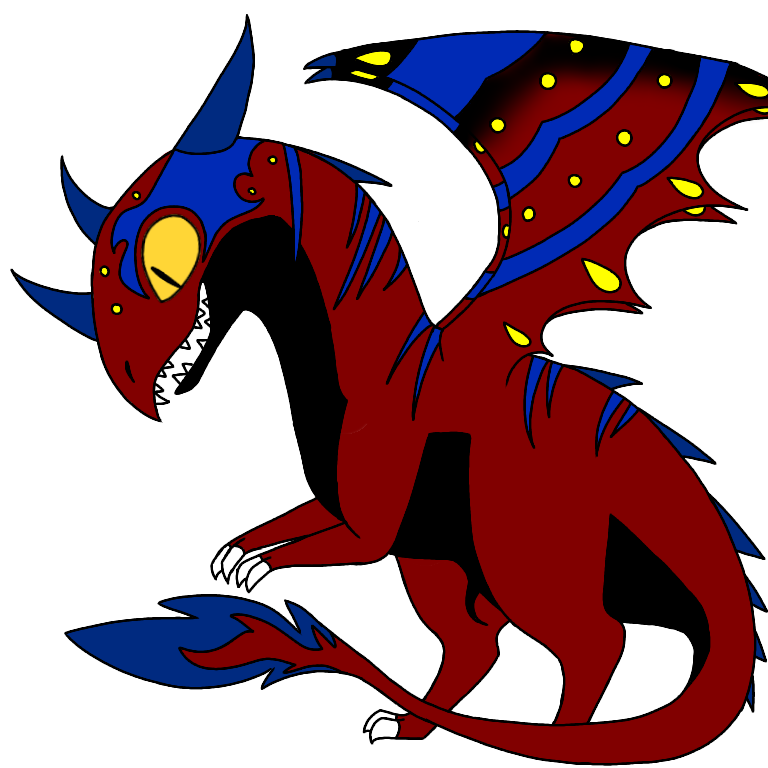 My Dramillion, Phoenix, by the spectacular SangoMichiko13! Thanks! :D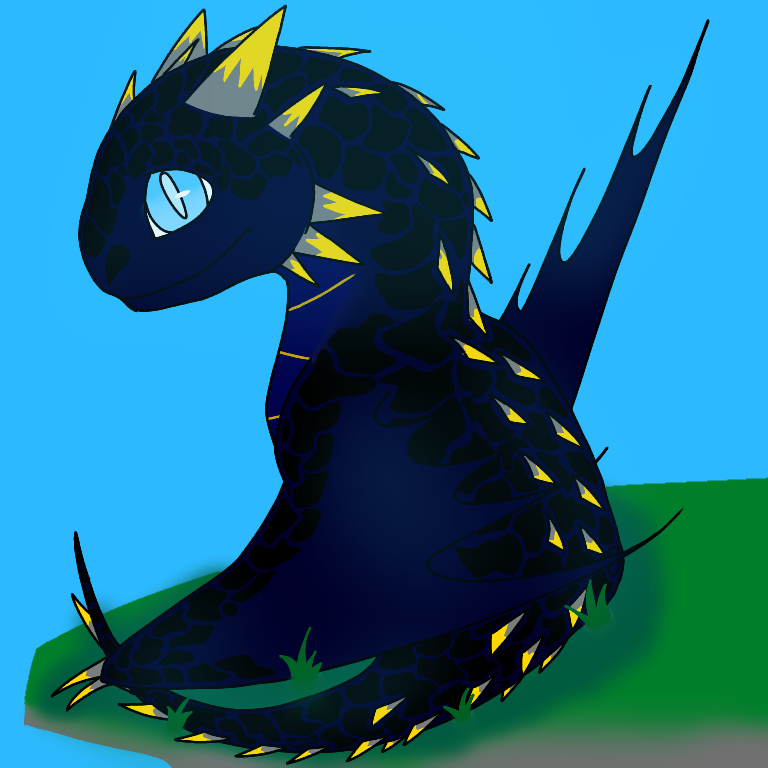 My Elder Sentinel, Batman. by the awesome SangoMichiko13. Thanks again :D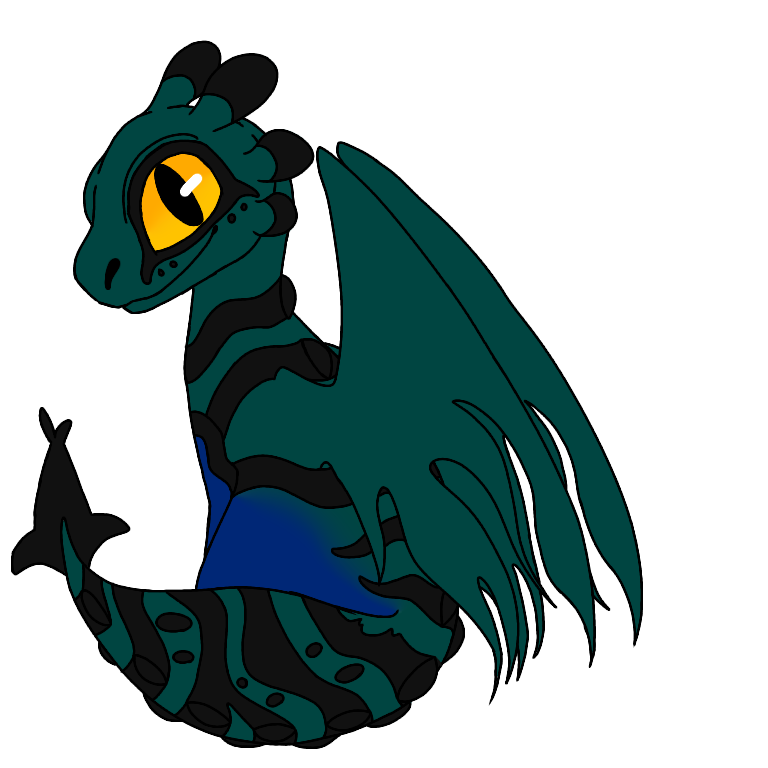 My Flamewhipper, Venom. By the super fantastic SangoMichiko13. Thanks!! :D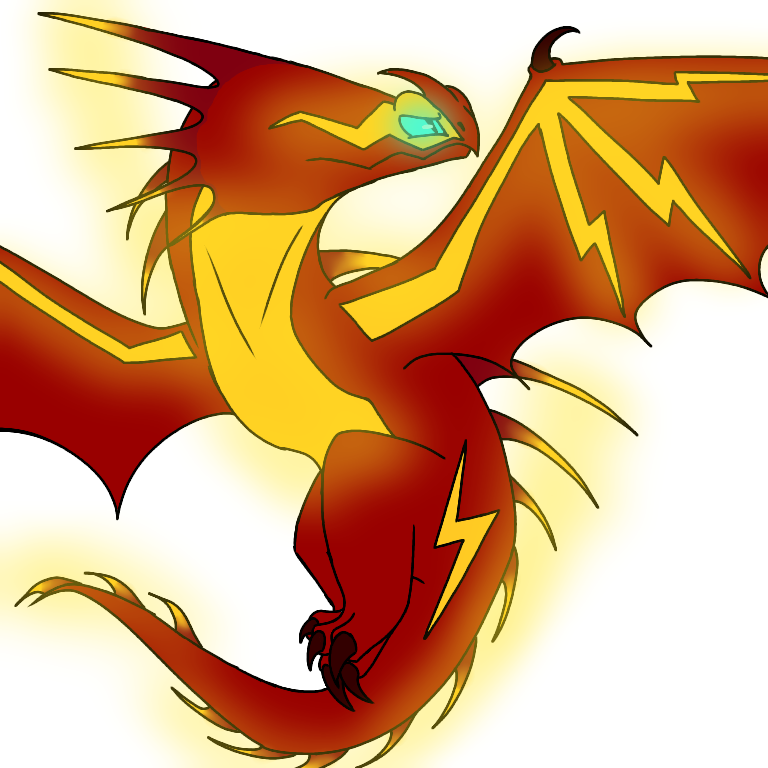 My Skrill, Flash by the incredibly awesome SangoMichiko13. THIS IS SO AWESOME!!!! THANK YOU SO SO MUCH!!! :D
Flash by absolutely incredible Matterpatter. This is stunning! Absolutely stunning. Thanks so so much! :D
My Iveron Emerald by the awesome Flitt. Thanks so much :D
Emerald's backstory:
WIP
My Widowwyng Shade by awesome Flitt. Thanks :D
Shade's backstory:
Shade was kept in a cage by the dragon hunters for most of his life. One night a Skradder named Thunderspike, escaped and went balistic on the entire camp, freeing all the dragon and killing all the hunters. Shade was so grateful that he followed Thunder to a nearby island. The two were fast friends and now are partner assasins. They travel through the archipeligo destroying hunter ships and freeing dragons. They never stay in one place for too long and don't have any other friends.
My precious potato dragons (aka. Spudlings) Spud (left) and Tuber(right) by THE AMAZING TOTALLY AWESOME FLITT!!! THANK YOU FOR MAKING MY DREAMS OF A DRAGON POTATO COME TRUE!!! They're so adorable *sniff* :'D
This is Tot, my baby Potato Dragon. WITH AN ADORABLE BLUE SCARF!!!!! He's beautiful! THANKS FLITT!!! :D
My Titan potato, Twig. He's the grandpappy of the family c: THANK YOU AGAIN FLITT!!!!!!!
More art to come... always XD
Links and Stuff
Clicking on the pictures will take you to the threads about them ;)
Links to my rps
Masters of the Powers: A super powered roleplay
Myths Awaken: A Post-Apocalyptic HTTYD RP Signup-thread
Myths Awaken: A Post-Apocalyptic HTTYD RP RPing thread
If you like the band, Casting Crowns, than I am ready to fangirl with you on the link below ;)
My first httyd hybrid: The skrillmare
My theory and spoiler filled thread about Avengers: Endgame (Spoilers are in this thread)
My thread about weird, late-night ideas. We have a blast here XD
Uhh... future art thread might go here.. idk
Time for my fandoms :) Heeheehee
Decided to just put a basic list here cuz there's a lot XD
2.
The Flash (have only watched season 5 and part of season 4 XD)
3.
Gravity Falls (This show.....is not just a cute, silly kids show...O_O)
6.
How to Train Your Dragon (kinda given here XD)
Rest of siggy is under construction. (I work on this in little bits at a time so it's going to be a while until this gets done, or maybe never. Who knows? XD)
Loading...
Who's online
There are currently 26 users and 134 guests online.