Step Further into The Hidden World!
Explore the extraordinary home of the Hobgobblers full of crystals and corals down at the Hidden World Caverns!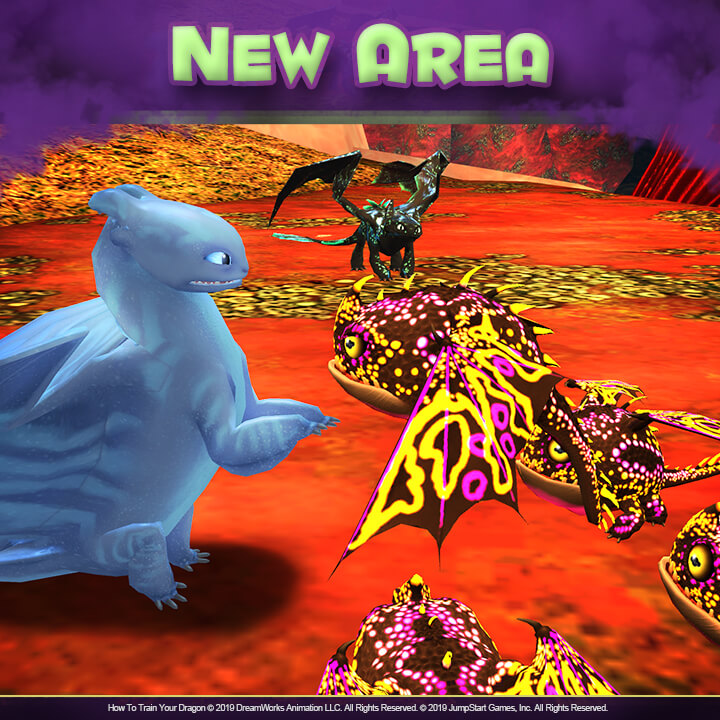 After the discovery of Hobgobblers, Vikings have been fascinated in learning more of these incredible dragons that has led many to visit their beautiful home. Hobgobblers appear to be small, fierce, powerful dragons but they are rather mischievous in their own way, perfectly resembling the area in which they live; full of mystery and hidden surprises!
Have you recently traveled down into the Hidden World Caverns to wander further down the caves? Vikings can expect these inner caves of the Hidden World to be composed of massive crystal-like structures and have numerous corals running along the open tunnels and like the Annex, a unique touch of gleaming lights can be seen all around. Vikings venturing inside will be left amazed as they watch their dragon light up inside the tunnels. It is indeed as astonishing as it sounds and perhaps that is the reason why these dragons seem to have kept the caverns hidden away from Vikings for quite a while. The caves are full of hidden mazes and tunnels that are sure to test the clever mind of a Viking, and once inside the area reveals beauty unlike anything we've seen before!
Don't forget to check out all the possible hidden spots that Hobgobblers can use to hide and protect themselves in. As we all know, these curious little creatures certainly love to hide. Vikings exploring all the possible ins and outs of the mazes should be sure to use the ultimate Hobgobbler Armor.
Vikings ready to explore and learn more of the Hobgobblers way of living should seek their way down to the Hidden World and journey into endless adventures!
Sat, 08/03/2019 - 09:09
#1
A wild post appeared!!!
Does this mean we can explore the Hobglobber maze now after we have completed the expansion?
Sat, 08/03/2019 - 13:49
#2
*Grabs popcorns*
We sadly still can't. I just checked, i tried to enter in the maze, and i couldn't enter, not even with the albino hobgobbler (wich appear to be the leader of the hobgobblers when toothless is not around) wich is a shame. I have the leader of the hobgobblers, and i can't enter?