A Spoonful of Random Fandom
Have something fandomish and funnyish and fangirlish that just can't wait? Post it here! Who knows, maybe you'll find someone who likes the same fandom ^^
My spoonful of random fandom today: Keeper of the Lost Cities!
° ° ° ° °
Keefe: I told the witch doctor I was in love with you
Sophie: wait, what
Keefe: I told the witch doctor I was in love with you
Sophie: but you already said that--
Keefe: and then the witch doctor, he told me what to do, he said--
Sophie: oh no
Keefe: *deep breath*
Keefe: ooo-eee ooo-ah-ah ting tang, wallawalla bing bang
Keefe: ooo-eee ooo-ah-ah ting tang wallawalla bing-bang!
Fitz: I told the witch doctor you didn't love me true
Sophie: wait, where did you come from?!
Ro: *stage-whispers* it's your turn
Sophie: *gives up* fine. *deep breath*
Sophie: I told the witch doctor you didn't love me nice
Fitz: *acts wounded*
Keefe: *smirks*
Sophie: and then the witch doctor, he gave me this advice
Everyone: HE SAID
Everyone: OOO-EEE OOO-AH-AH TING TANG WALLAWALLA BING-BANG
Everyone: OOO-EEE OOO-AH-AH TING-TANG WALLAWALLA BING-BANG!
Ro: *applauds*
Sophie: Amy showed you YouTube, didnt she?
Keefe and Fitz:
Ro: Obviously
Grady: *listening from behind door* that was the worst thing I have ever heard in my life. That Boy--!
Edaline: Grady! What on earth are you doing?
Grady:
Grady: ooo-eee ooo-ah-ah ting tang wallawalla bing-bang
Grady: ooo-eee ooo-ah-ah ting tang wallawalla bing-bang?
Edaline:
Grady:
Edaline:
Edaline: *turns and walks away*
Grady: *in disbelief* it WORKED
Sat, 01/25/2020 - 01:54
#1
Aaaand Eveley's gone with my subject
Oh! Trackin'! I love KotLC. *Gets ready to jabber about Voltron, The Dragon Prince, and Lord of the Rings.
Sat, 01/25/2020 - 11:18
#13
My scoop of random fandom!
Voltron!
I literally just saw the first episode of VLD because I wanted to know who Lotor was. Turns out, I ended up getting into it maybe a little too much.
Lotura, anyone? THIS SHIP IS MY THIRD FAVORITE SHIP AND NO ONE WILL EVER CHANGE MY MIND.
Can I just say that season 8 made me crumble? Also season 6. . . My baby boy deserved so, so much better ;-;
AND I KNOW SO MANY PEOPLE HATED HONERVA BUT SHE ENFORCED AN ENTIRE WAR BECAUSE OF LOTOR LIKE I DON'T KNOW IF THAT SAYS TRUE LOVE OR NOT. Although, she just made me plain sick and disgusted when she manipulated his dead body. . .
I'm also in the process of writing a redemption book for Lotura.
And I need to draw all my favorite purple boys (Runaan, Aaravos, Loki, and Lotor) because they made me clap with glee. Not romantic glee, mind you.
Mon, 02/03/2020 - 15:44
#15
Oh my dragons...
This was SO perfect! You should have been hired as a writer for Race to the Edge. XD This is so in-character for everyone. I need to see it fully rendered out! XD
Tue, 02/04/2020 - 12:01
#17
XD
You're welcome. I would be capable of animating that, but I don't have the voice actors to voice it, so... Yeah, probably not gonna happen.
This sketch was really good, too. XD
Tue, 02/04/2020 - 12:19
#18
~-~
Shut the front door :o
You can ANIMATE that? Whaaaaat? :O
Tue, 02/04/2020 - 18:03
#19
That was a lot of questions... XD
Yes, I could animate that. Would it take me a long time? Yes. Would it look good when done? Probably not. But I have or could extract the character models (and rigs!) and Edge clubhouse from SoD, and Blender is capable of doing a fire sim, so yes, I COULD "animate that". :D
...But it just wouldn't be the same without the voice actors. :,(
Tue, 02/11/2020 - 13:26
#20
I tend to ask questions a lot XDDD
That's amazing! Even if it didn't look good, it would still be incredible that you managed to animate it. :3
Very true, very true. If you want I can try to get over there and convince Ferrera and Baruchel to get over here XDD (Jk, I wouldn't be able to :'D)
Tue, 02/04/2020 - 07:36
#22
~-~
TRACKING!!!! :D
The RTTE stuff made me crack up so bad XDDD
Tue, 02/04/2020 - 13:27
#23
MY TTTUUUURRRRRNNNNN XD
OKAY
SO
This one's about RTTE :D
I was watching "Night Of The Hunters: Parts & 2" today, as per usual. (I mean... I've watched all the episodes more than 7 times each *cough*).

And I love how when Astrid is so wrecked about loosing Stormfly that she lets her inner self show to Hiccup- ITS SO CUTE YET HEARTBREAKING :DDD
Also... Viggo's entrance is amazing for a villain :o
I don't understand some of Viggo, because he's too... gimme a sec to think of a word... Shakespeareish? He has this way with words... not all brawn. :3
Sorry for this really random spoonful XDD
Sun, 02/09/2020 - 17:45
#24
Hmmm... let me try.....
I'll try to add something... I wonder, does anyone here like anime? Maybe? XD XD
Tue, 02/11/2020 - 10:59
#25
~-~
What have we here? owo
Anime? I'm iffy about it but I've got a few I like! Which are you into, Sohki? :D
Wed, 02/12/2020 - 10:39
#26
:DDDDDDDD
Ooooooooh, yaaaay!!!!! Yeah, same here; I can be a bit picky when it comes to anime, haha XDD A lot of animes are mostly about characters just screaming and fighting the whole time, which I'm not a fan of. I really like serious, deep/meaningful and complex stories; strong characters and character development is really important to me, too. One of my favorite shows is called Steins;Gate--it's a science-fiction anime about time travel. There were a lot of things in it that I didn't like... but it was very thought-provoking and creative. The main character was also very unique and extremely hilarious XDDD
Which ones do you like? :)
Btw, sorry I'm taking so long to respond to your PM. I wrote a giant response to it a while ago... but then it got deleted before I could finish it. I'm working on rewriting it but I've been busy lately with a short film project I have to make for college. I'll try to get it done as soon as I can!! :)
Wed, 02/12/2020 - 12:37
#27
*gives Chakoel some churros* :3
Same! XDD
Very true. All the fighting and blinding fire and overall battles, it's just nnnahhh XD Yesh! Deep & meaningful is amazing, especially when it reels you in so much then makes you burst into tears :'D
Oooo! Sounds cool :D
Me? I like the one called Pokémon: Sun and Moon. NO, I am not a full-on Pokémon fan. Heck, I don't know anything about them XDD I really like the storyline and the charatcers and the animations though :3
Noooo, don't worry about it! College comes first, Sohki <3
I hope the short film project goes well!!! :D
Sat, 02/15/2020 - 12:30
#28
*Chakoel gobbles the churros, capers joyously like a maniac* XD
Yep, definitely!! :D :D Yup, those are the best kinds of stories, in my opinion XDD :3
Cool! I think I'm one of the only anime fans who's never seen Pokémon. XDDDD My bro is a huge Pokémon fan, though. Sometimes, I see it playing on the TV when I'm passing by... so I know it's about animals that the characters keep in little balls (I think)... but that's pretty much all I know, hahaha XDDD I did see some gorgeous visuals, though (vibrant sunsets, for example) but I'm not sure if my bro was watching Sun and Moon or something else XDDD
Thanks so much!!! :D :D :D I'll still try to respond as quickly as I can, though. ;) :D
Thank you!! :D :D :)
Tue, 02/18/2020 - 05:18
#29
*bounces around with him on a sugar rush* :D
Yes! :D
Oh my gosh XDDD I think it's about that too, really! There are a couple battles in which I just zone out and don't pay attention, but yeah! The Pokémon are kinda cute tho :'D
Yes! The sunsets, the colors, everything is so CoLoRfUl :D
You're welcome!! <3 Hahah, okie! :D
You're welcome! <3
Wed, 02/19/2020 - 08:33
#30
Chakoel: *Complete and utter glee* XDD
:DDD
Haha XDD Yeah, there's been some that I've seen that looked pretty awesome! :D :D Do you have a favorite Pokémon?
Hehehe, that sounds epic!! :DDDDD I love shows/movies that are visually stunning, hehe :3
:) :) :DD
Wed, 02/19/2020 - 08:38
#31
ಠ_ಠ *Squishy is watching*
*squints*
Turtwigs
*leaves*
Wed, 02/19/2020 - 09:04
#32
AAAAHHH!!!!!!!!!!!! *Hides from the daunting eyes of Squishy* XD
OHHHHHHHHHH!! Now I get it! When you mentioned Turtwigs in your PM I was like, "What the heck is that??", haha XDDD
Thu, 02/20/2020 - 07:05
#35
Stormcutters flew away with the subject..
Wild pokenerd appeared!
I LUV POPPLIO AND OSHAWOTT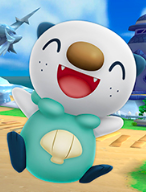 OSHAWOTT IS ADOWOABLE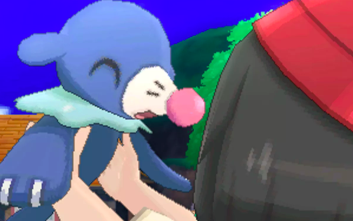 also popplio is best sm starter don't try to argue
Wed, 02/19/2020 - 04:00
#36
• I solemnly swear that I am up to no good •
I'm not huge on anime but I relate on the whole Pokemon thing xD
i feel like everyone I know has had some sort of obsession with Pokemon in the past apart from me xDD
all I know about it is that you can chuck balls at Pokemon and catch them, and fight Pokemon and people? And I also know that eevee is my favourite Pokemon because it's cute- xDD
Wed, 02/19/2020 - 08:53
#37
"Mischief... managed..."
Hahaha, same here! Almost everybody I know knows more about the show than I do, haha XD
Cool! :D I think my favorite would probably be a bird-like one of some sort... I've seen an orange (it might have been red... Idk) falcon-like bird... I don't know its name, though, haha. That bird might be my favorite... although I'm not aware of all the other options so I'm not sure. XDDD
Wed, 02/19/2020 - 09:15
#38
Expert lvl: Potato
You mean Fletchling, Fletchinder, and Talonflame?
Wed, 02/19/2020 - 09:52
#39
*Trembles in awe before the might of the expert!!!!* XDDD
Yeah, that's it!! The middle one, I think, is the one I saw! :DDD Muchas gracias, thank you, danke, and hannon le!! XDD
Wed, 02/19/2020 - 10:35
#43
• I solemnly swear that I am up to no good •
Loving that subject you put ;) xDD
yeah, I can see why people like it though, I guess I was just into other types of movies and such when I was growing up but I remember everyone would collect and trade Pokemon cards when I was younger xDD
Wed, 02/19/2020 - 04:14
#45
• I solemnly swear that I am up to no good •
*screams*
IVE FOUND THE POTTERHEAD SECTION
I think sorting can be pretty hard because some people posses multiple qualities (and example of me is that I'm a ravenclaw by heart, or should I say head? XD, but Ive also been told that I have maybe one other quality from slytherin and hufflepuff sometimes xD)
I remember talking about their Hogwarts houses with a person I used to be friends with a while ago, and I love what your thought processes have been through these!
id like to add something though- I do agree that the twins would proabaly fit best in slytherin than any other house but although they haven't got the... Brightest of minds... tuffnut was the only person to mention how the world was round and not flat ;) so maayyyybeee there's like, the tiniest sprinkle of cleverness and also all of their pranks and ideas (from RTTE and things like that) would also need, not much, but a little bit of brain power XDD but yea I think slytherin would be the best match for them, although they are a bit similar to the Weasley twins that were in gryffindor, with their pranks and things like that... maybe they could be good in multiple houses, who knows XDD
loved this post though! I always enjoy a good HP nerd session XDD
Wed, 02/19/2020 - 07:04
#47
• I solemnly swear that I am up to no good •
It really isn't easy xDD what character are you stuck on? I might be able to help xD
yeah, they do adapt pretty well xD
that's very true XDD they might have to do a Harry Potter and choose their own house xDD
I've always wondered what their patronus's would be too, and since snape had the same patronus as lily because he was head over heals for her, I've always wondered if hiccups parents would have the same Patronus because stoick was head over heals for Valka and vice versa xD
Thu, 02/20/2020 - 08:30
#49
• I solemnly swear that I am up to no good •
Hmmm
maybe he is like a Hermione kinda person, because as we all know, Hermione loves to learn and that's Ravenclaws whole 'theme' but because she favoured gryffindor quality's over ravenclaw quality's she was put in gryffindor, so maybe he posses one houses quality's more than the other?
or maybe he's a hastall where the sorting hat would have to take over 5 minutes to put him in a house, like I said earlier, depending on what traits he treasures most? Being the sorting hat must be pretty difficult at times xDD