*SPOILERS* I think the unique Hobgobbler seen in the expansion might have albinism
Warning: This post contains spoilers from the Curse of the Hobgobbler!
----------------------------------------
After finally completing the Expansion, I'm adding the stats of the Smitten Hobgobbler to the wiki (while asking help to a friend of mine to upload the pictures to the Wiki because I keep getting errors when uploading them), I noticed how the Smitten Hobgobbler has lower Combat stats than the Hobgobbler and given his physical appearance, I think the Smitten Hobgobbler seen in the Curse of the Hobgobbler expansion might have a case of albinism.
An animal with albinism has a white/soft pale yellow skin and unlike leucism (which involves a partial lost of pigmentation and not a full lost), an albino animal has reddish/pinkish eyes due to lack of pigmentation in the iris. Because of the lack of pigmentation, albino animals have a less chance of defending themselves (problems in defending/camouflaging themselves from predators, less protection against UV, ect) and therefore, less chance of survival. Now, here's what the Smitten Hobgobbler looks like in the expansion: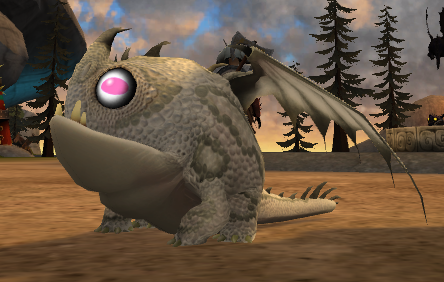 And the normal Hobgobbler: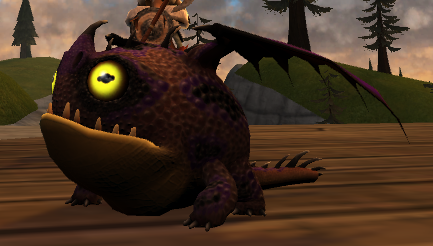 The Smitten Hobgobbler has a white/soft pale yellow scales and skin with pinkish eyes, and comparing the Dragon Tactics stats between the two, the Hobgobbler has a higher Crit. Chance than the Smitten (150 and 50 respectively) and the Smitten has no Defense whatsoever. Throughout the expansion, the Smitten would keep follow you because of imprinting, they could also be following you as means of protection given how the Smitten would be highly vulnerable to the wild.
The only problem with this theory/thought is the Smitten is visibly different than the normal Hobgobbler which could imply they're a variation of the Hobgobbler, but because the expansion didn't bothered to get into detail about them, we are left to wonder if he's truly a dragon with a case of albinism or if that's how the variation is supposed to be.
Any thoughts on this?
Sat, 08/03/2019 - 14:21
#1
Oh that Hobgobbler is totally
Oh that Hobgobbler is totally an albino. Not officially comfirmed I take it? (It's going to be a long time before I make it through the gliding part). If not, poo poo on SOD for not taking advantage of a STEM learning moment about albinism, mutations, animal survival, and all that! It's supposed to be an educational game after all, and I love that about the game.
Since the Smitten Hobgobbler appears as such a classic albino even down to the washed out gray markings, I do wonder if maybe they did have plans for including something about albinism but scrapped it for some reason? I mean they could have made it red or have special markings or something else to set it apart from 'regular' Hobgobblers. Do you get to color customize it after the expansion? If it's white because of that, then they didn't have to make the eyes pink. They could have been some other color.
Sat, 08/03/2019 - 17:28
#3
Hmm, interesting. I feel like
Hmm, interesting. I feel like there may be some development/backstory to this that we can't see from the finished expansion product. Wish we had better communication with and from staff :(
Is there even much 'sciencing' ? The science I've come across so far seems so half-hearted and incidental. I DO like the expansion, great they showed Mud hide(despite him getting called Mudraker) again, and they went all out with putting the Hobgobblers everywhere! But overall the original purpose of the game as a vehicle for education has been lax, IMO.
I guess this means I need to buy a Hobgobbler egg from the store also to complete my 'one of everything' collection, since there's the white overlay difference and eye color difference!
Sun, 08/04/2019 - 04:12
#5
I mean, I thought the use of
I mean, I thought the use of Gobber's paranoia and working off of established Franchise elements and all that was great, but why can't we have both good Franchise execution AND great science? I thought they had an educational consultant or something?
Sat, 08/03/2019 - 14:51
#6
Y'all right I think
I think you're both right about it being Albino. Makes perfect sense
Sat, 08/03/2019 - 18:40
#7
Good Thread, tracking. One point to make
Good Thread, tracking.
One point to make on the color of my new Hobgobbler. Since I just finished the end of the maze, I noted one odd thing about the color of my smitten Hobgobbler. All the Hobgobblers were returning to there nest, but there was one that did not return. The smitten one that had attached to me. I was directed to clicked on my new (grey, yes he was grey) dragon beside me in the cave, and after clicking, I was astonished that he suddenly changed colors to a pretty combination of blues. That surprised me, but I sure liked that combinations of colors; all I could think was, Oh yes, I want him to be those colors. But then the customization program went in to effect, and he was back to grey, white, albino colors? I named him and tried to change his colors. . . no can do!!!
Well, I was then directed to the cave exit, so I exited, to find Whisper, my Gronckle awaiting for me to finish my quest. My new Hobgobbler was no where to be seen. I followed the quest instructions and return to New Berk
I found dragon, and he was the grey dragon with my original minor touches of pale colors I had added. He is the original grey dragon I saw much earlier in the quest. There is NOT a spot of blue anywhere to be seen, and when I again attempted to re-change his color with the customization program, . . . no can do! Yet, I could swear, the moment after I clicked on him, I had seen a little, delightful, blue, yes blue, dragon. But now he back to the pale colored grey, white, albino dragon that they all seem to be.
All I can think is there a color glitch in the expansion and maze quest?
If not, they left out one the better parts of the quest parameters by dropping the educational aspects of most SOD quests. However if they are not going to later include this educational aspect into the quest, I sure hope that a later update might fix the color parameters for these lovly little Hobgobbler 'smitten' dragons. I fell in love with that little blue dragon, I saw, even if he is now a pale grey, white, albino dragon. Time to go back and give him some love XD
Sun, 08/04/2019 - 04:05
#9
IF I ever get that far and IF
IF I ever get that far and IF it happens for me and IF I'm fast enough (pfft) I'll try to get a pic. The blue sounds really pretty!
Tue, 08/13/2019 - 18:00
#10
Coalbright! I finally got
Coalbright! I finally got through the whole thing and got some screenshots of the Smitten Hobgobbler at the end (not uploaded yet anywhere). Yes, it was a very lovely shade of blue. And I also could not emulate it. Mores the pity.
Wed, 08/14/2019 - 11:10
#12
I can, but I need to crop the
I can, but I need to crop the images and such, and I was going to upload to the HTTYD wiki anyway. However, I probably won't get to that until at the earliest tonight, worst case a few days. Work and all :/
Wed, 08/14/2019 - 18:59
#13
Here's the best one, but I a
Here's the best one, but I a few others on my HTTYD Wiki userpage. You can look and use whichever ones you want!
(link if image doesn't work here: https://howtotrainyourdragon.fandom.com/wiki/File:SOD-CurseOfTheHobgobbler-SmittenHobgobbler6.JPG )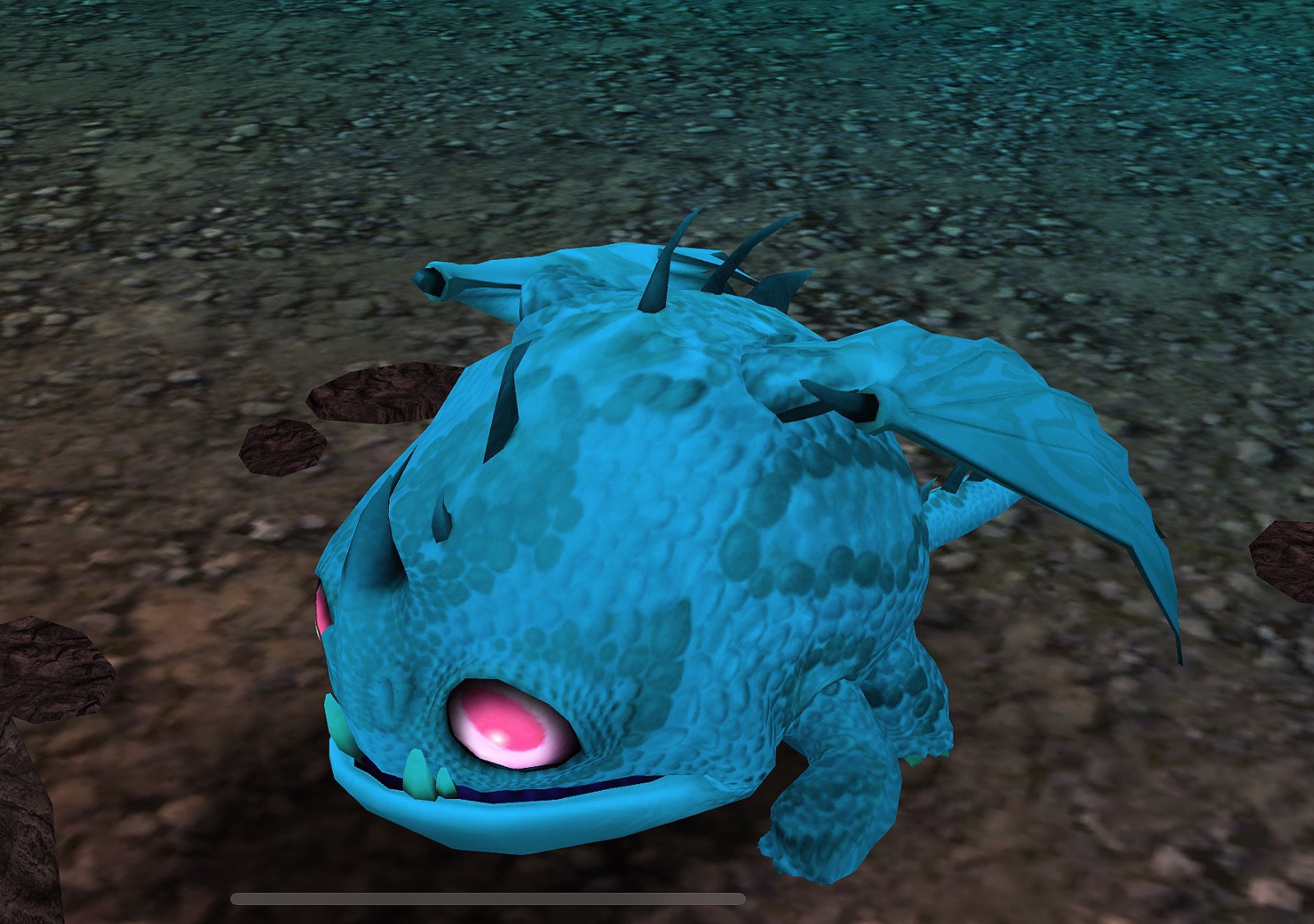 Sat, 08/03/2019 - 23:18
#15
Hmmm
I didn't think he might have albinoism I just thought that when you carried the hobgobbler around all the rest followed was because he was the alpha hobgobbler and he looks different kinda like the lead speed stinger?
Sun, 08/04/2019 - 04:02
#16
I've been hearing the smitten
I've been hearing the smitten Hobgobbler takes a leadership role (not getting there for a long time). Perhaps they were thinking of something like Smidvarg is to the regular Night Terrors?
Sun, 08/04/2019 - 00:59
#18
~
An albino doesn't necessarily need to have red eyes. Blue is also an option, but it isn't as common.
The shade of pink on the eye doesn't scream albino to me, though. It looks like actual pink rather than a light red. I think the pink eyes are a play on the whole 'smitten' part. Sorta like heart eyes.
I personally think it's just a variant of the hobgobbler.
If it's an albino though, shame on our vikings for taking it out of a cave and into the sun like that.
Sun, 08/04/2019 - 03:58
#19
Yeah, you're right about the
Yeah, you're right about the blue eyes, at least in people - I didn't investigate farther. Here's an interesting sight for human albinism that even dives some into genetics:
https://www.albinism.org/information-bulletin-what-is-albinism/
However for basic learning, white/red eyes seems to me to at least be a starting point. Hey, they could've talked about albinism, and mentioned that there are different types! Wasted opportunity.
Good point about taking it out of the cave without some sunscreen (hey, another learning point Heather could have concocted for us!). Though I've read we have some other 'mistreatments of Hobgobblers: Riding the small things that we can carry, and shoving them around across the floor, and 'stuffing' them into holes as Tuff put it.
Pink eyes for the 'smitten' part, yeah that crossed my mind too, but they could have just colored the whole dragon pink or red, or heck made heart designs on it or something. It still would have stood out from the others (which are way too dark purple btw, IMO).
Sun, 08/04/2019 - 03:35
#20
Ya mean kinda like how the LF
Ya mean kinda like how the LF is an albino version of the NF? Could be. I mean, that's probs why they're unique
Sun, 08/04/2019 - 05:31
#21
No..not quite
Light Fury is a subspecies, but not an albino of the Night Fury. Subspecies usually means it's like geographically isolated (e.g the Sumatran tiger which lives on an island seperate from other tiger species). They can share similar traits, but can look totally different. Look at the Dark-eyed Junko. There's 14 known subspecies in this group. There are 5 groups thought to be seperate species, but in certain areas they interbreed exclusively. This means they can produce hybrids (e.g a wolf and dog, or the night and light fury). If you want to get another idea, look at the shape of the pupils with Toothless and Light Fury. Notice how one has more square pupils, and the other has round pupils? That's a trait not found with albinism. That could be an adaptation to their different places that they live in (the wild).
In reptiles, you don't see blue as an albino eye color (like you'd see in humans, cats, dogs, or horses for an example), but you'll instead see yellow, pink/red, or even black (depending on the amount of pigment they have or haven't got). Truth is, many reptiles who are considered albino are actually amelanistic, because they will usually have 2 pigments at least.
Now is the Smitten Hobbgobbler albino? Possibly. It doesn't fully follow the "rules" in albinism with reptiles, but then, it's a dragon. Dragons proably follow a slightly different "rule", but it's certainly more likely to be an albino, compared to the Light Fury.
Sun, 08/04/2019 - 04:30
#22
Just sayin
Just saying a lightfury is a subspecies not a albino
Wed, 08/14/2019 - 21:16
#23
ladybrasa, thank you for posting
ladybrasa, thank you for posting that great pic of the smitten Hobgobbler. :) Great Pic.
I have come to the conclusion, that the amount of light or low light does affect the smitten Hobgobbler's colorizaiton. I colored, MightyBit with the deepest color blues I could manage. In daylight its very pale, but in nighttime or shady areas the blue color deepens. Although it not nearly blue as the original image.
CB