Snoggletog Weapons
So have anyone found the snoggletog weapons?
Tue, 11/20/2018 - 13:49
#1
Cheesecake and Chill.
If they are anything like the Dreadfall weapons I highly doubt anyone will.
You never know.
Wed, 11/21/2018 - 03:33
#5
~
Did anybody actually win a Dreadfall weapon? I haven't even seen one.
Thu, 11/22/2018 - 21:04
#6
Dreadfall weapon found
I won a Dreadfall sword. I think I got the tier 1 rare weapon from the 4th Icestorm Island level, and its guard was a skull with bat wings. It even came up in the rewards a second time.
Fri, 11/23/2018 - 12:46
#7
~
Did it look like either of these?
Sun, 11/25/2018 - 21:07
#8
Snazzy swords
Yes, it's the first one. Did you win these recently? I haven't seen that dragon head sword before, nor the Groncicle shield. I love the choice of weapons we can get. I especially like the Sharp Champion Sword, a tier 2 legendary one with stylish spikes and golden details for the guard.
Mon, 11/26/2018 - 18:33
#9
~
Ah, I won both of those swords/shield within the first week they released Dragon Tactics (they aren't Dreadfall weapons). Yeah, I love the weapons, so glad they finally added them to the game. The Champion Sword is awesome looking, although I don't wear/use mine much since I have others I prefer. Can't wait to collect more :)
Wed, 11/21/2018 - 04:46
#10
Cheesecake and Chill.
I can't play the second level of Snoggeltog DT and up but I can play the first.
And I got this Snoggeltog mace.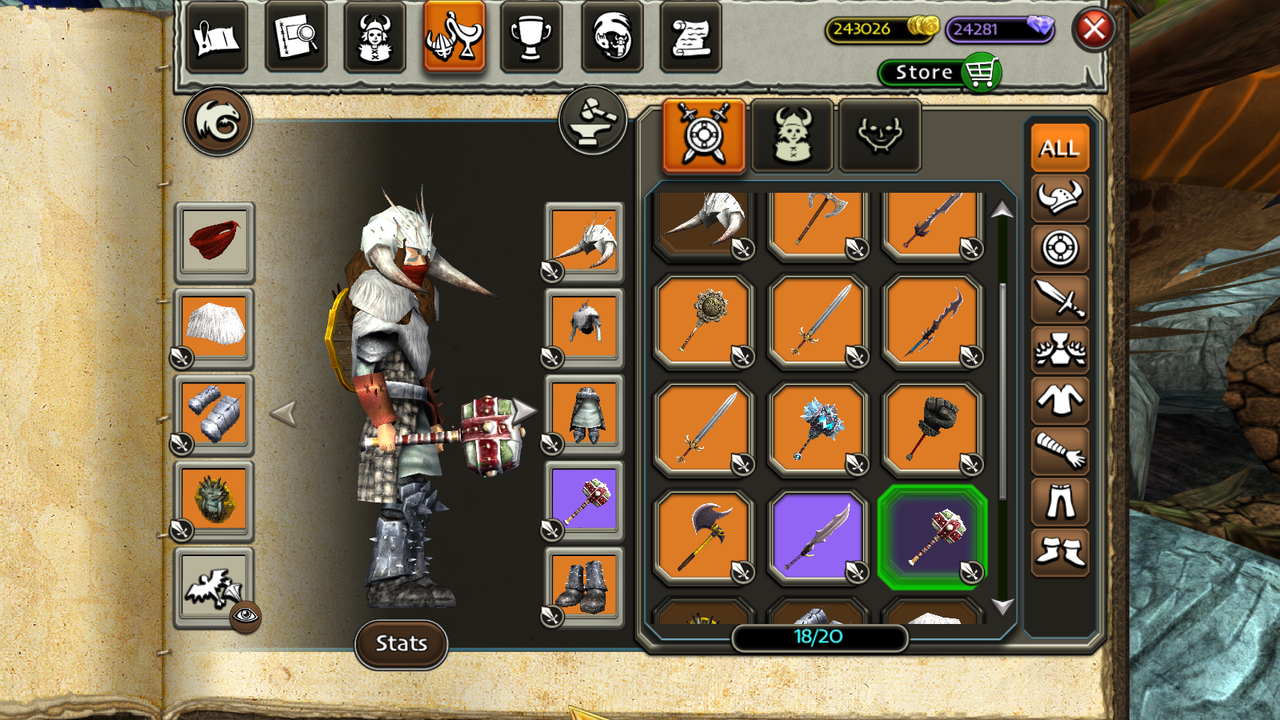 It's only a tier 1 epic weapon so I won't be using it that much.
But it's not bad. It even sparkles. XD
Wed, 11/21/2018 - 05:54
#11
Amazing. Also could you
Amazing. Also could you please tell me, what is the icy mace with the groncicle face, that you have, called? I really like it. Oh and do you remember the level you got it from?
Wed, 11/21/2018 - 08:38
#12
Cheesecake and Chill.
I don't remember which level it was but it was one of the Icestorm Island levels.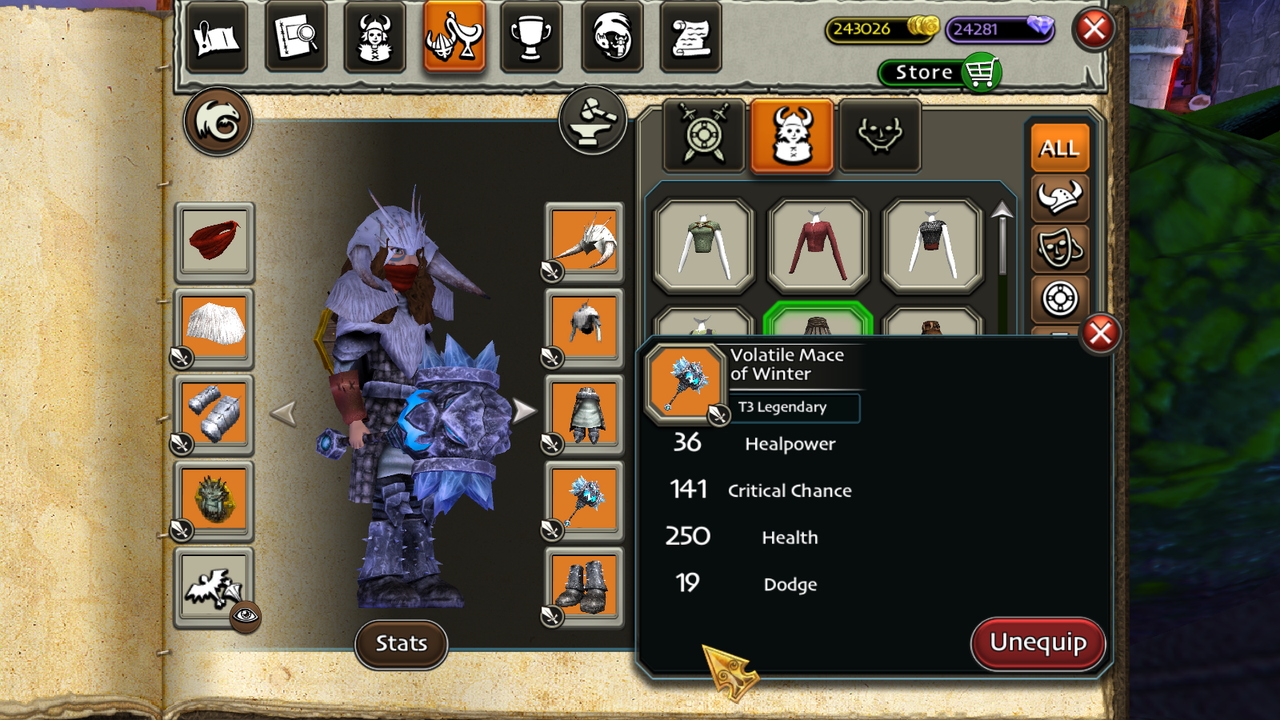 Wed, 11/21/2018 - 19:27
#13
~
Do you remember how many times you played that level before you won the Snoggletog Mace? Also, what weapon did you use and what dragon (and its level) did you use? Congrats!
Thu, 11/22/2018 - 05:36
#14
Cheesecake and Chill.
I think I got it on my second or third time playing the Snoggeltog tutorial.
I use the Frozen Defenders Axe which is a T3 Legendary weapon.
I could only use one of my dragons so I used my main one, Varda, who is a level 50 titian Wooly Howl.
Fri, 11/23/2018 - 12:50
#15
!!!
Does it really even matter what levels you play in DT? It seems the prizes are random since I managed to grab the frozen champion sword on first level. After many attempts, I think I got almost all of the golden swords from first lvl.
What dragons did you use to get the snoggletog weapon? Also, what levels where they? 20's? 30's? 50's?
I need more big girl toys. Nice and sharp thingies.
Fri, 11/23/2018 - 17:12
#16
~
The Training Course
Tier 1 weapons only: levels 1-4
Ice Storm Missions
Tier 2 weapons: levels 1-4
Tier 3 weapons: levels 5-8
The Snoggletog Missions
Tier 1 weapons only: levels 1-4
All of these tiers have visually identical weapons that can range from "common" to "legendary", some of them have small differences like a different colored handle. The main differences are the stats, which increase with each tier. Some of these tiers also have their own unique weapons as well, that can't be won in any other tier.
It does not appear to matter what dragons are used, what level they are, what level your viking is, what clothes you wear, what weapons you use, how many times you play or how many turns you take per game.
The Snoggletog Mace (tier 1) seems to be randomly awarded at any level in the Ice Storm or Snoggletog Missions, likely to increase the odds of being won since it's only available for 6 weeks.
Fri, 11/23/2018 - 13:07
#17
Swoopin' In!
I was able to get my hands on the Healing Snoggletog Mace after completing the Biting Bruises (I think that's what it's called) Icestorm level with one of my Titan Flightmares (Rank 43), Titan Woolly Howl (Rank 30), and Titan Razorwhip (Rank 35). I did the level again and I didn't get a Snoggletog/holiday weapon again. . .I figured I wouldn't but I wanted to see if I'd get lucky. xD Sadly, it was a Tier 1 Rare and while that isn't bad by any means, I already have an Intense Defender's Ax that is. . .I believe a Tier 2 Legendary. I wonder how many Snoggletog weapons there are total and if there's Tier 2 and Tier 3 versions of them available. . .