Snoggletog & New Year babies
Have you got any special dragons that hatched during Snoggletog or the New Year (aka the 12th Night of Yule or the day after)? Are they red and green? Take a moment to share any stories you might have of their births. If you don't want to you can just post pictures of them. Maybe you even helped raise the offspring of one of your dragons. Yuletide was a time to celebrate rebirth after all, and the dragons had their babies during that time.
__________________
Gorge II
Age 17 (3 years behind me)
152 250 UDT points
Critical thinker; artistic; patient; obsessive over things he loves; absent-minded
(Click banner for full-size image)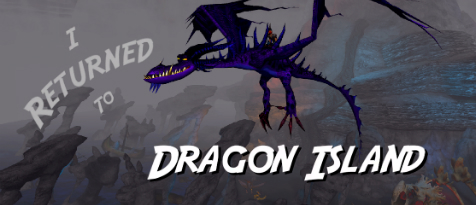 Gorge's dragons + their stories:
Sparkflare
Female titan wing Nightmare, age 49
Found on Dragon Island July 19, 2013
Cheerful; ferocious in battle; easily distracted; excitable; reckless flyer.
Sparkflare was one of the Red Death's subjects. Her preferred attack method when raiding Berk was to avoid direct confrontation with humans and just steal the food while other dragons kept them occupied. She used her dark scales to her advantage by sneaking into the village at night before flaming up and scaring the Hooligans out of their wits. She could be a bit moody because of the Red Death's severity, but overall tried to be friendly with her fellow dragons.
Once their queen was killed she lived a much happier life on Dragon island. About a year later she noticed a human child wandering into the volcano with her favourite food, mutton! What a baffling turn of events this was. She was eager to see what this boy was up to. To her surprise, the Night Fury had come with him, another human on his back. So after bonding with the boy she allowed him to climb onto hers too.
Streamglide
Male Windwalker, age 2 ½
Rescued from hunters July 23, 2016
Caring & comforting; rescues other dragons; brave; stealthy; nimble.
This shy young dragon didn't really feel like he could fit in with the others in his snowy and mountainous habitat, as no other Windwalkers his age lived there. Because of his shaggy fur and floppy wings his parents sheltered him and made sure he didn't wander far off on his own. As he shed his fur he became a more efficient flyer, able to travel around to any island he pleased as long as no humans lived there.
On one flight he spotted several man-made wooden sea dragons with no humans left on top of them. Or so he thought. Before he knew it they were shooting sticks at him! He banked to the left and retaliated with a lightning strike that crippled the flimsy vessel, reducing the men to wiggling worms. But one of them got up and released a flying net that wrapped around him. Stuffed in a cage, the Windwalker whimpered in fear of the cruel humans. But a few nights later a Monstrous Nightmare attacked them, and to his disbelief a little human climbed off her back!
Globstract Flingshot
Female Death Song, age 2 ¼ Male Singetail, age 12
Level 22 Level 8
Adopted Nov 11, 2016 Bonded Feb 12, 2017
Reclusive; disobedient; Sociable; co-operative; curious;
showy; artistic; cheeky. lively; protective of me.
Gargle
Age 15
Persistent & focused; mature; outgoing; confident; short-tempered
Gargle's dragon:
Bulkshield
Male Rumblehorn, age 3
Hatched Jan 1, 2015
Friendly; stubborn & determined; moody; relies on brute strength; heroic.
The Rumblehorn mother lay on her side, a single unhatched egg nestled between her legs. There was no way such a sick dragon could care for a baby; she wasn't even going to survive much longer. Trusting Gorge and his Nightmare with the egg was her last hope, and they were not going to let her down.
Gorge knew how much his brother loved Rumblehorns, so he gave him the egg as a Snoggletog gift. Their dad secretly designed a matching suit of armour for Gargle. And then on New Year's Day the most adorable Rumblehorn burst out of his shell to make his grand entrance into the big wide world, strong and healthy and unbelievably restless.
Battle High Scores:
1. Streamglide - 1088
2. Sparkflare - 1026
3. Globstract - 946
4. Bulkshield - 859
Fri, 01/06/2017 - 13:12
#1
Strength from Frailty
Two years ago as winter was seeping its way into the Archipelago, I grew more eager to spend quality time with Sparkflare before she had to return to the Rookery to lay her eggs. We took a vacation by ourselves in the Woods That Howled, with plenty of camping gear to brave the elements.
One time when we had been hiking for a few hours we spotted a Rumblehorn lying on its side on the frosted ground. I was fascinated to get a chance to see this favourite species of mine in the wild. But having read about it in the Book of Dragons, I was familiar with its abilities and thought it might get up and charge at us at any moment. It didn't budge. I sent Sparkflare to check on it first; she nudged it and turned her head toward me, showing that I was her friend. I cautiously stepped toward the Rumblehorn, who dragged her heavy head to look at me.
She looked anything but powerful. A single unhatched egg was nestled between her legs. There was no way such a sick dragon could care for a baby; she wasn't even going to survive much longer. Trusting us with the egg was her last hope, and we were not going to let her down. As she looked at me weakly I caressed her snout to assure her that we cared. At last she let the egg out of her desperate grip and I solemnly picked it up to secure it in the pack Sparkflare was carrying. With that we took off to go back to Berk and give this offspring a chance at life it wouldn't have had otherwise.
. . .
Even though Sparkflare was still away I had a great time celebrating Snoggletog with my family. My parents knew how much I loved Rumblehorns, so when my dad had found out I would soon be training one he had secretly designed a suit of armour for me which was inspired by them. My aunt had stitched it all together for him. It was the best gift I had ever gotten! And then on New Year's Day, the most adorable Rumblehorn burst out of his shell and made his entrance into the big wide world, strong and healthy and unbelievably restless. He didn't quite understand that a human can't find him by scent!
Who's online
There are currently 72 users and 151 guests online.