Snoggletog Invades the Farm!
Snoggletog has arrived at the School grounds bringing along merry little items, including the adorable sweater-wearing elk!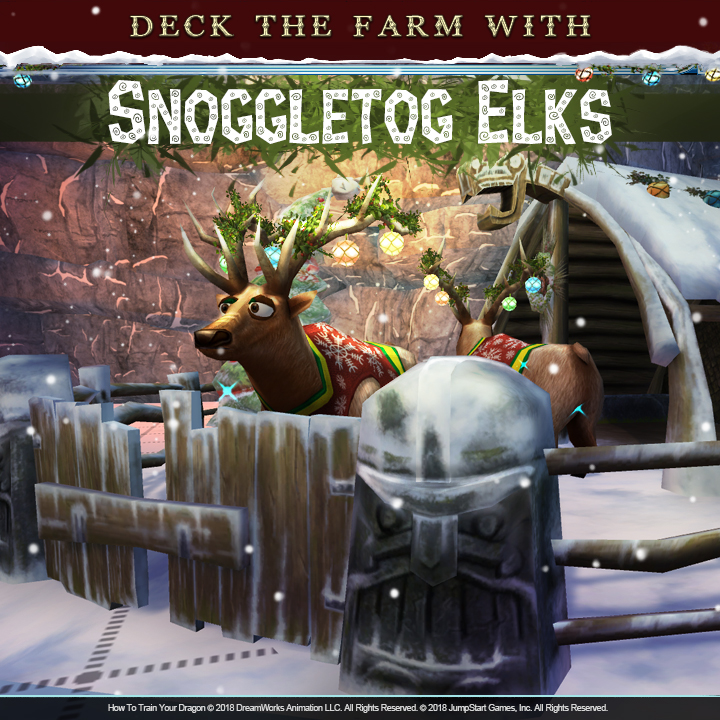 This joyful animal has only been on campus for a few days and has already embraced the chilly Snoggletog season. Its festive sweater is sure to keep him warm during the cold winter nights of the archipelago. Its antlers have also joined the party with vibrant green garland and luminous colors, which can also be traded in.
Vikings are dashing through the snow and adding this colorful animal to their farm before the snow starts melting. Join the rest of the School grounds and get your own jolly elk before time runs out!
Wed, 11/21/2018 - 21:02
#1
Swoopin' In!
I love the elk! They're so cute with their little sweaters on. . .again, on the pricey side but they're so adorable, I'm willing to get'em without too much of a fuss like the Dreadfall boars (those were actually cheaper now that I look back. . .) I hope the dragons get some new holiday gear this year! If elks can wear adorable sweaters and have decorated antlers, why can't more dragons have more Snoggletog saddles or even some holiday/winter-themed skins? I look forward to what this year's Snoggletog will bring!
Edit: Something I've noticed with this update, the recently. . .well, "recently" added dragons in the Dragon Tactics (Scuttleclaw, Changewing, Tide Glider, and Prickleboggle) are no longer useable on mobile. Will these dragons ever be officially announced? Or even better, they'll be released alongside more dragons as a sort of bundle, similar to how the previous racing paints were kind of released in waves? I hope they're useable again soon and more importantly, I hope a few more dragons are added to Dragon Tactics! Not saying that I don't appreciate the first wave we got--especially since I was able to fight alongside my lovely Stormcutters and Skrills--but it'd be nice to have more dragons in the mix!
Mon, 12/17/2018 - 08:30
#2
Snoggletog Elks are great; I
Snoggletog Elks are great; I bought a pair along with their Pen. Could not afford more, now; maybe before the end of the month. The elks are wonderful, love the sweathers and decorated antlers.
I also like the Snoggletog dragon sweathers and saddles. I hope to buy one set before the end of the month for Sharpblade, my 2nd Gronckle.
Lace
P.S. Per KasaneLover's Edit portion of their post, I also hope to see an update on the dragons able to particiapte in Battle Tactics. I've been using the DreamWorks Fandom site about School of Dragons, http://dreamworks-school-of-dragons.wikia.com/wiki/Dragon_Tactics. Their Dragon Stats list shows that the Tide Glider, along with Changewing, Prickleboggle and ScuttleClaw, all can fight in Battle Tactics. In the last two week, I've taken Fantasi, my Tide Glider, and had to leave in disappointment each time. Awaiting news on dragons added to Battle Tactics. I would also love to see the Arrowwing dragon added to the list, sometime in the future. Thank you!