Slashed Prices: Battle for the Edge Sale!
Once again Trader Johann has surprised the Vikings on campus, by springing a sale on them! This time Berk's favorite sea merchant has decided to lower the prices on the Battle for the Edge expansion!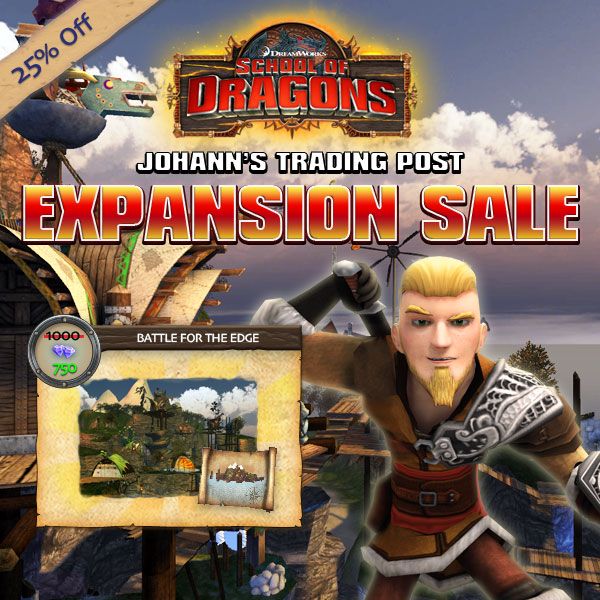 Many Vikings have already explored the adventures the Edge has to offer, but there are a few Vikings who have yet to discover the dangers lurking outside of Berk. Trader Johann's latest sale is giving these Vikings the opportunity to venture into the furthest regions of the archipelago!
Those daring enough to answer the call will go face to face with new foes, all while trying to defend the Edge from intruders. Along they way, you will learn the secrets defenses behind a few new dragons.
After all of the adventures and battles, vikings will need a place to recharge and strategize before going out once again. The hideout is the perfect place for this, and Vikings will have the chance to build their own!
Do you think you have what it takes to journey into this adventure?
Thu, 03/16/2017 - 10:23
#1
~
So, how long is this sale going on?
__________________
Siggy under perpetual construction...
​​Normal active hours for this user:
Mon- Sat: 3:00- 9:30 PM (CT)
​Sun: 12:30- 5:30 PM (CT)
Table of Contents:
​OC Human Bios
​OC Dragon Bios
​RPs I've been in
​List of Fandoms
Not so random facts about me
Fantasy Idea Corner
Random quotes
​
(Double-sided axe shown below)
Amazing drawing of Topaz Gypsy by Ally Kay
Backstory:
When Paz was 3, she and her parents were sailing along with the rest of their tribe to find a new island. When a huge storm capsized the boat in the middle of the night, it killed the majority of the tribe, including her father. The remaining few washed up on the shores of Berk. When they realized they had been blown drastically off course, Stoic offered to let them stay, under the condition that they became members of the tribe of Berk. Shortly afterwards, however, Paz's mother had contracted an unknown illness (pneumonia) and died. Gothi, who had grown fond of the child in that short time, decieded to raise her as an apprentice.
Due to her postion with Gothi, she does have an aqquaintence with Hiccup and the other dragon riders, but that's about it. When she's not studying at the School of Dragons during the school year, she's assisting Gothi at her house. She recieved a deep scar across her right eye when training her first dragon Minty. Fortunetly it doesn't affect her vision. It does, however, tend to flare up on occasions, which makes it burn and turn an irritated red.
Likes: Animals, music, stargazing, watching the sunrise/ sunset, being helpful or witty (which doesn't happen often), practicing with her ax, hanging out with friends (also doesn't happen often)
Dislikes: Being belittled because of her occasional naiveness and/ or appearance (She looks 1-2 years younger than she actually is), the dark/ unknown, romance, pink, girly things in general, the taste of mint (suprisingly enough, she likes the smell though)
((Note: Besides her axe, Paz also carries a leather satchel, which has a small first aid kit, compass, a whittleing knife that she uses to carve patterns on her ax handle, a small spyglass and various other items))
((Funfact: Paz means peace in Spanish, which I did not know when first creating the character. Ironically enough, being peacefull is not one of her strongsuits))
Main Dragon:
Dragon's name: mint chip
Nickname: Minty
Gender: Female
Species: Deadly Nadder
Class: Tracker (Still don't get why they were moved out of the Sharp class)
Color: Mint Green (Hence the name) with beige details.
Personality: A loyal dragon with a generous helping of wit and sass. She doesn't really see anyone as in charge, so she can be somewhat unpredictable, doing what she wants or thinks is better. She will stick one of her spines in you if annoyed, which Paz figured out quickly. Despite her flaws, she will do anything to protect those who gain her trust. While not the most powerful Nadder due to her size, she is one of the fastest. Racing is one of her favorite hobbies.
Backstory: One of Paz's fellow classmates didn't want her because of her attitude. Since she didn't have her first dragon yet anyways, Paz decided to take her on. It was one of the most frusterating yet rewarding tasks she had ever done, and has no regret doing it. (Though, if given the chance, she wouldn't do it again)
Likes: Racing, dragon nip, mint, salmon, hunting.
Dislikes: Being cooped up, people who annoy her, being told what to do, swimming.
"Foster" Dragons:
((She promised Gothi she would rehome these ones. So far that has not happened))
Dragon's name: shadowofdeath
Nickname: Shadow
Gender: Male
Species: Whispering Death
Class: Boulder
Color: Pitch Black with a white underbelly.
Personality: Unlike the majority of his species, Shadow is very laid back and extremely lazy. One of the Death twins, he and his sister were rejected by their owner when they didn't live up to expectations. Paz is hoping to work on his work ethic before rehoming him.
Dragon's name: Milky Way
Nickname: Wé
Gender: Female
Species: Whispering Death
Class: Boulder
Color: Blue with a galaxy-like pattern on her underbelly that consists of pinks and purples.
Personality: The second of the Death twins, Wé is actually a bit hyperactive, making her have difficulty focusing on the task at hand. Takes interest in the most random things, like the rain, or a bug crawling up a tree, or the sunrise. Paz is hoping to get that under control before rehoming her, but she might not get the chance before her perfect rider comes along (winky wink).
Dragon's name: Starred and Spangled
Nickname: Spangled
Gender: Male
Species: Gronckle
Class: Boulder
Color: Blue with a red underbelly and white spots.
Personality: Stubborn, independant, gruff, toughy on the outside... in a word, PATRIOTIC!!! Wasn't as great of a beginner's dragon as the previous owners thought...
Dragon's name: Oceanna
Nickname: Annie
Gender: Female
Species: Gronckle
Class: Boulder
Color: Deep blue with a oean-like green underbelly.
Personality: Paz's "cuddle buddy", Annie is the most out going and enthusiastic of the bunch. Her love of water and attention has made her Paz's second favorite dragon (after Minty, of course). Unlike the other boulder class dragons on Paz's side of the stable, However, Annie's owner's parents just somewhere for her to stay until thier kid was ready for the responsiblilty of owning a dragon. There will come a day when her "cuddle buddy" will not be around all the time, and Paz is not looking forward to it.
​
RP's that I've taken part in (not all of them were finished)
Let's go train a dragon and save the day! (HTTYD RP):
The Rogues (Criminal HTTYD RP)
The Trial of Riders (HTTYD/Hunger Games type RP)
One HECK of a CROSSOVER! (Crossover RP)
​
(By the way, if you know of an rp that you think I'd be interested in based on the ones listed above, let me know)
​​And now the fun part...
Y'all get to learn
about me!!!!
​(a little bit. Probably wouldn't be wise to give away my secret identity)
​(Not that I'm a celebrity or anything... Or am I?)
​(No... thankfully not... moving on)
​I'm probably not in any fandoms, per se, but I feel like I have a borderline unhealthy obbsesion for some of the subjects listed below:
​(P. S. These are not in any particuar order)
​HTTYD (why else would I be on here?)
​Big Hero 6
​The Avengers (Actually, just the MCU in general)
Pirates of the Caribbean
The Chronicles of Narnia (sorta, haven't hung out in that fantasy in a while)
​The Fellowship of the Ring
TMNT (The 2012 reincarnation)
​Phineas and Ferb
​Brave
​Star Wars
​Back to the Future
​Moana
Milo Murphey's Law (again, sorta. It only just came out)
(There are probably more. I'll update as I think of them)
​A couple of not-so-random facts about me
​1. I'm a Christian.
​2. I'm a pianist.
3. I'm 100% American (Not that it technically means anything as far as ethnic heritage since the US is the mixing pot of cultures and whatnot. I think my great great grandparents were Polish, but besides that I have no idea what my ancestry looks like) Specifically, I'm from the southeastern portion.
4. I've traveled to 18 out of the 50 US states. Outside of my country, I have been to Italy, England, and Germany.
​5. I'm an equestrian.
6. I named my OC after two of my pets.
​7. I sing in the alto section of my choir (which means yes, I'm a girl. Is it just me, or are the majority of the people on this forum also girls?)
​8. I'm working on learning Spanish, so don't be suprised if I pop a couple of spanish words while talking on here. (I probably won't, but if I do, now you know why)
​I also now have an FAQ if you have additional questions!
Favorite Music Artists
NF (Which stands for Nate Feuerstein, not Night Fury), Toby Mac, Ryan Stevenson, Mattew Parker, Jaymie Grace, Tori Kelly, Unspoken, Lecrae... (I could go on for a while)
​
Fantasy Idea Corner:
(largely, if not entirely based on stuff I've read from other people, so not exactly original)
(This is likely to be updated every time a new idea pops into my head)
​Here's an idea for a fanfiction that I'll probably never write
​...As in, 86% certainty that I won't
Tony Stark A. K. A. "Iron Man" = Hiro Hamada A. K. A.... "?" (Not sure he has a superhero name)
Steve Rogers A. K. A. "Captain America" = Jack Overland Frost A. K. A. "Winter Soldier" (I know, it's taken, not caring over here)
Bruce Banner A. K. A. "The Hulk" = Hiccup Horrendous Haddock III A. K. A. "The Night Fury"
Thor= Merida (They're so cool they don't need an alter ego)
Natasha Romanoff A. K. A. "Black Widow"= Elsa A. K. A. "Frost Bite"
Clint Barton A. K. A. "Hawkeye"= Eugene Fitzherbert A. K. A. "Flynn Rider" ('Cause I don't see how Rapunzel would get caught up in this in the first place)
Nick Fury = Nick Fury ('Cause he's awesome. I'd put Frozone, but that's a little too much ice for my liking)
​Maria Hill = Heather the Unhinged
​Agent Coulsen = Agent Coulsen ('Cause who else is gonna do his job?)
​(If you've had any experience with marvel in general, you probably get the idea)
(Not entirely sure how I'd incorperate villains with this setup though... Or backstories for most of them... It's a half baked idea, like most (all) of my fantasies)
​And now for random quotes!
​"Why are we stopped?​"
​"The light's red.​"
​"... THERE ARE NO RED LIGHTS IN A CAR CHASE!!!​"
Gogo and Wasabi in Big Hero 6
"Ooohhh..."
"Ooohhh yes."
"You, sir are playing a dangerous game. Keeping this much raw... vikingness contained. THERE WILL BE CONSEQUENCES!​"
"I'll take my chances. Sword. Sharpen. Now."
Hiccup and Gobber in How to Train Your Dragon.
*Cap's shield flies though the air doing awesomeness.*
"That thing doesn't obey the laws of phisics at all!"
Spider-Man in Captain America: Civil War
​​"Loki is beyond reason, but he is of Asgard, and he is my brother.​"
"He killed eighty people in two days."
"... He's adopted?​"
Thor and Black Widow in Avengers.
"Sometimes the only payoff for having any faith is when it's tested again and again everyday."
Immortals by Fall Out Boy.
"Great Scott!"
"Yeah, I know, it's heavy."
Marty McFly and Doc Brown ​in Back to the Future III
(When they switched catchphrases for a scene)
"You dare challenge Megamind?"
"This town isn't big enough for two super-villains!"
"Oh, you're a villain all right. Just not a super one."
"Yeah? What's the difference?"
"PRESENTATION!"
Megamind and Titan in Megamind (the movie)
​(More pictures/stuff coming soon A.K.A. at some point in the unforseeable future)
Thanks for reading my sigg​y!
Thu, 03/16/2017 - 11:34
#2
3 days!
Hello! The sale will last for three days.
Thu, 03/16/2017 - 15:42
#3
No! Bad Tigerus and Euphrates!!! Do not eat my subject!!
Any clue when/if Call Of The Deathsong might go on sale? It seems they you are going thorough either lowering the price (icestorm island), or putting them on sale (Return To Dragon Island and Battle For The Edge)
__________________
Hello! I am Shamara30! I am new to the forums but I've been watching and I have read a few fanfics too!
I plan to do more with this!&
(Profile pic edited by Varku)
Post in your signature if you agree! (Made by MegaboltPheonix)
My OCs
Name:Shamara
Age:17
Backstory: http://forum.schoolofdragons.com/content/how-i-trained-my-dragon-1
Appearance: working on it!!!
Weapon:A gronkle iron staff that the ends light on fire. It can also split in half the long way to reveal a leather sheet that works like her own version of Hiccup's flight suit.
Personality: when Shamara sees something she has to know how it works. This makes her good at quite a few things because she knows about them.
Skills:fighting,singing,and flying with Carmen
Dragon:Carmen
Species:deathsong
Unique traits: just as chicken makes Stormfly go faster eel makes Carmen go faster. It brings her speed from 17 to 19 and natural training makes it 20
Pet Dragon
Name: Coal
Species: terrible terror
Colors: black with a grey underbelly and highlights
Other: Shamara has a thin scar across her left eye. She made matching necklaces in the shape of a music note for her and Carmen. She is the leader of a team of Dragon Riders called The OS Dragon Riders.
Name: Vanessa
Age:18
Backstory: no one can know. When Vanessa was five years old her village was attacked by dragons. Her father sent her and her mother into the woods to hide while he defended the village. On their way to the safe house they had built they were attacked by a monstrous nightmare. Sadly Vanessa's mother died protecting her. Ever since then her father has hated dragons. Even worse he blamed her for what happened. He disowned her. While living on the streets she befriended a singetail and named it compass. This made matters worse between her and her father. Now he not only banished her from his life he also seeks to kill her. Vanessa is on the run when she comes across an ally who is also her father's worst enemy. But they cannot know her secret. Everything she had built up would be lost if they knew the truth. She would be cast out if they knew who her father really was.
Haha! Now you must live with this until I write it!!!! MWAHAHAHAHA!!!!!!
Appearance: black hair, Brown eyes
Weapon:sword from her father
Personality:keeps to herself and in constant mental pain
Skills:sword play, herbal medicine and cooking
Dragon:Compass
Species:Singetail
Unique traits: he always knows which way is north which is why he is called Compass
Name:Addi
Age:15
Backstory:Addi lives on berk a year after httyd 2. Life is good for Addi and her friends Shey, Robin and best friend Gustav but when they are enrolled in Dragon training their lives are turned upside down.
When a dangerous enemy approaches berk and the dragon riders call on them for help they must learn the true meaning of friendship and see how far they will go for each other.
Ha! Again!
Appearance: strawberry blond hair cut to shoulders, bright green eyes
Weapon: Shield like Hiccup's
Dragon:Silver
Species:Shockjaw
Colors:Grayish turquoise with silver fins.
And lastly...
Name:Naomi
Age:17
Backstory:the dragons have left many years ago and many don't believe anymore. But one girl does. When the dragons return led by an angry Toothless Naomi befriends him. Together they begin the search for Hiccup. Will they find him? (Not all the kinks worked out in this story.)
Appearance:Brown hair, eyes that appear to be changing color
Weapon:none
Skills: understanding dragons, sword play
Dragon: ha! You may not know yet!!!!!!!!
And now, meet my newest OC!
Name:Alyssa (Aly)
Age:20
Backstory: Aly's parents died when she was a baby leaving her in her uncle's care. One day, when she was five, her uncle took her in a fishing expedition but the boat was attacked by wild dragons. Her uncle sent her off in a small rowboat and Aly was never sure what happened to her uncle. After many days floating around(the oars had been lost to the dragons) she fell asleep. When she awoke she found herself surrounded by dragons and a young woman. She learned that the woman's name was Valka and she lived with and trained dragons.
Valka nursed Aly back to health and after that the thought of leaving never entered her mind. She grew up among dragons and even bonded with a yellow and green triple stryke which she named Hunter.
At the time of httyd 2 Aly was on a trip to find more dragons wounded by Drago Bludvist and take them to the sanctuary.
Appearance: she dresses like Valka and had similar hair.
Weapon: stick thing like Valka's.
Skills: Training dragons and thankfully, cooking.
Dragon:Hunter (triple stryke)< Other:Aly speaks dragonese since she grew up with dragons. /p>
Dragons I hope to get
Name: Echo
appearance: (both done by The talented VexyLu. Thanks!)
Here is baby Echo by nightfuryatom4! TSYM!
And here is my first Dragon, Skyfire! (Also by VexyLu;-)
Okay! I plan to do a lot more with this but thank you for reading my OCs!!!! So long dragon riders!!!!
Who's online
There are currently 48 users and 160 guests online.