Skrunner Flightsuit Returns!
The Skyrunner Flightsuit has made a return to campus for a limited time only!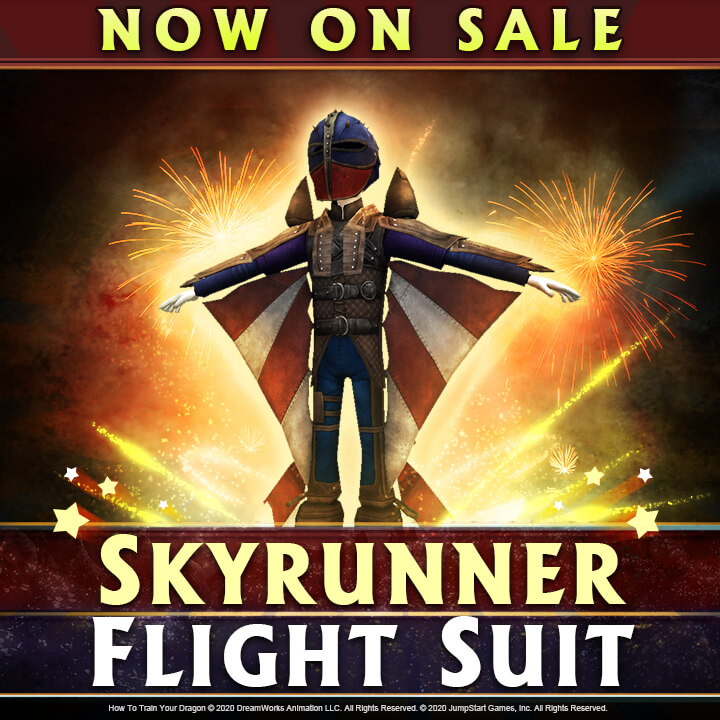 This sparkling suit first appeared back in 2017 and has since made a few appearances on campus but never for long. It's once again back at the Trading Post where Vikings can suit up in its striped wing and dark blue outfit as they explore the campus.
As in the past, the Skyrunner Flightsuit is only available for a limited time. Vikings should start heading over to the Trading Post so they can get their own suit before time runs out!
Sat, 07/04/2020 - 08:35
#5
I'm reading it as "SKrunner"
I'm reading it as "SKrunner" now XDDDDDDD
Sat, 07/04/2020 - 13:47
#6
Ack!
Skrt skrt. Brynjolf never proof reads. Every post by him has spelling or grammatical errors. S'pose it doesn't matter that much but still...
Sun, 07/05/2020 - 05:11
#7
....
Hey, everyone makes mistakes~
Sun, 07/05/2020 - 05:12
#8
....
Hey, everyone makes mistakes~
Sun, 07/05/2020 - 09:33
#9
Your defending brynjolf for a
Your defending brynjolf for a typo? Yet your annoyed by the new suit?
Why are people getting defensive over a harmless joke -_-
Sun, 07/05/2020 - 19:15
#10
Wiggles the whispering d.eath ate my subject
Because everyone else is dogpileing with said joke. Once or twice and it's a harmless joke. A whole comunity starts pointing out an error and it becomes more mean spirited. I mean, would you want everyone on a forum jumping you for a typo? The first few comments and it's like "Oh. Oops." but if everyone does it it's more like "Yeah yeah I get it. The last ten people already said it. Sarcastic thanks."
(Note, didn't count. Ten's just one of the default "this is a lot" numbers. This case might not even be ten but it still might be said in this situation if someone was getting annoyed)
Though you're right that being annoyed by the new suit while defending against the dogpiling is a little weird I might add if that's what happened.
Sat, 07/04/2020 - 16:46
#11
Death Star blew up my subject
I know the sale is uneccessary but why cant everyone ignore the spelling error?Nobodys perfect at spelling.
Sat, 07/04/2020 - 16:47
#12
Er
I wasn't criticising it -_-
Sat, 07/04/2020 - 17:33
#13
~
We're all just joking. People joke like that all the time for example the other day I accidentally said "can we feed bamhurgers for dinner?" Because my mouth slipped and the whole day my siblings and friends teased me for it. I didn't mind because I found it funny as well. We're also mostly joking since if it was truly a spelling error then brynjolf wouldn't have said "Skyrunner" correctly later in the post like he did. We're just joking because it's a funny typo, and just like my last example I've made typos here on forum that people noticed and joked about.
Sat, 07/04/2020 - 21:39
#14
Rebel alliance stole my subject
Ok.Soory i was so serious about the spelling error.