Shockjaw Sale!
Another week, another dragon sale, this time featuring the Shockjaw!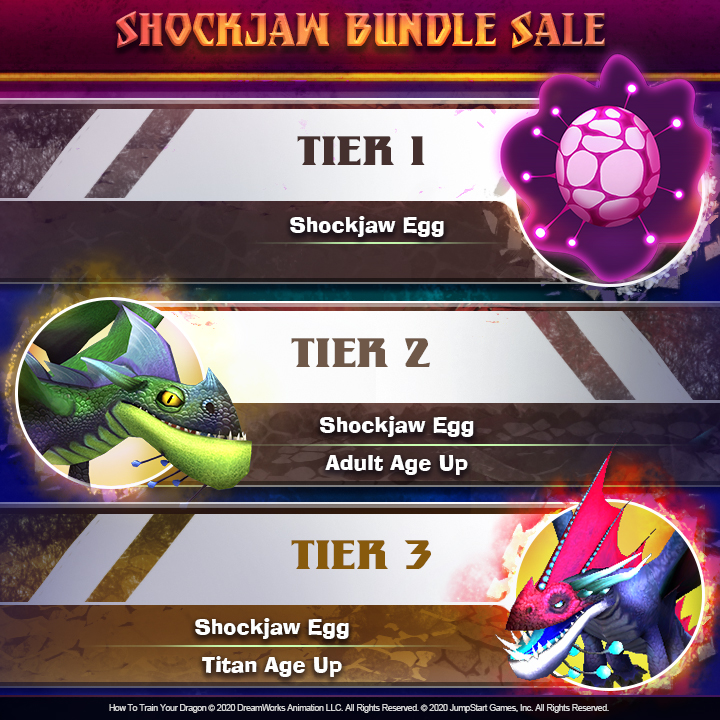 Known as one of the fastest dragons in the Tidal Class, the Shockjaw is sure to add some speed to your fleet, but enemies beware: notorious for its bio-electric blasts, the Shockjaw takes no mercy on those who cross it. Visit the Trading Post to add this elite dragon to your fleet today.
Fri, 11/06/2020 - 00:10
#2
* BOOM BOOM *
Much appreciated, Brynjolf. Admins please fix the bugs and make Toothless's animations and model better! If he would get fixed I would be more interested in buying membership! I would love to purchase a 3 month membership but at the moment there isn't really any interest. It's painful flying on Toothless (Dark Claw)! I don't even have much interest in buying or earning gems for the Trial membership! The only interest for the Trial membership is Light Fury (Moondust)! Please for the love of Thor fix Toothless's animations and model!
https://www.youtube.com/watch?v=lmoJYCvDoBI&t=7s