Return to Dragon Island Overview
This nostalgia filled expansion pack was released a year ago, but for me it took place in winter a few months after Hiccup became chief of Berk. Returning to Dragon Island was a big milestone in Gorge & Sparkflare's journey together, so my overview is going to be a more personalized story with screenshots.
__________________
Gorge II
Level 50
352000 UDT points
Critical thinker; artistic; patient; obsessive over things he loves; absent-minded
Brightslime is all grown up (& reached level 50)

Battle High Scores:
1. Headvord - 1225
2. Globstract - 1203!
3. Streamglide - 1122
4. Sparkflare - 1070
5. Brightslime - 980
6. Flingshot - 900
7. Grimpinch - 895
8. Bulkshield - 859
Sparkflare Streamglide
Female titan wing Nightmare Male Windwalker
Level 50 Level 50
Found July 18, 2013 Rescued July 23, 2016
Cheerful, ferocious in battle, Caring & comforting, dragon rescuer,
distracted, excitable, reckless brave, stealthy, nimble
Globstract Flingshot
Female Death Song Male Singetail
Level 50 Level 50
Adopted Nov 11, 2016 Bonded Feb 12, 2017
Reclusive, disobedient, Sociable, co-operative, curious,
showy, artistic, cheeky lively, protective of me
Gargle
Persistent & focused; mature; outgoing; confident; short-tempered
Bulkshield Brightslime
Male Rumblehorn Female Flame Whipper
Level 50 Level 50
Hatched Jan 1, 2015 Adopted June 11, 2017
Friendly, stubborn & determined, Adventurous, likeable, observant,
moody, tough, heroic has quick reflexes, poisonous
Headvord Grimpinch
Male Sentinel Male Deathgripper
Level 50 Level 49!
Befriended Oct 10, 2018 Befriended Aug 30, 2019
Dignified, benevolent, tenacious Dangerous, touchy, submissive
Sun, 06/18/2017 - 21:00
#1
Part 1: Journey to the Volcano
When Sparkflare was growing into a titan wing and I was almost 17 years old, a dangerous gas started to spread across the sea. It rendered Mulch and Bucket unconscious, so my brother Gargle rode their Zippleback to bring them safely to Berk. Meanwhile I sailed with Eret to Auction Island. There I quietly released a caged Singetail as Eret kept the guard occupied. Disguising myself as a hunter, I then gave the trader some dragon teeth Gobber had extracted in exchange for intel on our enemy Harald's whereabouts. We got a map leading to Hobblegrunt Island, but by the time we arrived the sneaky man was already gone.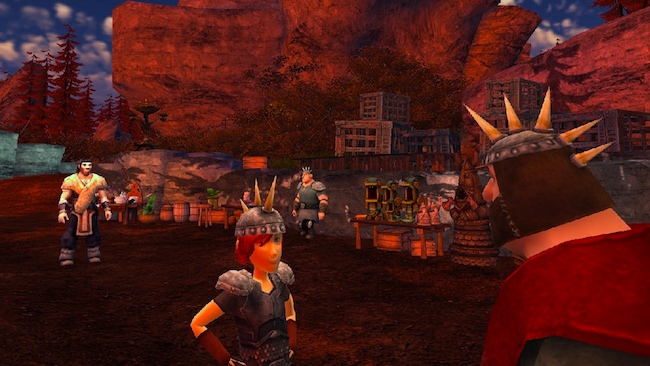 Katrin the Curious sent me out to sea to collect gas samples so we could figure out its composition. Sparkflare was immune to it, but even with my mask the strong smell of eggs was unbearable. I started to feel lightheaded, and at some point on the way to the school I passed out on my dragon's back.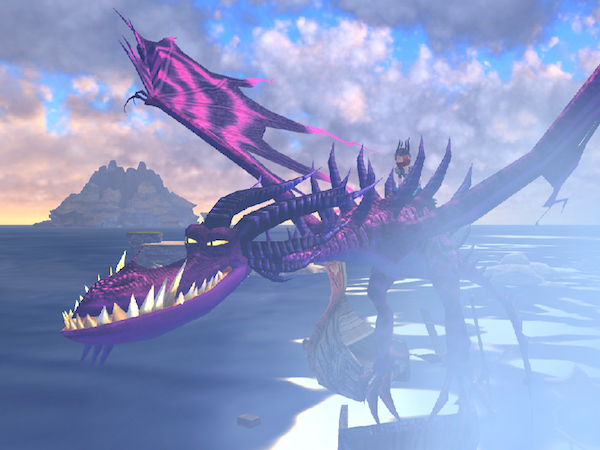 I woke up in front of the lab. Once I had regained my bearings I shone light through the gas, and sure enough it was sulfur (sulfur dioxide to be exact). But I perked up when Katrin said that it must be coming from Dragon Island.
"I have to go there!" I said with determination. "Not only do we need to find the cause of all this gas, but Dragon Island is where I first met Sparkflare."
"We'll need to figure out a way to go into the fog and breathe without getting sick."
Thankfully the twins had discovered that charcoal could filter the air, and I helped Hiccup make some proper gas masks.
* * *
The next day was my birthday, February 12. "Valka and Hiccup want to talk to you!" Fishlegs informed me. "Oh, I bet it's a cool dragon thing. They're waiting for you on the other side of Dragon's Edge!" So I hurried over with Streamglide, who would be more gentle and careful around wild dragons. And to my surprise it was none other than the Singetail I had rescued! He fired into the sky to call his whole pack. We were surrounded! Valka encouraged me to look the dragon in the eye and let him know that I was there for him. Once I had gained his trust I climbed on his back.
"How about I name you Flingshot for your amazing fire ability?" I introduced him to Sparkflare and the two big, fiery dragons became great buddies.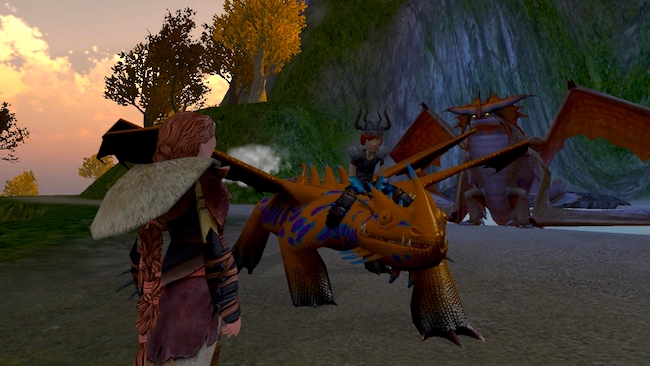 We weren't quite ready to go to Dragon Island yet, but Sparkflare took me to Helheim's Gate where we found a recent shipwreck. On it was a map of Dragon Island, and a magic stone we used to make a compass. Hiccup combined his own map with Mulch's and Bucket's maps to get a clearer understanding of the way through the treacherous sea stacks.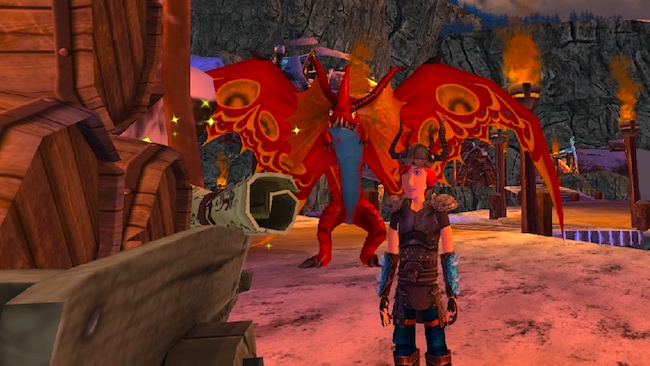 As Globstract and I tested the compass she enjoyed terorizing Snotlout, whom the twins had left floating on barrels in the sea for the Hidden Nut Hunt Extravaganza. She fired an orange glob right behind Tuffnut at the finish point. "Careful what you start, Globstract." I warned. "You and the twins could prank each other to death!"
With our navigation plans figured out, Sparkflare and I finally embarked on the journey to her former homeland. Hiccup, Fishlegs and Valka came with us.
"I really hope we don't get lost," Fishlegs worried.
"We just have to follow the landmarks," Hiccup answered. "Look, there's the split rock."
My heart was bursting with excitement. "This feels so much like the first time you brought me here. Remember when Spakflare saved me from falling to my death when we were climbing the volcano?" I patted my dragon's head as we flew, and she looked at me lovingly. We took the lead; my dear Nightmare had learned from Flingshot to blast fire into the air as a signal for the other dragons.
But we all became silent as we passed by about a dozen burnt hulls of Berk's ships on the shore of Dragon Island.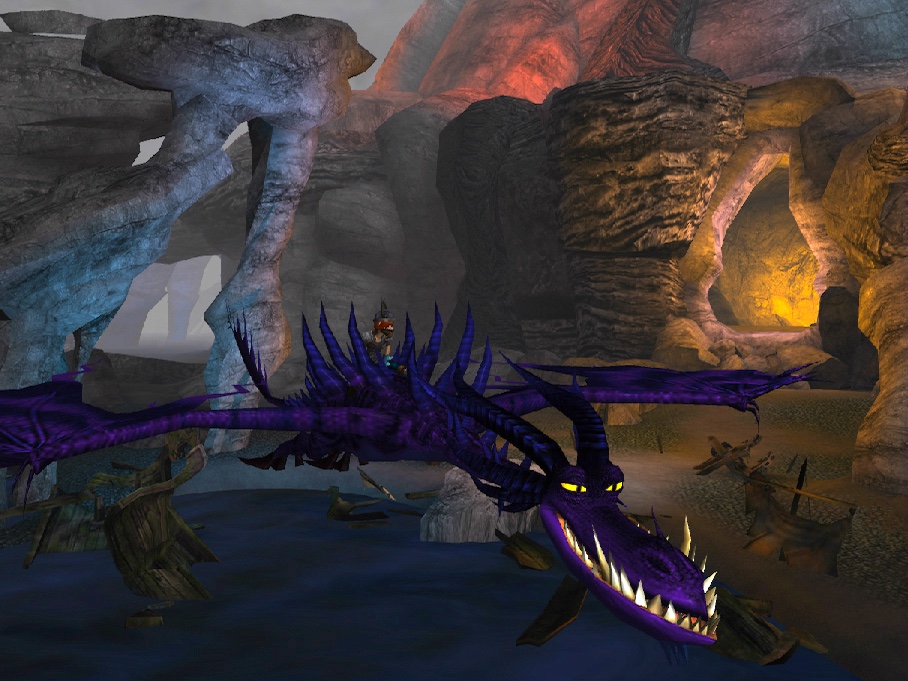 We landed, the Red Death's skull looming in the distance. Harald had spread rumours that a tooth from it could turn dragons to stone, but they were just fossils. It was our mission to figure out what was happening to the volcano, as well as to look for clues of Harald's presence. And everywhere we looked there were reminders of Hiccup's legendary battle against the dragon queen...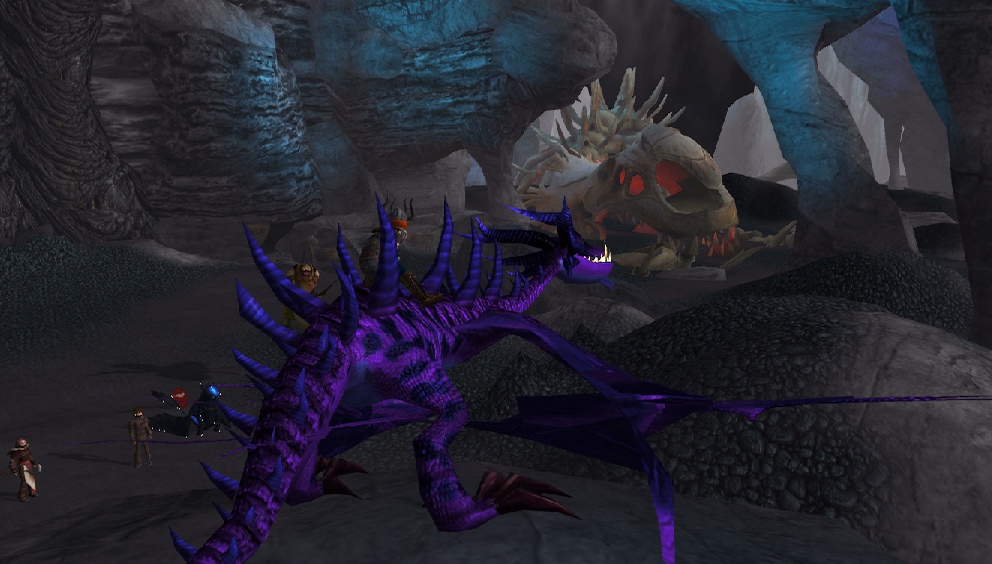 Who's online
There are currently 3 users and 549 guests online.