Ranking Snoggletog daily quest
Just like the topic said folks! Now that the Snoggletog event is more than passing half way point, let's discuss what's the Quests you like and what's the one you dont. It can be rank through anhything, personalt preference, stories, effort, how easy it is.
This is only for the daily quest only though. Not the not-so-stale or the Chimeragon quest line one.
Ready? Here's mine. Not sure if it covered everything. Mine is mostly rank based on, well how easy and quick it can be done. Basically ranking from what I would choose and what I would not lol Also I might be lucky that all of the queest seem to work for me without any problem
1. Eret's Quest - Eret my man!, you consideration is appreciated! Though it is a little eyebrows raising that he just watch while we're chilling in the water but Eret is cool. He's the only one who doesn't sent us to do the job for him and just want us to chill out. The quest is easy and can be done in a small area and in small time.
2. Journey into the peril - An Easy and quick one! I like that it takes place in melody island. There's a little leading mechanic and a little item grabing mechanic but over all it's a fairy and easy quick quest! Also an implication that Toothless would eat Tuffnut--
3. Night Light drawing Quest - Another easy one. Although this one take place on more land. Go from New berk to Old berk to back to new Berk again. A little leading mechanic, a little quiz which seem to change depending on who asking a question. Over all not overly complicate or time consuming
4. Ruffrunner-pranking on Gobber quest - An Easy one! I like doing this one because it's quick it only take place in one place but the down side of this one being the cutscene which might take a little time, even if it's cute and how we need to lead Ruffrunner twice.
5. Light flying show - This quest is actually really cool! especially for a non menber. It seems to be one that being put more effort in to and I apreciate that. It's good to get to fly on the Light fury. Still because of that it do take a little more time and effort than the four quiz so I usually not choose this when there're the other four to choose from.
6. Youth in revolt - This should be the simple quest as it share a lot of similarity with the easy four but for some reason I find the leading section more irritating than others because it is not as linear, leading the baby up the stair can be a pain and that topping with flying around shooting stuff is too much effort to be higher on the list
7. Farming Quest - I usually dread the farming tanks to the dread falls 2020 quest where I have to fish and it took forever and made me rage quit. but this one dont have fishing! as far as I know at least. Still it took time waiting for the crops to go and I usually am too dumb to figure out which seeds give which number with what time--after they got rid of the description. That's kinda wack but I still done this quest without much problem if it come to to it because I need to do all the daily errands for the candies anyway so it is something I can wait while finish all other stuff
8. Hide and go seek - the problem I have with this quest is how big the glacier island mab is and how hard it is to click on pouncer but that's it. Could have been worse
9. Cloudjumper's Quest - I don't really like this quest, the only thing that safe it for me is 1. It's Cloudjumper I can't be mad at him and he deserve to relax and 2. at least it take place in one place---unlike the other one below. But to go around the big map gathering stuff thrice can be a pain I don't want to choose
10. The Wrangler - I hate this quest- I'm gonna be physical to snotlout. Admitally there're some funny line here and there but gosh going to like four land picking up farm animals repeatedly is not fun. It's so labourous.
anddd that's my rank! How would you rank the daily quest? I wanna know
Tue, 01/12/2021 - 05:46
#4
U_U
Poor guy's joints must be aching. Old grandpa dragon needing to watch over three unruly kids.
FOUR??? I can only get to the second part before my game freezes. Yeah I'm out.
Bye Snotlout.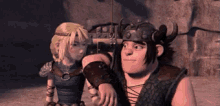 ((Aww thank you! ;w; ))
Tue, 01/12/2021 - 06:23
#5
Yes, you collect decorations
Yes, you collect decorations in New Berk, then go to the wilderness for sheep, then Zippleback island for turkeys, then somewhere else for sheep, then impossible island for turkeys, then you catch rabbits at the training grounds
Tue, 01/12/2021 - 07:08
#6
OH, I'M SO GLAD I'M NOT THE
OH, I'M SO GLAD I'M NOT THE ONLY ONE WITH THE PROBLEM! It always freezes at the turkey part and when I enter the game again I get the message of Snotlout at the start of the quest again, sometimes it dissapears only to come back again and Its driving me insane lol.
I love you Snotlout (I don't know why but I do) but I will punch you if I see your message popping up as soon as I enter the game