Race to the Edge: new dragons of the final 2 seasons: PREDICTIONS
I have some Ideas of species that likely are going to appear in the last two seasons of Race to the Edge (Dreamworks Dragons: seasons 7 and 8). These predictions are based on evidence throughout the franchise. I will explain.
!. Scuttleclaw. This dragon is one a lot of people want to see the actual adult of. but why would it be an option? How is it an option? The Scuttleclaw does not have its own page on howtotrainyourdragon.com, despite its uniqueness. HOWEVER, on the howtotrainyourdragon.wikia.com site, the Scuttleclaw's page has FULL STATS LIST! this includes speed, venom (scuttleclaw stat for venom: 2), power, attack, firepower, armor, stealth, etc. It is the only dragon on the wiki that ISN'T on the official website to have this full set of stats. This means that it is VERY likely that it will appear.
2. Bewilderbeast. More questionable than the Scuttleclaw, there is a reason for this prediction: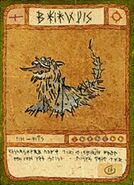 According to the wiki, this card is about the Bewilderbeast, and it is one of Fishlegs' dragon cards. They were made before he saw either Drago's or Valka's Bewilderbeasts, so how does he have it? Maybe they encountered one?
3. Sliquifer. This is hard to explain, but this is an EXTREMELY likely one. At one point, they were mentioned on the official website, on the page about the Scauldron. It was stated there that the Scauldron nearly hunted the sliquifer to extinction. When they realized that the sliquifer hadn't been named yet, they changed it to say "some species of dragons" instead. it also has appeared in HTTYD2 (fishlegs dragon cards), and THe Book of Dragons mini-movie (in the background on a page about the scauldron). this suggests that it almost certainly would appear. It really wouldn't suprise me.
4. Snaptrapper. This is mainly because it hasn't exactly been encountered yet in the series, yet is seen in the first film, in the Book of Dragons mini-movie, and in Dragon Tracker, as well as the official website.
5. Sand Wraith. The makers of Race to the Edge have announced that one of the upcoming dragons is one that buries itself in the sand and attacks its prey from underneith it. While it could be the sweet death, it is unlikely. In the stable quest that mentions the sweet death's burrowing, it seems to imply that it is under the rock, like a whispering death. Also, it is only in that stable quest that the sweet death is said to burrow. The Sand Wraith is stated everywhere to bury itself in the SAND, and attack from the SAND. Furthermore, they probably would feel better if they just added a dragon already created into the show, as it would save the trouble of naming it.
Oh, and I LOVE sand wraith! they are my favorites, and I am excited for the titan.
6. Grapple grounder.
As this image shows you, the Grapple Grounder has already, sort of, appeared in the series, as a statue of it exists in the Great Hall. So, it is possible to actually have it in the show.
7. Red Death/Green Death. Fishlegs has a dragon card with it. Why? basically similar reasoning to why a Bewilderbeast might appear.
8. Ripwrecker. This dragon was originally called the Submaripper. Now that we have a different "Submaripper", it is called the Ripwrecker. I believe it is also on FIshlegs' dragon cards. It might appear in Race to the Edge and more formally clarify its identity as the Ripwrecker, maybe reveal why it is often mistakenly refered to as the Submaripper.
9. Snafflefang. This dragon is described as a new species, but its geode diet being known suggests it might have been known of shortly before HTTYD2.
10. Stormcutter. Probably because they have had the Hotburple, Rumblehorn, and Seashocker, and thus are going to continue this trend.
11. Slithersong. one of Fishlegs' dragon cards is for the "Songwing". This could refer to both the Slithersong and the Death Song, as they are closely related, behave similarly, and could simply be called "songwing dragons" as an inclusive name. Plus, they might want to clarify on the relationship between the slithersong and the Death Song. And, it would be cool to see the two fight.
12/13. Woolly Howl/Threadtail. These two I have included because they might want to finish up on showing off all of the strike class.
Sat, 04/01/2017 - 13:28
#1
I think RttE is over, but
I think RttE is over, but that sounds cool.
Sat, 04/01/2017 - 20:43
#7
A wild post appeared!!!
We don't have Gronckle lava.
I am assuming that the Gronckle produces it's lava by smelting the rocks it eats so, we'd have to substitute Gronckle lava for volcanic lava. 3 parts limestone 2 parts sandstone, one part iron ore and a cooled and hardened spoonful of lava. However the exact amounts are never stated so we cannot be sure.
Sat, 04/01/2017 - 20:27
#8
Meep
Ahh what about the dragon eye it fell in to the volcano
Wed, 04/05/2017 - 19:47
#9
Interesting
Hmm, this is an interesting idea. I agree, most of these are possibilities. Though I don't think we'll see a Threadtail or be lucky enough to see a Woolly Howl, personally - though I wish. Call me pessimistic, but I don't think any of the Rise of Berk or Rise of Berk-named dragons have much of a chance...except the Sand Wraith because of the whole "dragon from sand" clue we've gotten. And I also don't think we'll see anything about a "Songwing." A lot of Fishlegs' cards have incorrect names on them, some I don't think the "Songwing" is a thing. If we're to believe Rise of Berk, the Death Song is actually a special Slithersong subspecies, kind of like how the Desert Wraith and Sweet Wraith are Sand Wraith subspecies.
But I would add a few to your potential possibilities! I'd say all of the HTTYD2 dragons that were named before Rise of Berk have at least a chance of showing up. That includes the Snafflefang and Scuttleclaw that you mentioned above but also the Hobblegrunt and Raincutter. And heck, maybe the Thunderclaw has a chance; in The Serpent's Heir and To Berk and Beyond, that dragon got a lot of attention. After all, we've gotten the Seashocker already, so seems like HTTYD2 dragons are a up for grabs.
As for the Scuttleclaw, I think it's perfectly possible for them to appear, but there is a reason its stats are on the wikia, and it's got nothing to do with RTTE. Those stats were put there by fans, who found them in Dragons: Guide to the Dragons Volume 3. (It's a little bit weird that they're there because they're actually hatchling stats, but oh well.)
Link to Dragons: Guide to the Dragons Volume 3
So the stats for the Scuttleclaw are no indication whatsoever about an appearance in RTTE, but you know, it's still a possibility.
Fri, 04/07/2017 - 13:09
#11
Not as likely as the others, but...
I'd be surprised to see it in RTTE, but since it is in the first film, I'm not ruling it out.
Fri, 04/07/2017 - 13:21
#13
Probably just a smidge less
Probably just a smidge less of a chance thatn 45/50. Definitely somewhere between Sand Wraith and Threadtail
Sun, 04/16/2017 - 12:03
#15
?
....Did not know that. I have no clue.
I guess I could go through the history, find out who put that up, and ask them.