~Pokemon and Human Hybrid R.P~
Story:
We are all Pokemon and human hybrids. No one knows why. We also live in the same town. And because we are unknown to human kind, they placed us in a town far from normal humans. So, in good cases, no school! We also have powers but only the powers that the Pokemon we look like have OR the powers that belong to that specific type.
RULES
1. No godmodding unless it is just your pokemon's powers.
2. HAVE FUN :D
3. As many characters as you please
4. Be polite and kind to other participants!
5. ONLY 6 PARTICIPANTS (Excluding me)
THE GREAT FORM
(Photo here)
Name:
Nickname:
Pokemon:
Appearance (Only if you haven't got a picture):
Age:
Personality:
Powers:
My 3 characters :3
Name: Talullah
Nickname: Tal
Pokemon: Vaporeon
Age: 21
Personality: Varies…
Powers: Hydro Cannon, Muddy Water, Aqua Tail
Name: Seraphina
Nickname: Sera
Pokemon: Volcarona
Age: 21
Personality: Varies…
Powers: Blue Flare, V-create, Megahorn
Name: Kaliyah
Nickname: Kali
Pokemon: Salamence
Age: 21
Personality: Varies…
Powers: Spacial Rend, Dragon Meteor, Hurricane
NO ROLEPLAYING ON THEIS THREAD. WE START ON MONDAY!
Only 6 participants...
Thu, 09/04/2014 - 17:13
#3
....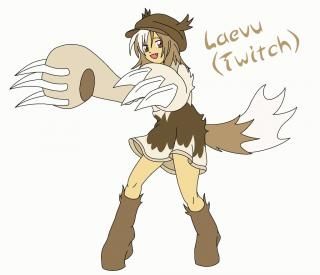 Name: Laevu
Nickname: Twitch (She has a small twitch, especially when she is nervous or upset.)
Pokemon: Zigzagoon/Linoone.
Appearance (Goes with picture): Her "paws" are detachable at the shoulder. Since they do have weight, when moving quickly, she removes them from her arms and wraps them around her neck or waist. If she trusts where she is and who's there, she will just drop them to pick up later.
Age: 14
Personality: Usuaslly very quiet and thoughtful. Finds it hard to trust people, but tends to follow around the ones she does. She is very helpful and is caring of others, no matter whether she likes or trust them. Very jumpy and clumsy, and is very unsure of herself and her abilities.
Smart for her age, and is surprisingly wise, though because of her lack of trust in herself, she doesn't like to give out advice. Very conscious of what others feel about her, and doesn't like to lead or be in charge in case what she does, fails. Still, she has decent ideas most of the time, but is fearful to voice them.
to all who don't know her she seems cold and spiteful, and very aggressive. As you know her better she gets more passive and friendly.
Powers: Headbutt, Quick attack, Slash, and Thief.
Later: Thunder, Flamethrower, Ice beam, Iron tail, Hyperbeam, and Attract.
((Thanks to Rei for the picture c; ))