Paxy's Request-a-sketch
Hey guys! You probably know me from a few art posts around the place, as well as the highly entertaining (if I do say so myself) Draw a Dragon Badly thread. Unfortunately, that kinda... died. Guys, it's simple, you just need to post art when you promise it to someone.

Anyway, in lieu of that fix of quick and silly sketches, I have decided to create a proper art request thread. These will look a little more polished than my silly sketches from before, but still not full pieces. I don't have forever to spend on free art, you know.
This is for dragons. They don't have to be SOD dragons, and I will consider doing non-dragon animals, but trust me you don't want me drawing your Vikings. Still working out the kinks on how to do things like hands.
Rules:
1. Only request one character, one time. That's it, that's all you're getting.

2. Don't complain about the art I give you. I did it for free, if the color is wrong or something just fix it yourself.
3. Don't reply to this post or the next. It'll mess up my organization. Thank you for your understanding and cooperation.
4. I will sign every piece. Do not remove my signature. Do not repost to DeviantART or another art uploading site, although blogs and stuff are OK so long as you say that it is by me, write my username, and that I can be found on this forum. Please credit even if you keep it on this site thanks. If you read all this put parasaurolophus as your subject.
Form:
Name:
Species:
Gender:
Brief Personality:
Reference Image: (1-2, max 400 pix wide, text description of alterations)
Serious or Silly?:
Preferred Pose:
While this is free, I will accept a tip in the form of art of any of my dragons! Just send it to my inbox with no context, I'll understand.
Fri, 08/11/2017 - 12:33
#16
parasaurolophus
Form:
Name: Icevein
Species: Groncicle (Rise of Berk version)
Gender: male
Brief Personality: Icevein is a big softie! If you are nice to him, he will cuddle you immediately. (But this is not to be encouraged, as his hugs are kind of cold.) His lovingness can get on the nerves of those type of people who can't stand bubbliness, and Icevein can be oblivious to people's annoyance towards him. He also trusts most people and dragons very easily, which can make him vulnerable. But once he's been mistreated, all sweetness is gone. He is cool under pressure and will almost never lose his head in a stressful situation. His courage knows no bounds, but that might be because he's too young for fear. Because of this, he tends not to think before he leaps. This can be especially detrimental because he's not the brightest bulb of the bunch. He's also extremely food-motivated and will be distracted by any sort of fish. And like any Groncicle, he's extremely lazy and tends to fall asleep in the middle of things if he's been working a lot. While brave and calm, he's not particularly useful in the thinking or planning department and is not always reliably efficient.
Reference Image: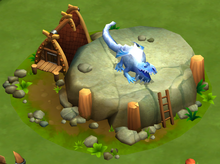 Serious or Silly?: Silly
Preferred Pose: Waddling after a butterfly (What? Gronckles/Hotburples/Groncicles don't walk. They waddle. It's adorable.) XD