Parental Dragon Showcase!
I know Mother's Day and Father's Day have passed but it's never too soon, nor too late, to celebrate good parenting! Show off your parental dragons here! Fathers, mothers, grandparents, step parents, even those who aren't really parents but instead display a parental/nuturing side towards others are all welcomed! I'd love to hear about your dragons, even if it's only a sentence! :) Here's some of my parental dragons to kick things off!
Fathers, Grandfathers, Stepfathers, etc.
Papa Moon
It would be wrong of me to say or do anything related to dragon parenting if I didn't mention Papa Moon at least once. It's in his name afterall! Papa is the biggest softie when it comes to babies and never minds caring for any of them. On top of this, he is a father of three, a grandfather to many, and even a great grandfather! To add to his resume, he has adopted/rescued and raised a number of other dragons as well. Papa is very friendly towards most dragons and humans and is very wise. However, he does think a bit highly of himself (he especially thinks he'd be a more suitable Alpha dragon than Toothless) and asks that he be respected. He is paitient but once he's pushed off the edge, he can either just act grumpy and ignore whoever upset him or attack them depending on how severe the offense was.
Moon
The son of Papa is a father himself! Moon, like his father, has a big soft spot for babies and has his own children as well. He has more than 5 children, a grandson, and a lot of nephews! While he hasn't adopted any babies, he certainly has rescued a lot of them in his lifetime. Moon is an overall friendly dragon and is more like a playful dog than anything (a very smart, playful dog at that). However, he can snap in a heartbeat when the time calls for it, such as when his family is in danger.
Freezer
Freezer is both a father and a grandfather! He has twin Titan-Wing Flightmares, Freezer Fang and Dusk Freeze, and his granddaughter is a regular Flightmare named Spinel. He is incredibly docile and enjoys relaxing in the sun. He also tries his best to be there for his children and spends a lot of time with them, even though they're more than capable of taking care of themselves.
Boom Burst
Boom Burst is the father to a male Thunderdrum named Equilibrium. Prior to being a father, let alone a properly trained dragon, he was enslaved by Drago and was used for both pulling ships and fighting in battle. He is now enjoying a well earned retirement and is very close with his son and mate.
Evaporate
Evaporate is the father of two Scauldrons: His oldest kin is his son Vaporize while his youngest is his daughter Steam (I honestly forgot if I made Vaporize a male or not but he was supposed to be a male). He is very protective of both offspring and his mate. Evaporate is docile towards other Scauldrons (except those that make advances towards his kin and mate) but is somewhat weary of humans and despises Boom Burst for unknown reasons. This aggressive behavior has been passed down to Vaporize, who also dislikes Boom Burst.
Galidor
Galidor is the father of 5 of Moona's children and one of Moona's two mates. He is the reason Moona got into the royal guard and is actually behind her in terms of skill and strength. Nevertheless, he is a very formidable fighter and is an excellent father. Sadly, Papa doesn't take too kindly to him and doesn't like seeing him near his daughter.
Harvest
Harvest hasn't had children of his own but he has adopted two dragons: A Scuttleclaw named Bean and a Buffalord named Watermeleon. While Bean wasn't necessarily abandoned, Harvest named him while he was playing with his siblings and helped his parents raise him. Watermeleon on the other hand sadly lost his parents to dragon hunters and was found starving by Harvest. Currently, Bean is fully grown and independent while Watermeleon is living happily in Harvest's care. Harvest is very outgoing and cares little for others think of him, though he'll put his foot down if someone gives his family something as small as an odd look.
Doctor Alex
Considering how Alex can be sometimes, not many would expected him to have children, let alone adopt/rescue four more babies! While some interesting circumstances occured where his children came into the world as adults (it's a long story), he is still very close to them and has done what he could to guide them in the world. As for his dragon babies, most of them rescued in some shape or form, with only one literally showing up in his home out of nowhere. Overall, Alex is a nice dragon and doesn't mind helping others with medical prodecures. However, he can be vain, rude, and blunt when he wants to be and isn't a huge fan of being ridden by others (though he doesn't take action to get others off either).
Screecher
Screecher is both a step-father, having raised two Thunderdrum, and a father by nature. He treats all younger dragons as his own and gets worried for them in the same manner. He also has a soft spot for babies and likes playing games with them (I think the image used for him in this post represents that perfectly). He generally benevolent towards all humans and dragons but he is an excellent fighter and will take down whatever is causing anyone trouble (if he has to).
Amethyst
Amethyst has raised a fellow Shockjaw after Wise brought him a Shockjaw egg to look after. He is very protective of Wonderous--the dragon he raised--even though said dragon is fully grown and has shown he is capable of defending himself numerous times. Aside from this, Amethyst is a laid back dragon but is uncontrollable when it comes to fighting dragon hunters.
Raiun
Raiun became a stepfather after Wise gave him a baby Skrill to interact with, similar to Screecher. He successfully raised the Skrill to adulthood, though the dragon did become more aggressive and out of control than he had hoped (in other words, more like a typical Skrill). Raiun on the other hand is a very docile Skrill and gets along well with most humans and dragons.
Aventurine
Admittedly, Aventurine started out as a pretty bad stepfather. The baby Whispering Death he was given to interact with and befriend was greeted with aggression instead of kindness after feeling the young dragon would make Wise dislike him. Once his mindset changed however, he flipped entirely and in the end, raised a pretty good Whispering Death. Aventurine is quite aggressive towards people and dragons he doesn't know but is caring and protective to those he does. He can be a bit easy to set off and doesn't stop fighting until the enemy surrenders and flees or, worst, he kills them (fortunately, it hasn't come to that).
Magma Guardian
Magma Guardian hasn't been able to have any kids of his own but he did adopt a Monstrous Nightmare upon discovering the egg on Dragon Island. He is a gentle giant to all and there isn't anything he loves more than hugs!
Sky Slice
Sky Slice is one of the few dragons Wise owns who has had his own offspring instead of adoption/rescuing. He has two fully grown children and sadly, he hasn't been able to see them in years. He is a very sweet dragon and puts others before himself most of the time. He too has a soft spot for babies and other small things. At the same time however, he is miserable on the inside as he longs for his mate and children, though the former was killed by dragon hunters. There have been times where he became so distraught over his family that he experienced emotional outbursts and became unable to control himself. Out of fear of unintentionally harming others through said outbursts or burdening other with his past, he isolates himself from others when he mourns over his family.
There's more dads where that came from! But I've already gone so far down for just one section so I'll probably add more in the future in a different post. For now, it's time to move forward!
Mothers, Grandmothers, Stepmothers, etc.
Merith Seener "Tune" Neptune
Merith is the mate of Papa Moon and mother Moon, Moona, and Raito. Like her husband, she is very wise and usually docile towards humans and dragons. However, she is less tolerant than Papa on some things and is willing to get her talons dirty if she has to; Papa usually has to calm her down and/or keep her in line. On the contrary, she is usually the one who has to stop Papa from reacting too aggressively and puts an end to quite a few of his fights.
Moona
Moona is the son of Papa Moon and Merith Neptune and mate of Galidor (plus another male). She has 10+ sons from two mates and she loves all of them equally. She also fiercely protects them and is quick to attack whoever's causing any of them trouble. It has come to the point where her sons don't even want to consult their own mother about who they're seeing out of fear that she'll tear their dates apart! Like Galidor, she works hard in the Royal Guard and has risen up in the ranks. Overall, Moona is very aggressive and protective of her family. She is a very caring mother but her over-protectiveness often drives her sons away from her (Firework being the only one who isn't really repelled by it).
Dusk Freeze
Dusk Freeze is the mother of Spinel and the daughter of Freezer. She is a pretty lenient mother but knows when to put her foot down and interfere in her daughter's business, regardless of how old she is. When she isn't busy being a mom, she is lazy and sleeps more than anything.
Boil
Boil is the mother of Vaporize and Steam and the mate of Evaporate. Unlike her mate and son, she doesn't get into altercations with Boom Burst and vice versa but to avoid misunderstandings and making things worst than they already are, they prefer to avoid each other. Boil is very paitent but will quickly spring into action to protect her family.
Ezra
Ezra is the mate of Doctor Alex. Between the two, she is parental and is the reason why Alex took in Mini Alex. She loves both her biological and adopted kin equally and protects them just as much. She is generally free spirited and a joy to be around but once she's angry, it's best to not even touch her with a 100ft pole with an additional extention.
Ultra Sound
Ultra Sound is the mate of Boom Burst and the mother of Equlibrium. She cares a lot for her friends and family and is quick to attack whoever is bothering them, even if it's nothing major. She spends a lot of time in the water doing tricks.
Silvertina
Silvertina is Moon's mate and the mother of his children. She used to be the queen of a kingdom but has since retired and gave the role to her oldest daughter Crystina. Nowadays, she spends a lot of time with her husband either playfully tussling on land, taking a slow flight above the clouds, or simply enjoying a sunset from the highest view they can find without flying. She is sweet and loves her family very much but is terrifying to deal with in battle if you're her enemy.
Not as many as I thought. . .for now at least. Onto the final section!
Parental by Nature
Elder Frost
Elder Frost's bad attitude and overall aggressiveness is what drives almost everyone away from him. What most don't know however, except the few friends he's actually been able to make and his brother, is that he is a sucker for children. He is especially fond of baby Snow Wraiths and becomes almost an entirely different dragon when he interacts with them. If only he were this nice all the time. . .
Thundershock
Thundershock didn't exactly raise little Thunderbolt but he did see the dragon grow and flourish. He has been with Thunderbolt his whole life and has helped him learn a few things, mainly basic survival skills for a Skrill. He did the same with Thunderstorm and has had thoughts on settling down for a while now. Overall, he's playful and outgoing but messing with anything he cares about will result in the shock of a lifetime.
Snoggletog Wraith
Whether he likes to admit it or not, this Snoggletog Wraith cares deeply for his Woolly Howl friend, Sugar Rush. He watches over the young dragon frequently and when Sugar Rush was down in the dumps after getting attacked by a Titan Wing Deadly Nadder, he was the one to cheer him up and get him back to his old self. He typically acts annoyed around Sugar Rush and doesn't like how hyperactive he on the inside, he wouldn't have it any other way. True to his nickname, the Snoggletog Grump, this Snoggletog Wraith is stern and aggressive towards most dragons and humans but holds back some of his "grumpiness" towards those he cares about.
Sir
Sir is the mate of Polar. He loves children and gets along with just about anyone fairly easily. He helps raise and babysit the babies of other dragons the best he can, given his inability to see. He has had plenty of thoughts on adopting a dragon or two (or three), though he's still thinking about it. He isn't really violent and it's very rare that he resorts to such methods to solve issues.
Polar
Polar is the mate of Sir and like Sir, he too loves children. However, his inability to make any sound with his mouth makes things a bit difficult when trying to bond with children or their parents. Like Sir, he refrains from using violence to solve problems but is more willing to do so than Sir.
Frozen
Frozen is incredibly aggressive towards other dragons but isn't as aggressive towards humans (he's not exactly friendly either though). He is incredibly loyal to Wise and is the only human he'll listen to [quickly]. However. he has recently made an exception for babies and has had a hand in helping a few of Wise's baby dragons become strong, fast, successful hunters. Currently, Wise is using this to help socialize him.
And there's probably a lot more where that came from! But this is good for now. I look forward to seeing everyone else's parental dragons!
Mon, 06/18/2018 - 16:09
#1
"Subject? It's r- Flash, STOP eating my subject!"- Raineir
Here's a pic of my OC Raineir and her Skrill named Flash!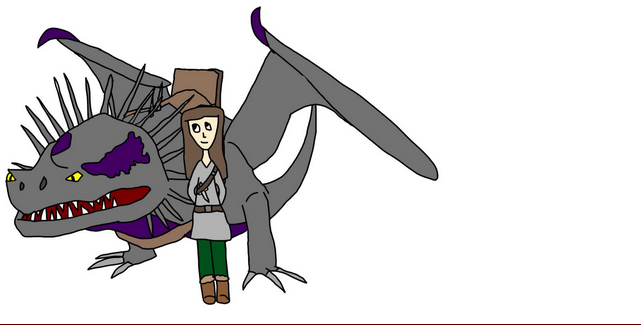 Actually, Flash is more like an older sister to Raineir. After being rescued by Raineir from dragon hunters a month before HTTYD, Flash has since become her older dragon sister (Flash is older than Raineir), being very affectionate (moreso than most Skrills) and protective of her younger human sister. They live together on Berk, along with the other Dragon Riders, including Raineir's human parents.