Outcast Ships Attack in the 1.16 Battle Event Update!
Dragon trainers – we need your feedback on our latest update! The word is out and we are previewing the beginning stages of the highly anticipated BATTLE EVENT, which mean the time has finally come for you to test your skills in SoD's 1.16 update! With only one catapult standing guard from rival tribes, the shores of the Training Grounds have been left vulnerable. Are you ready to do your part as we rally together to defend Berk and the school grounds? Head to Campus now to await the signal and enjoy all that 1.16 has to offer: http://smarturl.it/WorldEvent116!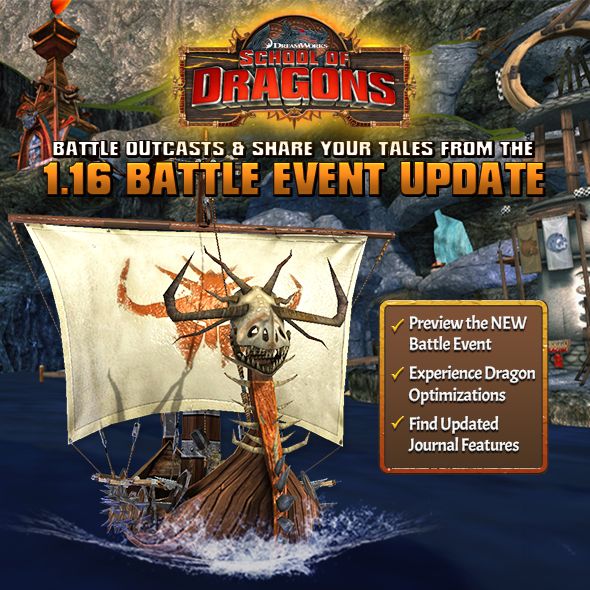 With news of incoming Outcast ships, the Headmaster has already sent a team of scouts ahead to monitor the shores so to keep everyone updated on the status of the Isle's defenses. That way you will know no matter WHERE your adventures take you so that you can come prepared! Make sure you have an adult dragon ready when this new Battle Event begins!
To join in the battle -- that is, if you are willing and ready, we will alert all of campus when Berserker ships draw near with a simple notification! As soon as the message pops up to inform you that your efforts are needed, saddle up your dragon and head to the Training Grounds immediately with the click of a button! You will only have a few minutes to act, so don't hesitate or you might lose your chance to fire on the incoming scout ship! If you do not wish to allocate your skills toward contributing to the battle, however, just collapse the message or ignore it until time runs down on the clock.
Fly around with your fellow Vikings and blast away at the attacking ships until you've sunk the vessel. But remember -- you cannot do this alone. Turn to your clan and fellow trainers to work together and earn rewards as these attacking Berserker Ships move quickly toward the Training Grounds. A tribe of troublesome and ferocious Viking warriors, the Outcasts, have made their legend known for their uncontrollable and often frightening nature.
And that's not all, in addition to the sneak peek of the Battle Event, the SoD team has also been hard at work to bring updates to your dragons fire power, performance and health, which will become very important in the next few updates! Are you brave enough to rise up for battle and ready to enjoy all the other optimizations that 1.16 brings to campus? Head there now: http://smarturl.it/WorldEvent116!
Tue, 11/24/2015 - 08:21
#2
Zero you should really go in
Zero you should really go in game and wait for battle like 5 minutes ago 20 vikings were shooting at ship,we lost but it was really funny and you get reward after battle
Tue, 11/24/2015 - 08:34
#3
Thx brave Im glad u like it,
Thx brave Im glad u like it, I know I will.
*waits at monitor for ships*
Shockwave and I are going to win for SURE!