New Dragons from HTTYD 3
I'm so pumped for the HTTYD 3 movie! I can't wait to see all the new dragons. Personally each of them look well thought out with interesting personalities.
First we have the Hob Gobbler who is basically the Bullfrog of the dragon world. With an amusing love for the soup he's floating in. Very interested in what might be his abilities may be.
Then we have the Deathgripper. Look at those TUSKS! I adore dragons with tusks and this guy has two very long ones protruding from his mouth which I am looking for to find out what they're used for. And also look at the coloring/pattern of this dragon he looks like a tiger with those stripes.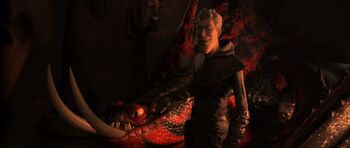 The third and final dragon (excluding the Light Fury in this discussion) is the Crimson Gorecutter. The only thing we know about this dragon so far is a) it's massive b) it's purple and pink with four legs and a battle axe-like tail c) described as protective and grumpy. I am a huge fan of massive/tiny dragons and I wish I could see what his face looked like. But honestly he is my favorite and most hyped dragon that I eagerly wait to see in the film.
What are you guys thoughts on the new and upcoming dragons in HTTYD 3? Which one are you most excited to see or like to see in-game? What do you hope to see or speculate about them? Comment below! :)
Wed, 06/27/2018 - 04:37
#4
What if the Deathgripper is
What if the Deathgripper is not only a dragon killer but the natural predator of the Night Fury? Grimmel has killed every Night Fury except Toothless. Something like that is not easy if he does not possess a weapon that can haunt Night Furies
Wed, 06/27/2018 - 06:17
#5
Woah
Ooh, I like that! Deathgrippers are said to be some kind of natural dragon killers, so your idea could as well be true.
Wed, 06/27/2018 - 06:24
#6
Could be. Man, First
Could be. Man, First Whispering Death and now Deathgripper? So much for being an offspring of lightning and Death, it's like siblings rivalry over there XD
Wed, 06/27/2018 - 07:08
#7
Wed, 06/27/2018 - 20:12
#9
I just found out there're
I just found out there're picture from the trailer up in WIKI already though i cannot post it here atm
i'd say it's close but not quite. the tail doesn't seperater into sections(not sure how to call that) like triple stryke's or arachnid and rather a single part like lizard tail minus the tip/stinger, however the spine ridge make it looks almost like it was sectioned from afar.