Need a good name for Boneknapper!
One of the dragon eggs I'm about to start hatching is a Boneknapper. I've been told that I have a knack for naming people and animals, but right now I'm at a loss. Anyone got any good and unique name ideas for a Boneknapper? Much appreciated, thanks!
__________________
Welcome to my signature!
NakataGreenThumbs
About Me (in real life):
. Name: Starts with a letter between A and Z
. Gender: Female
. State: California
. Age: Old enough to know betterXD. Let's just say, I'm probably too old for this game, but I really don't care. If you really want to know, just multiply 11 by 2 and you'll have the answer!
Birthday: February 1 (Aquarius power!)
. Hair Color: Blonde ( though most of my SoD vikings as well as Raineir my OC have some shade of brown)
. Favorite color(s): Purple and green
. Favorite Gemstone: Amethyst. It is my birthstone, after all. Plus, it's purple/violet!
. Favorite movie(s): How to Train Your Dragon, definitely. Also, probably Pirates of the Caribbean (the first one) would be my favorite live action.
Favorite food(s): CHOCOLATE, anything Reeses, and my mom's spaghetti
. Pets: A cat, two Scottie dogs, and two chickens (both hens)
. Favorite animal: Oh, where do I start? I'll do top 5 in no particular order: domestic cat, birds, elephant, sea turtle, domestic dog, and dragons. Oh, that was six. It's hard choosing just five!
Hobbies: Birding, birdwatching, exploring the outdoors, HTTYD, and doodling random stuff
Fun facts about me: I have a huge passion for nature, especially birds. I'm not afraid to touch or hold bugs, insects, amphibians, and reptiles, including snakes.
About me (in SoD)
. Main Viking(s): nakataGreenThumbs and Seerboldraven
. Main Dragon(s): nakataGreenThumbs: Lightning the Shockjaw, Skyhopper the Titan Deadly Nadder, and Flash the Skrill. Seerboldraven: Flash the Titan Skrill
. Clan: Dragons Hunters. A clan looking for the best warriors and dragon riders!
Trophies: 58. I finally earned my first trophies racing with my Skrill Flash in TRR! I came in second place! I need to practice a lot more, though. I haven't praticed in awhile, so I'm not the best at it.
. Main Dragon for Racing: My Skrill, Flash. Skrills may not have the best turn rate or the best rate at which dragons get to their top speed (for the Skrill, it's around 3.2), but they are fast with a top speed in SoD of 9.2. Flash is doing well! *gives Flash plenty of fish* I also use my Sand Wraith named Claw, who is now an adult. Yay Claw! *gives Claw plenty of fish as well*
Main Dragon for Battle: My Titan Deadly Nadder, Skyhopper. I also use Toothless. They both have a high base damage
My wonderful dragons (my first SoD viking):
Lightning: Adult Shockjaw
Skyhopper: Titan Deadly Nadder
Toothless
Fireflower: Adult Monstrous Nightmare
Quicksilver: Adult Razorwhip
Firebloom: Adult Singetail
Thorntail: Adult Whispering Death
Steeltrap: Adult Armorwing
Tomoko: Adult Flame Whipper
Rumbles: Adult Eruptodon
Echo: Adult Thunderdrum
Goldfire: Adult Death Song
Ghost: Adult Changewing
Claw: Adult Sandwraith
Fireball: Adult Gronckle
Frostbite: Adult Groncicle
Silent Strike: Teen Boneknapper
Flash: Adult Skrill
Here's the story about how my OC viking Raineir met her dragon:
Berk was not an easy place to live. It was cold, it snowed there most of the year, finding food was not always an easy task, and, yes, it was cold. Oh, and the almost constant dragon raids didn't help matters either. To Berk's vikings, it was either kill or be killed, no other option. Well, except for one viking girl. Much like Berk's heir, Hiccup Horrendous Haddock the Third, Raineir Feralsome was considered an "odd one out." Except, instead of wanting to prove herself by killing a dragon like Hiccup, she didn't like to kill. She thought there had to be another way like Valka, Hiccup's 'dead' mother. One day, Raineir was exploring the forest in Raven Point. She liked to explore the land of Berk, learning about its geographical features. Seemingly out of nowhere, a screech of pain rang out. Alarmed, Raineir ran towards the source of the noise. Coming upon a cove (yes, THAT cove), she looked down and saw a small group of what appeared to be hunters, since they were holding spears and bows and arrows. They were surrounding what looked like a Skrill. The poor dragon was in bad shape. There were wounds on its sides, and had trouble fighting the hunters off in her weakened state. Raineir quickly climbed down and made herself known. "Hey!" She shouted, "step away from the Skrill, and none of you will get hurt!" She drew her sword and moved in front of the dragon. The leader stared at her, then laughed. "You?" He said, "a mere girl willing to fight to defend a beast?" She didn't flinch, only glaring more fiercly at him. Making up her mind, she charged at him, sword ready, not to kill, but to possibly knock him and his goonies out. As she was about to do so, a a small bolt of lightning came from... the sword? The lightning hit one of the hunters, instantly knocking him out. Surprised, Raineir looked at her sword in shock, then glared at the leader again. Not wanting to become the next target, he and the rest of his goonies ran away fast. Once they were gone, she turned towards the Skrill, taking medical supplies out of her satchel. The Skrill looked at her in shock, obviously surprised to witness a human protecting a dragon. Raineir put her hand out. The Skrill seemed hesitant, but then she put her snout gently on the girl's outstretched hand. Raineir set to work on cleaning and bandaging the dragon's wounds. She decided to name her dragon Flash. Flash, once fully healed, let Raineir become her rider. Because Raineir had saved Flash, Flash would never stop protecting her from any threat. They're more than just friends; they're family, and will always be loyal to each other, no matter what. This story happened about a month or so before Hiccup discovered Toothless.
About Raineir
Full Name: Raineir Feralsome
Age: 19-20 (by the time of How to Train Your Dragon 2)
Gender: Female
Hair Color: Dark brown, tied into two semi-long braids in the back
Eye Color: Violet
Wears: Long sleeve gray dress, dark green leggings, brown fur boots, and two belts, one around the waist and one cross body style in which she keeps her sword. She also wears a necklace with a silver pendant of a Skrill.
Dragon: A Skrill named Flash. Flash looks like a regular Skrill, but has noticeable scars on her sides from when she was wounded by dragon hunters, about a month or so before Hiccup met Toothless. Flash, in an act of graditude, accepted Raineir as her rider and life-long partner. Like Hiccup and Toothless, Raineir and Flash proved that friends aren't just limited to the same species. Flash's personality is a little different from the average Skrill, though being one, she can have a bit of an attitude, and like Toothless, can be sarcastic and snarky. Nevertheless, Flash is a very loyal partner to Raineir. She is very affectionate towards her human sister (Raineir) and other humans and dragons she trusts. She and Raineir are very much like siblings. Raineir also later befriends a Terrible Terror she names Scout, who she taught to "scout" out people, dragons, and objects using hand signals. Scout is very friendly and playful, though not afraid to fight if her friends are threantened.
Main weapon: Electro, her trusty Gronckle Iron sword. Upon meeting Flash for the first time, Raineir defended her from dragon hunters, and discovered that her sword has the ability to shoot out lightning bolts.
Personality: In the first movie (if she were in it), she was much like Hiccup, though not as awkward (sorry, Hiccup). She and Hiccup are still very similar to one another. Raineir is intelligent, sometimes sarcastic, and very witty. Like Astrid, she is fully willing to fiercely defend her friends. She is a very kind and good-hearted person, always ready to help out her friends and family, though not afraid to call them out when they get out of line. She doesn't like to kill unless it's absolutely necessary. Raineir, like Hiccup, likes to consider herself a peacemaker.
Unofficial, Official Title: The Lightning Rider
Fun fact about Raineir: For an unknown reason, Raineir has an immunity to lightning, and eletrical shocks don't hurt or affect her negatively in any way. She may have been born this way, or maybe she gained it early on in her life, both probably foreshadowing her becoming a Skrill rider.
Here's a picture of Raineir and Flash, drawn by the awesome Zikta. Thank you Zikta! :)
And here's one by the awesome piggyxl. Thanks, piggyxl!
This Skrill also drawn by the amazing Zikta
This is also Flash by the awesome Wixyigzy
Here's another beautiful artwork of Flash by the amazing dogloven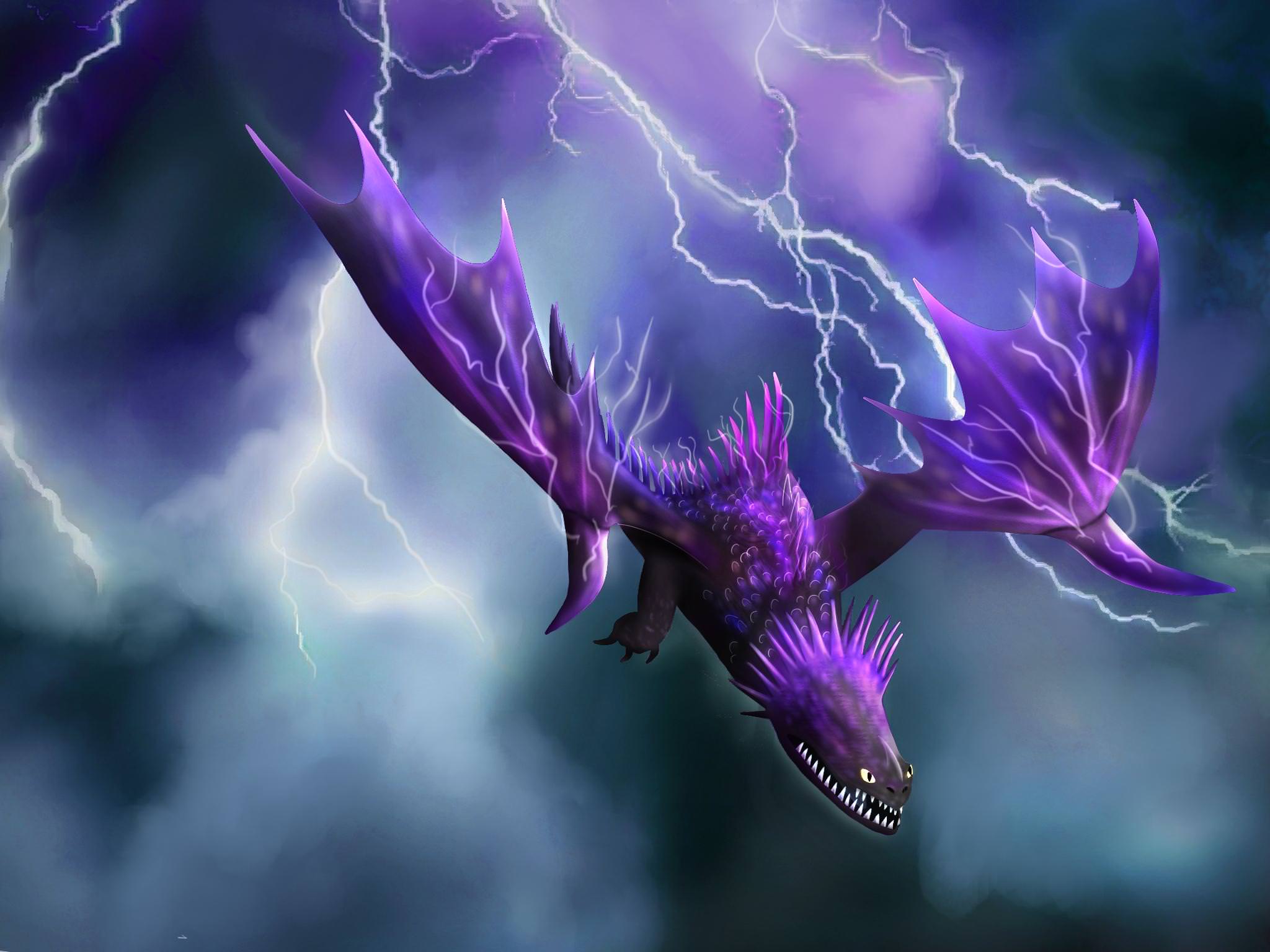 Here is a picture of Raineir and her Terrible Terror, Scout, drawn by the incredibly awesome Zikta:)
Thanks to the awesome and generous AntroTyree, who did this beautiful art, I also now have a lovely Night Fury, Lavender Honey!
And let's not forget one of my dragons, Echo the Thunderdrum, drawn by the incredibly fabulous XxXPurpleHolkingXxX! Thank you!
Another beautiful drawing by the fabulous XxXPurpleHolkingXxX:
Along with SoD, I also like playing Neopets. My username is dragonmagic101. My two favorite Neopets are the:
Wocky
And the:
Pteri
My Top 5 Favorite Dragons (in no particular order):
Night Fury
Deadly Nadder
Gronckle
Skrill
Shockjaw
Mon, 04/16/2018 - 00:57
#3
Hmmm...
What about Vampire?
Because they have those two long teeth just like a vampire does but on the lower jaw xD
__________________
Hello! I'm Wildvanity, proud leader of the LuckyDragonGuards.
Something you need to know to understand a part of me xD :
Main/Duty dragon:
Shadow- level 30 Stormcutter. Born: 12/01/2017
credits to Dogloven. Thank you so much its so cool!
Very first dragon:
Spikey- level 30 Deadly Nadder. Born: 09/07/2016
Other dragons(not with name or else it's gonna take a while):
Deadly Nadders: 4 with Spikey included
Whispering Deaths: 8 don't mind me having an army of them xD
Hideous Zipplebacks: 3
Sand Wraith: 4
Skrills: 6
Thunderdrums: 3
Typhoomerang: 4
Groncicles: 2
Boneknappers: 3
Mudrakers: 4
Hotburples: 2
Monstrous Nightmares: 4
Gronckles: 1
Tide Gliders: 2
Scuttle Claws: 3
Smothering Smokebreath: 1
Flightmares: 3
Grapple Grounders: 3
Razorwhips: 2
Death Songs: 1
Screaming Deaths: 4
Shockjaws: 2
Speed Stingers: 2
Snow Wraiths: 1
Flame Whippers: 1
Stormcutters: 2 with Shadow including
Shivertooth: 3
Changewings: 3
Moldruffles: 2
Snafflefangs: 2
Wind walkers: 1
Woolly Howls: 1
Hobblegrunts: 3
Scauldrons: 3
Fireworm Queens: 2
Sweet Deaths: 4
Singetails: 1
Eruptodons: 1
Triple Stryke: 1
Slithersongs: 1
Silver Phantoms: 1
Sliquifiers: 1
Prickleboggles: 1
Rumblehorns: 1
Armorwings: 1
Snaptrappers: 2
Raincutters: 1
Elder Sentinel: 1 No really?! Only one?
Timberjacks: 1
i didn't put Toothless in the list because he is obviously not my dragon.
Dragon which is not in the game but I would love to get added: DRAMILLION!!
Dragon gifs i love:
i don't know why i added this gif...
Other art i requested from others:
Credits to Piggyxl, Wildy every morning..
Credits to Zikta for this proud Shadow
Credits to XxXPurpleHolkingXxX, majestic!
Credits to Zikta for the sleeping brothers.
Credits to MericcupNightFury (my profile pic)
Credits to XxXPurpleHolkingXxX, it looks nice!
Credits to XxXPurpleHolkingXxX for the cute looking Shadow! Just like when he was a baby.
Art I made(drawings,edits)+ Adoptables:
My main character
Panny my Night Fury adoptable (young adult)
Swifty the male night fury just after hatching.
Swifty('s forehead symbol) 3 weeks old
Who's online
There are currently 33 users and 136 guests online.