Membership and Gems | Help, Pros and Cons & Which is worth buying
•Guide to Membership and Gems•
Note
I'm sure a lot of you are wondering what's the best to buy. In our case, we have the Membership and Gems. You can get them with a credit card, Paypal account, and possibly other payment methods depending on your country.
Membership Information
*Provides unlimited access to all game features and content, **20% off sales on the store, 500 free gems every month, ***more activity rewards, ad-free experience & more. The School of Dragons Membership gives the most out of the game features. It's the most advanced in perks.
Pros
Unlocks every in-game content, including Flight Club lessons

500 Gems every month

Monthly mystery dragon egg

No ads

Double Energy

Unlimited access to every available Expansion Pack - this goes to the first dot.

20% off items in the store.

If an account with a Membership has got more than 1 Viking, the Membership perks will be available on all Vikings on the player's account.

Free Boulder Stable on 3 Month Memberships and higher
Cons
Monthly and 3 Month Memberships do not give EVERY perk in the list, find the table below for more information.
When expired, every Membership perk will be again locked until you buy a new Membership.
Memberships do not come with Game Cards, no matter where you buy them from.
When expired, the Membership perks will be removed from all Vikings on the player's account until you buy a new Membership.
As you may know, the School of Dragons Memberships can last for 1 month, 3 months, 6 months and 1 year (12 months.
With the help of the table below, you can see what a Membership has to offer!
Every feature & content that has got a tick (✓) means that it's available with the membership you want to buy. As of now, the 1 Month (Monthly) and 3 Months Membership cannot unlock the following content:
Upgraded Alpha Toothless
If you buy the Monthly membership, you won't be able to unlock the following:
Free 'Boulder Class' Stable
Your very own Toothless
Upgraded Alpha Toothless
Alpha Toothless appearance: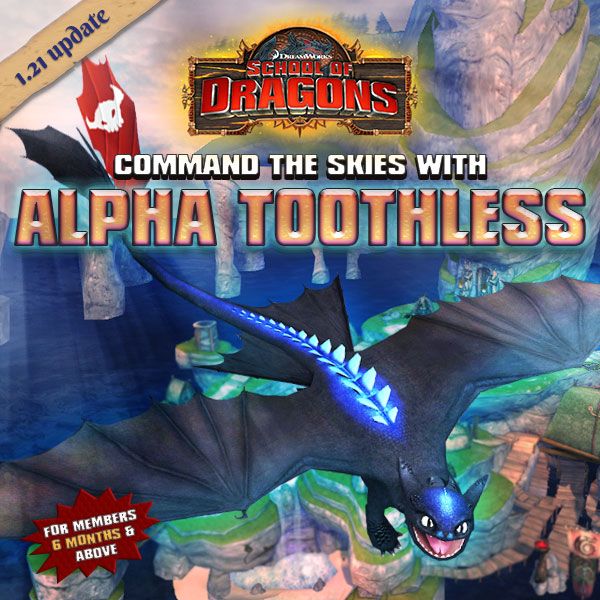 Keep in mind that if you buy, for example, a 3 Month Membership and get and use Toothless, but it expires after 3 Months, you will be able to use Toothless after you bought a new Membership. Even if you buy a Monthly membership, you can keep him but the Membership's duration will be short. Once the Membership expires, again, you'll need to buy a new one to get to use him again. This is the same for the rest of the content and features you earn with your membership.
How to gift a membership to someone
So you want to gift a Membership to your friend, best friend or any dear person to you?
Then, it's important to know how to do it...
...by following the easy steps!
Step 1:
Go to www.schoolofdragons.com or click 'Home' in the top left of your forum page.
There's a bar with the following buttons: Home, Game Guide, Mobile, Community, Membership, Forum.
Step 2:
Click the Membership button. It's highlighted on fire/orange so you can see it. It'll redirect you to the Membership page.
Step 3:
You are now located at the Membership page. Here are the prices for each Membership. At the top right corner, near the 'Home' button, there's a circle button with a gift on it and with the tag 'Give the Gift of Membership'.
I highlighted it in Gold so you can find it.
Click on that to be redirected to the Gifting page.
Step 4:
Great! You're now located at the Membership Gift Packages page.
Scrolling down on that page will show you what Members receive, but you can also find that on the Membership page I showed on the previous step.
Anyway, choose the Membership you want to send, there are Monthly, 3 Months, 6 Months and 12 Months/1 year Membership.
Step 5:
Very well! One step closer to gifting your Membership!
Now, on the 'Sender Email:' box, insert your email which is connected to your account.
'Receipient Email:' box is for the person who you're planning to send your Membership to. Once you enter it, click on 'Purchase'.
Step 6:
Woop woop! You finally reached the last step! It's gonna be a little bit of challenge, but I know you're gonna make it. I believe in you!! :D
Now, we have the Payment Methods tab. Please bring a Parent or Guardian to help you on this one, if you're under 18, unless you have permission already.
Use your favorite Payment Method and make sure to insert the information it asks you. No worries, all of those payment methods are trustworthy. I recommend you use Paypal, Amazon and bitcoin, but overall just use Paypal. I'm not ordering you, but choose whatever's good for you. I'm a little certain Credit Card purchases can take a little while to give you what you bought, so Paypal is a fast way to pay and will send the Membership in no time.
Theory is, once your purchase is completed successfully, an email will be sent to the Receipient with a Promo code. The Receipient will use that Promo code on the Membership page and will become a Member!
Gems Information
Gems are School of Dragons' premium currency. They are less advanced in perks than the School of Dragons Membership. Gems are used to purchase from exclusive items and dragons to amazing expansion packs! They are found on the Membership tab, simply repeat the steps given above.
The maximum amount of Gems you can buy is 11,500 gems for 99.99$. If this is your first time buying Gems, I suggest you buy 1,075 gems if you need dragons. Bear in mind that most dragon eggs in store cost 750 gems, and few of them cost 1,000 gems, some though cost less than 500.
If you're merely planning to decorate your farm or planning to purchase a Hideout individually from the Battle for the Edge expansion, buy 525 gems since they're for 4.99$.
Pros
Can buy any item, dragon etc. that requires Gems.
When expansions are bought with Gems, they are permanently kept and will not be necessary to be bought again.
When Flight Club levels are bought with Gems, they are permanently kept and will not be necessary to be bought again.
Gems come with Game Cards.
Can be used for a 7-day Membership Trial.
Can be used to buy Coins.
Can be used to speed up progress in farming, stable missions, etc.
Cons
Contains less perks than the School of Dragons Membership.
Cannot be used to buy Toothless permanently. Toothless only applies to 3 Month Memberships and higher.
Cannot purchase the Alpha Toothless skin with Gems. It's earned for free for 6 Month Members and higher.
Gems do not affect any of the prices in the store, for example, you can't use them to decrease the prices in the store. This only applies to the School of Dragons Membership.
Every expansion should be bought individually and not be accessed unlimitedly. Only Memberships give the ability to access all expansions without extra fees.
Does not affect the amount of rewards you get in quests. This only applies to Memberships.
Cannot earn 500 extra free gems monthly. This only applies to Memberships.
Does not give extra energy. This only applies to Memberships.
Yes.. the difference between Membership and Gems is actually large.
Which is worth buying, actually?
Seriously, dude. Go for the Membership. Purchase at least 1 Month Membership, finish all expansions, since they're going to be free once you buy them, and you'll get a ton of dragons! As of now, once you complete every expansion, you'll get REWARDED dragons!
You'll get to do lots and lots of quests to spend your time, and at the same time, you'll also be able to try and finish all Flight Club levels. I should also mention that you'll get a Flight Suit. Actually, you'll get a lot more content and perks to enjoy with a Membership.
You get 500 gets and 20% off the store. Most of the dragons in the store will cost less than 750 gems, so I'm sure you'll be able to buy some of them!
Membership is the best solution. Do not buy gems like crazy since you won't get ALL the features in the game. You can save money thanks to the Membership,
Sun, 12/04/2016 - 07:53
#1
Wiggles the whispering death ate my subject
You forgot a few cons for membership. In rare cases it can bug and not give you what you're suppose to get (in fairness gems will do that one too but it's not as bad because you aren't getting as much). Some memberships also automatically renew if you don't cancel them and canceling them can sometimes be a serious hassle because of SOD's bad customer support.
The second one is a big reason I don't buy memberships.
Sun, 12/04/2016 - 12:58
#3
free dragon egg chest with several vikings
My question is: Is every viking you have supposed to get a monthly egg chest if you bought the membership or only one of them? Meaning if you have three vikings do all get one chest, which sums up to three eggs in total for the account?
Mon, 12/05/2016 - 11:21
#5
Wiggles the whispering death ate my subject
I don't know. Everything else is available on all vikings. Why wouldn't this be too. Though I must admit that I haven't ever had a membership and can't know for sure.