Meet the Night Lights!
The long wait for Night Lights is finally over but with so much resemblance, who can even tell them apart? Get to meet the three adorable siblings with us!
We all know the Light Fury and Toothless are overprotective with their younglings, but they have graciously allowed us to train them. So, what better way to begin our adventures with the Night Lights than by getting to know them better!
Let's get started!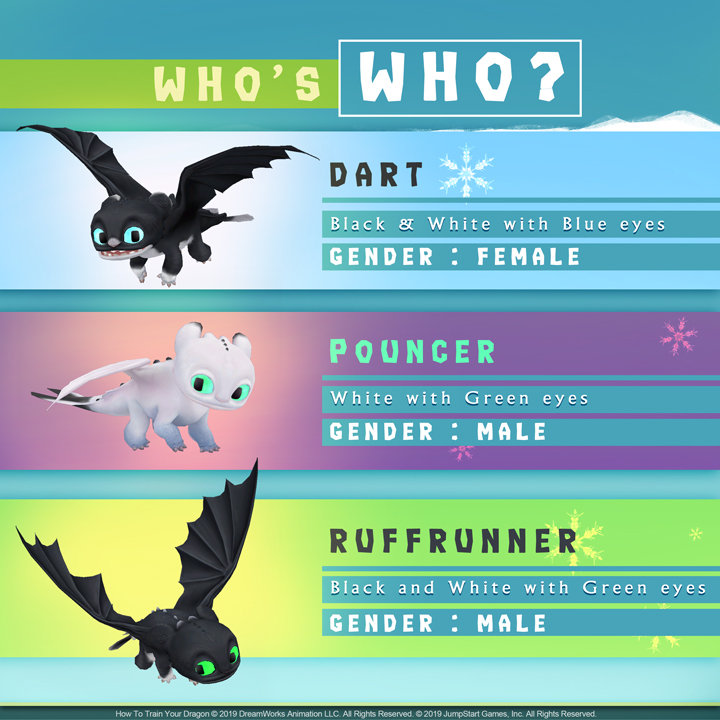 Meet Dart! She's the only female in the young pack and the only one with crystal blue eyes just like her mom. She's adventurous, witty, and loves to explore! Due to her curiosity, Vikings should consider keeping a close eye on her as she loves to wander off wherever her interests may lead her. But that just means more spontaneous adventures for Vikings!
Next, is Pouncer! The only Night Light from the siblings who flaunts white dragon scales. While he may look different from his siblings, he shares their love for adventures and the same green eyes as Ruffrunner. Most of the time he enjoys spending time with his siblings and provoking fun upon Ruffrunner, but then there are times when he can get under his scales!
Finally, meet Ruffrunner! The other male amongst all three Night Lights. Just like his name says, he loves to run headlong into any adventure with his siblings always by his side. Although he may seem like the calmest, he sure carries loads of energy! But one thing is sure, he loves to get enough rest before his next adventure!
Overall, these adorable Night Lights are special in their own way but are all excited for adventure. Head to campus to meet the all-new Night Lights and embark on an unforgettable training journey!
Best,
Siren
Thu, 12/19/2019 - 16:59
#2
Sometimes flying to space is just.. Huh?
Yeah they are the official names and genders from dreamworks.
Thu, 01/09/2020 - 00:15
#3
Ok?
Ok? Where proof saying DreamWorks confirm? They should put up on Instagram or FB saying it actually confirm but I heard nothing confirm and SOD should say 'yes it confirm' but they didn't say anything