Maybe Keep Some Glitches
Of course I want bug/glitch fixes, everyone does. But maybe leave some that ultimately make the game better, like the glitch to the Light Fury cave in the Hidden World. The mystery of what the Light Fury was protecting the whole time we were completing the Hidden World expansion pack is finally revealed through a glitch (for anyone who doesn't know, she was protecting the edge of the Hidden World). There's pretty much nothing there, but it adds to the map like a secret doorway. For new content, you could just make more glitches like that, open hidden portals inside rocks or caves or buildings and let players have fun exploring them. And you don't have to actually do anything, giving you time to work on glitches that have a very negative impact on players' experiences with the game. This is one of the very few games that could benefit from some of its glitches. Please take this suggestion into consideration. I'd love to see it in the game and simply because of the Light Fury cave glitch, I have a new hangout spot, and it's a nice feeling to show others how to get in.
Tue, 03/17/2020 - 15:50
#1
Yeah
Knowing the devs, since it's a nice glitch, I'm pretty sure they'll remove it XD
Tue, 03/17/2020 - 20:52
#3
Diagonally Parked in a Parallel Universe
There are multiple ways to get into the light fury cave. I doubt they will be able to find them all
Also. The glitch cave in the wilderness has been around for over 6 years. It is extremely well known,, I'd be surprised if the devs didn't know about it by now. I think they are keeping it on purpose because well, it's historic. It is quite literally the birth place of the in game clans.
Wed, 03/18/2020 - 16:09
#5
*ate my own subject*
I love the fun glitches. My favs are armor glitches, speed glitches, MMO battle glitches, ships stopping so you ca finish em off, and glitch holes. I HATE that they fixed the first armor glitch on PC where you could glitch clothes to other clothes. Now I can only glitch flightsuit colors to clothes and it takes all speed stats away.
Thu, 03/19/2020 - 07:28
#6
Diagonally Parked in a Parallel Universe
Lol my character still has the flight suit glitch. The one where the wings are glitched into pretty much all of my clothes. Outside of the annoying fin on the back, I really, really like it. I can glide around in whatever outfit I want without having to change into my flight suit
Thu, 03/19/2020 - 16:04
#7
*ate my own subject*
Um This is what I meant by the fightsuit glitch XD. See how the Hiccup dragon armor is glitched to my normal armor?
The only downside is that it removes the stat bonuses.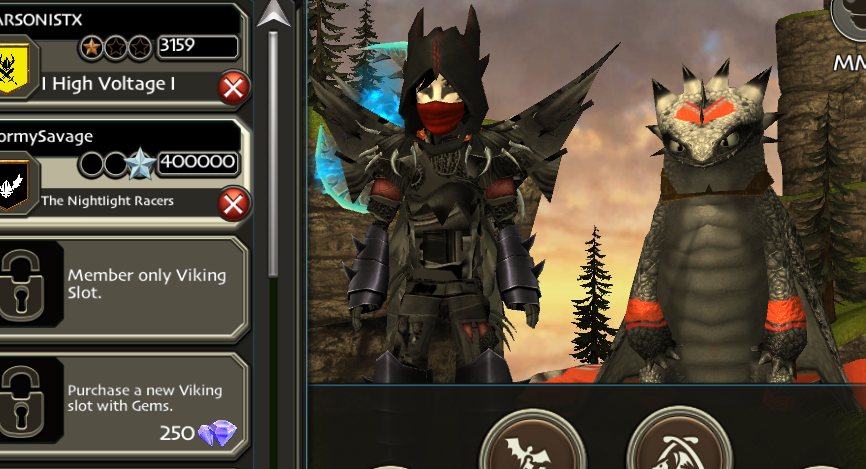 Thu, 03/19/2020 - 16:06
#9
*ate my own subject*
btw cryptic u can use the Nightlight Racers banner because I'm letting u and I made em. U can put em in ur siggy if u want. C:
Thu, 03/19/2020 - 07:40
#11
Wolf and Star knows it
Same! It's awesome as long as the helmet doesn't appear in mid-air when you're in the shop
Thu, 03/19/2020 - 10:50
#13
My subject is a glitch
Yeah! Once this happened:
Looks like this sand wraith wanted some of the lined face-paint lol. Do tell how to enter the Light Fury cave please! :O
Thu, 03/19/2020 - 21:35
#15
Diagonally Parked in a Parallel Universe
That is incredibly complicated. I just dive into the water because in some of the areas the walls don't hit the floor under the water. Fly through the hole onto the outside of the map and then just fly into the cave from behind...
Thu, 03/19/2020 - 17:51
#18
*ate my own subject*
OMG that glitch is funny. Happens to me a lot XD
Thu, 04/16/2020 - 15:31
#19
um what are you talking about?
I am very curious, I don't know which lightfury cave you are talking about. do I need to get some sort of expansion for it?
Thu, 04/16/2020 - 16:07
#20
I know a glitch
If you want to swim in the air, just go to some water where your viking starts swimming. Find a wall or something that is flat. Swim towards it, and then once you hit it, keep swimming. you should see yourself rising slowly up. the important part is that the wall doesn't have any bumps that make it less steep, or you will start to walk and wont swim in the air. to stop swimming, hop on your dragon or just jump