The Many Incarnations of Jack Frost
So I previously did a post talking about the origins of the character of Jack Frost in this post. This time, I thought I'd look at his various incarnations in song, literature, film, and games and how each Jack is characterized. So if you want to find all your precious Jack Frosts, follow me!
Quick note: I will not discuss Marvel comic book characters or snowmen who borrow Jack Frost's name. Why? Because for one thing, those aren't actual personifications of frost. And for another…I've never read comic books and…I'm sorry, I just don't have the time or money to track these down. I will also be skipping video games where Jack Frost doesn't have a character description or story…because you can't really examine a character if you don't have, you know, a character. I'll only do video game carnations where he has a personality and/or storyline. Okay, onward!
Let us go back to 1875...
The Many Incarnations of Jack Frost
1875: Little Jack Frost: Jack Frost first made his way into literature as an actual character through Charles Sangster, who wrote "Little Jack Frost." The poem describes a playful spirit who covers the world in ice and cares little about the lives of the flowers and grasses, but when spring comes, he leaves in a pouty manner while the plants rejoice.
1902: The Life and Adventures of Santa Claus: Jack Frost features in The Life and Adventures of Santa Claus, a children's novel written by L. Frank Baum, author of The Wizard of Oz. Jack Frost is a very minor character here with only 3 mentions that are really just fly-by cameos. The son of the Frost King, he's a jolly character who enjoys nipping noes and toes. Santa Claus likes him but doesn't trust him.
1909: Old Jack Frost: "Old Jack Frost" is a poem by Madison Julius Cawein. This poem describes Jack Frost as a friend of Santa's who paints windows and rattles the world with his winds.
1920: Jack Frost: A Winter Poem: "Jack Frost: A Winter Poem" was written by Gabriel Setoun, who described Jack Frost as a painter of frost upon pretty much every surface you could imagine while people are asleep. His paintings reflect what people dream.
1934: Jack Frost: Jack Frost makes his first appearance on film in the cartoon short Jack Frost, made by ComiColor Cartoons, where Jack Frost is an elf-like painter of fall leaves who warns the forest animals of the sinister Old Man Winter's coming. When one little baby bear decides not to listen and gets caught by Old Man Winter, Jack Frost decides to rescue him and take him home.
Jack Frost in Jack Frost (1934)
1937: The Cinnamon Bear: Jack Frost makes a brief appearance in the radio show The Cinnamon Bear in episodes 22 and 23, where he is an artist and a friend of Santa Claus. He's a kind fellow who is always cold but could melt if warmed and is described as being covered in icicles. He even gets a song called "I'm Jack Frost."
The Cinnamon Bear Music Album
1946: The Christmas Song: Speaking of music, most of you have probably heard "The Christmas Song", first performed by Nat King Cole. Jack Frost is mentioned in a line as "nipping at your nose."
1952: Little Jack Frost, Get Lost: This is a Bing Crosby song that wants the troublesome, frosty fellow of Jack Frost to stop pinching cheeks and quit making things cold and get lost!
1964: Morozko: The Russian film Morozko was released, based on the Russian winter personification Morozko ("King Frost"). The movie was dubbed and released in English as Jack Frost. This Jack Frost/King Frost is very kind. He coats the world in frost and gives you rewards if you are a kind heart. But he'll humiliate you if you are rude to him.
Morozko in Morozko
1965: First Death in Nova Scotia: A year after the release of Morozko, the poem "First Death in Nova Scotia" was published by poet Elizabeth Bishop about a child viewing her deceased cousin in his coffin viewing. The dead corpse is described as being painted by Jack Frost. There's very little characterization to him here, but it's a very famous poem.
1965: Old Jack Frost: A song came out this year as well, called "Old Jack Frost" and performed by Sarah Ogan Gunning. This song describes a jolly little Jack who enjoyed hurting children for fun…nothing serious, just pinching their noses and ears.
1969, 1979: Rankin/Bass Christmas Specials: This is one of the most famous Jack Frosts. Rankin/Bass has many characters that are of the same vein as Jack Frost, including Father Winter, Winterbolt, Snow Miser, the Winter Warlock, and Zero. Some of these are villainous and lose their power if they turn good, while others are kind of neutral. But Jack Frost is everything, depending on the special. He first appeared in the Frosty the Snowman sequel entitled Frosty's Winter Wonderland in 1969, where he is a jealous, annoying, impish creature who hates that Frosty stole his spotlight and proceeds to act as the villain. However, his opinion is changed at the end due to Frosty's naive kindness. But ten years later, in 1979, he appears in two other specials, this time, his character gets a makeover; he goes from jealous and selfish to a loving and selfless hero. He appears first in Rudolph and Frosty's Christmas in July, where he saves Frosty and his family; later that year, he was in his own special entitled Jack Frost, where he is a heroic and kind but invisible figure who falls in love with a human. Jack Frost is the only Rankin/Bass special with a bittersweet ending where the hero doesn't get everything he wanted and deserved…so props for that.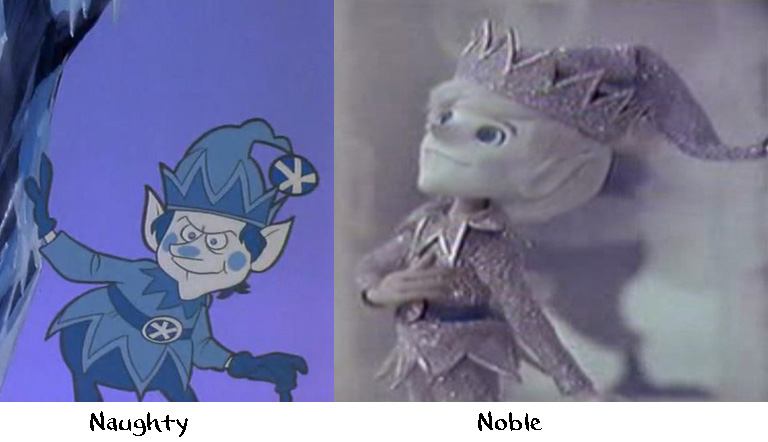 Jack Frost from Frosty's Winter Wonderland and Jack Frost (1979), respectively
1986: The Stranger: Chris Van Allsburg wrote a children's picture book called The Stranger. Even just knowing Jack Frost is in the story is a spoiler, so my apologies, but in it, Jack is shown as a genial and homely character who is grateful for kindness given to him.
1990-2012: Megami Tensei: The first notable Jack Frost of video games was from the Megami Tensei series, first seen in Digital Devil Story: Megami Tensei II, which was released in 1990. Here, the Jack Frost is a type of fairy who is usually in the form of a snowman, though it can have many forms. They appear in winter and melt away in spring; they like to leave frost designs on windows. They are usually innocent creatures but freeze those they dislike to death or just hurt others for fun. A Jack Frost generally serves as a demon who will try to kill the player. Why? No reason. Life's just not fair. (No, really, the character actually says that.)
Jack Frost in Megami Tensei
1997: Hogfather: Jack Frost even has a Discworld incarnation! (Amazing series; you should read it.) Written by Terry Pratchett, this series has a Jack Frost in the Hogfather book. This Jack Frost likes to draw ferns on windows, is covered in spiky ice, and never sleeps.
Jack Frost from Hogfather by Paul Kidby
1998: Oh, Jack Frost: The poem "Oh, Jack Frost" was written by Alice C.D. Riley and describes a "merry elf" who paints windows, trees, and lakes with frost and plays tricks. He is "very brash and bold" and likes to pinch cheeks and noses.
2000-2007: Merry Gentry: Jack Frost appeared as a major character in the Merry Gentry series. In this, he is a faerie warrior called simply "Frost." This arrogant, handsome character is a bit of pouter but also comes off as noble and charming. He's also one of the main character's many lovers and her favorite lover among them. And, um…oh, there is more to se.xy Frost to make se.xy. There is more. This Jack Frost is made to be sizzling hot. (Bad joke, I know, but the other joke I was thinking of was not appropriate for a children's forum. Kiddies, don't read these books.)
2001-2008: The Veil: Christopher Golden's Veil trilogy features Jack Frost as a major protagonist. The main character Oliver, an ordinary man, finds the injured Jack after a blizzard and has to aid him in saving his world. Jack is a fun trickster and a bit reckless, though capable of being serious. (In the second book, he spends most of his time being the Silent Leader type.) The character of Frost grows throughout the stories into someone more aware of his responsibilities to his friends and his people and remains a main character throughout the series. I enjoyed the heck out of these books; they're not flawless, but they are intriguing.
2002: Jill Chill and the Baron of Glacier Mountain: Jack Frost is a main character in a comic book, Jill Chill and the Baron of Glacier Mountain by Ed McCray. I'm not going to lie, I haven't read this book, but apparently Jr. Jack is Jill Chill's…boyfriend. Okay.
2002: AdventureQuest: Another thing that happened in 2002 was AdventureQuest, a roleplaying video game. In it, Jack Frost is the Prince of the Frost Kingdom, son of King Frost. He claims to have built the greatest Ice Army ever assembled and wants to make winter last forever. The player must fight him.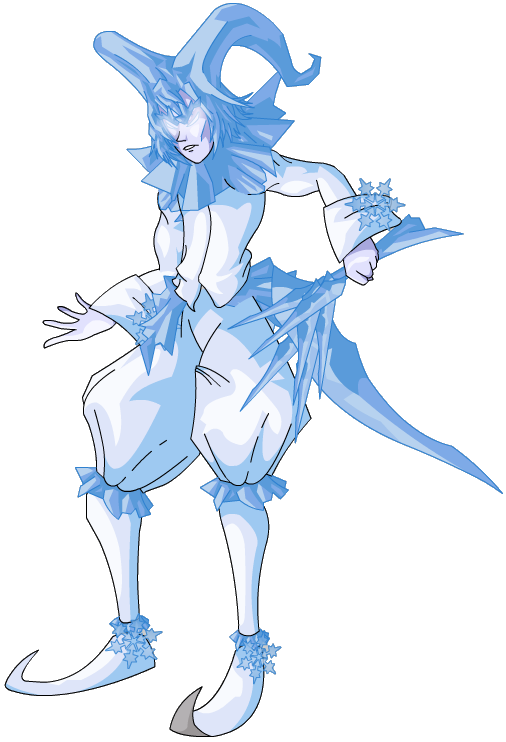 Jack Frost in AdventureQuest
2003: Jack Frost and the Hooded Crow: A song worthy of note is "Jack Frost and the Hooded Crow" by Jethro Tull. In it, Jack Frost and the Hooded Crow call upon the audience to show kindness to their fellow Mankind, especially in the name of Christmas. In this song, Jack Frost represents cold and his companion the Hooded Crow represents death.
2003-Present: Rainbow Magic: Another Jack Frost stepped onto the scene in 2003. Rainbow
Magic is a British children's book series written by a collective with the pseudonym "Daisy Meadows." A film was even made from this series in 2010 called Rainbow Magic: Return to Rainspell Island. The Jack Frost in these books and this movie is a villain who wants to spread coldness and misery. But despite constantly doing bad things, he's not kicked out of Fairyland because he's necessary for winter. Is he deep at all? No. This is a story about fairies who live in a fairy world geared toward 6-year-olds. Of course he's not deep! (And would you believe it? He has a younger sister named Jilly Chilly, too!)
Jack Frost from Rainbow Magic
2004: Jack Frost: The song "Jack Frost" by Mike Waterson was first written around 1970 but not released until 2004. His niece, Eliza Carthy, did another version of it in 2006. This describes Jack Frost as a hero because he continues on with his duty of painting windows and covering the land in frost, citing the time when winter prevented Napoleon from taking Moscow. It's a haunting melody fit for the mood of winter.
2004: Jack Frost: The American doom metal band Saint Vitus released the song "Jack Frost." In it, Jack Frost is the personification of winter who will take all life who encounters him and leave nothing but death and cold.
2005: American Dragon: Jake Long: Jack Frost makes a quick cameo in the 14th episode of American Dragon: Jake Long, where he's a judge at beauty contest. Aside from that, he doesn't do much. (And now I'm having a nostalgia attack! American Dragon: Jake Long!)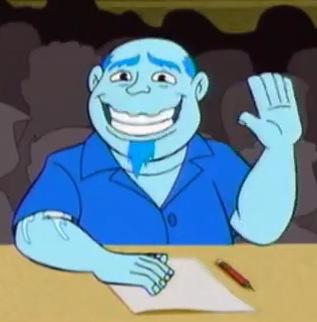 Jack Frost in American Dragon: Jake Long
2005: Little Jack Frost: With references to the old Sangster poem, this melancholy melody "Little Jack Frost" by Kate Rusby from her album The Girl Who Couldn't Fly, describes Jack Frost as a little, lost boy running from the evil of the world.
2006: The Santa Clause 3: The Escape Clause: In the film The Santa Clause 3: The Escape Clause, Frost is not the protagonist but the villain. Snarky, cruel, backstabbing, and arrogant, this guy will either turn you off this film entirely or cement it as a guilty pleasure. Every scene he's in is full of ham. Chew that scenery, Martin Short!
Jack Frost in The Santa Clause 3: The Escape Clause
2008: The Graveyard Book: In The Graveyard Book by Neil Gaiman, Frost is a far more terrifying villain. The book actually begins with him murdering an entire family except for a toddler that he missed. Ghosts find the toddler wandering in the graveyard, adopt him, and call him Nobody Owens. Frost continues to hunt the boy as he grows with the intent to finish what he started. A riveting read indeed! I think it's the best of the books I've mentioned so far.
2008-2015: RuneScape: 2008 saw another Jack Frost, too, released in the game RuneScape. Here we find a Jack Frost that is neither antagonist nor protagonist but both or neutral, depending on the situation. Jack Frost of RuneScape is the rebellious teenage son of the Snow Queen and was kicked out of the Land of Snow due to causing trouble. He's only really seen during Christmas, and in 2011, Easter. In 2008, he bombarded the land with snow, making the player save the day. In 2009, he took up ice sculpting. In 2011 he traded insults with the Easter Bunny. In 2013, he gives the player snowballs that can be thrown at other players to earn "naughty points." In 2015, he and other icy characters went missing, and the player has to find them. He's a bit of a stereotypical teenage rebel here, but he's kind of fun, I think.
Jack Frost in RuneScape
2012: OverSoul: In OverSoul, an online card game, Jack Frost has a card that claims that he is "cold, wet, hard, and unforgiving" like nature. He has a character description, so I guess it counts.
Jack Frost in OverSoul
2012, 2015: Rise of the Guardians/Guardians of Childhood: The latest incarnation of Jack Frost is from the Guardians of Childhood franchise, written by William Joyce. He first appears in the DreamWorks movie based on the series: Rise of the Guardians, released in 2012. Frost in the movie is a lonely invisible boy who never grows up. He enjoys playing pranks and having fun and is a bit of a thrill-seeker, with a huge dose of sass that stems from his bitterness at being left out in the cold (hah). But he is generally kind and brave with a loving heart. And to boot, he has a tragic and noble backstory. He's also not bad on the eyes. In other words, he's the perfect formula for a beloved fan character. (I swear, he's the only reason this movie made any money.) Joyce admits to Jack being inspired a bit by Peter Pan, and the movie even gives him a green fairy sidekick to hammer this in. The book version of this Jack, which was released in the picture book Guardians of Childhood: Jack Frost that came out in 2015. Rather than once being a human, this Jack was an ancient cosmic hero (despite being an eternal child). His name was Nightlight, and he sacrificed himself to save the Man in the Moon. At first forgetting who he is when he is revived from his icy prison, Jackson Overland Frost is pretty much the same character as his movie counterpart without the bitterness or sass. He's as carefree as the wind and the birds. But, in both versions, when he realizes who he is, he vows to protect the all children of the world.
Jack Frost in Rise of the Guardians
Jack Frost from Guardians of Childhood: Jack Frost
So that's every Jack Frost I could find! Did I miss one? Let me know about it below!
Also, which Jack Frost is your favorite? (I don't know which one's my favorite; if I could play favorites with Frost, I wouldn't be making this post.) XD
Sun, 03/06/2016 - 14:09
#1
Creepy
The children's book "The Stranger" looks very creepy. The child sitting in that chair looks scared to death and I think this is more than a children's picture book...
Sun, 06/26/2016 - 23:14
#4
The oversoul pic.... I
The oversoul pic.... I literally did a double take and thought AQW.....
cool thread doe