Looking For Advice On How to Draw Males
Just as the title says, I can't draw guys for the life of me. And I'd like some advice and tips on how to them, or what you guys think the best way is :p
Thank you in advance!
Tue, 09/08/2020 - 17:27
#2
:)
uuhm, tracking? I can draw males but they arn't very good, here's my most recent one...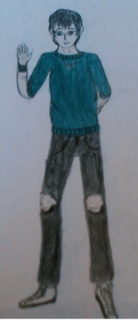 (it was made for someone for there OC so...)
Can you show me a picture of one of your guys? I may be able to give a little advice but IDK.
EDIT: Okay I'm back with a few things. Most people don't want to mention this because it sounds SUPER weird but... look at guys with limited amounts of clothing (not nak.ed (duh) just without a shirt or wearing tight clothing). Yeah I know what you're thinking "how could she say that! She's such a perv!" No I am not, I have no desire to look at other peoples body exept for drawing purposes. But yes. If your female it'll be easier to draw females because you see how you are built everyday. Same goes for guys. It makes it ten times harder to draw them because you don't want to stare at people in real life nor over the interent. However, you kinda have to to be able to draw males better. (people on the internet to save, not IRL)
I watch a show called survivor, as they are only aloud to keep one pair of clothes sometimes (and by that I mean a lot of the time) for 30-some days, they take there shirt off. I normally watch how they look so that I can start potrying that in my drawings. Although the guy above is not the best idea of what I mean as I made his shoulders to femine.
One main thing to keep in mind is guys have a more triangle like shape for there body. while females have a more hourglass shape (or at least untill you move on to drawing people of different sizes) (I can draw a quick drawing to show you that if you want)
Now, for that one place that no one wants to talk about. I normally just avoid doing anything where the two legs meet as it always makes me feel weird. I've started just doing a small slightly curved line but sometimes it ends up being just a line. No one expects you to be able to draw there amazingly.
One of THE hardest things is getting their face to look male instead of female. I still to do not know how to always get a male-like face whenever I want it.
Well, hope this helps in some way.