Loading forever...
Since yesterday, it's been impossible to get on. I'll login, select a character, and one of the buttons (e.g stable) and it takes FOREVER to load. I'm lucky if I even get the "server call timed out message". What's going on? Am I the only one with this problem?
__________________
! ! ! ! ! ! ! !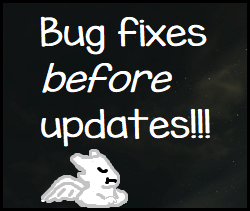 ! ! ! ! ! ! ! !
Dragons:
Rivu (Starter)- female Titan Monsterous Nightmare (50) ll Nasail- male Titan Monsterous Nightmare (47) ll Fioled- female Adult Monsterous Nightmare (19) ll Fellous- male Adult Monsterous Nightmare (13)
Deniz- male Titan Scauldron (50)
Halvard- male Titan Whispering Death (50) ll Terra- female Adult Whispering Death (34) ll Azibo- male Adult Whispering Death (15) ll Rosey- female Adult Whispering Death (13)
Glacia- female Adult Groncicle (40) ll Icelee- male Adult Groncicle (35) ll Frostbite- female Adult Groncicle (17) ll Iceland- male Adult Groncicle (14)
Hagedorn- male Titan Deadly Nadder (50) ll Tuija- female Adult Deadly Nadder (19) ll Eiche- male Adult Deadly Nadder (14) ll Buckthorn- female Adult Deady Nadder (12)
Rain and Cloud- female Titan Hideous Zippleback (45) ll Thump and Wallop- male Adult Hideous Zippleback (19) ll Twist and Turn- female Adult Hideous Zippleback (14) ll Snare and Trap- male Adult Hideous Zippleback (13)
Solveig- male Titan Gronckle (37) ll Avanti- female Adult Gronckle (19) ll Anaru- male Adult Gronckle (14) ll Drusilla - female Adult Gronckle (11)
Toothless (3-month skin) (50)
Hestia- female Adult Singetail (33)
Corentine- female Adult Typhoomerang (32)
Volkan- male Adult Eruptodon (29) ll Houri- female Adult Eruptodon (14)
Nereus- male Adult Tide Glider (37) ll Tethys- female Adult Tide Glider (22)
Algar- male Adult Armorwing (18)
Sigrdrifa- female Adult Deathsong (50)
Lagi- male Titan Razorwhip (34)
Flugurite- female Adult Skrill (35)
Taima- female Adult Thunderdrum (31) ll Donar- male Adult Thunderdrum (10) ll Esen- female Teen Thunderdrum (5) ll Boran- male Baby Thunderdrum (1)
Morana- female Titan Boneknapper (39) ll Undertaker- male Teen Boneknapper (6)
Hoshi- female Adult Flightmare (30) ll Toshi- male Adult Flightmare (16)
Datura- female Adult Flame Whipper (28)
Yamanu- male Adult Changwing (21)
Elysia- female Adult Shockjaw (28)
Oseye- male Adult Hobblegrunt (28)
Sana- female Adult Fireworm Queen (14)
Beowulf- male Adult Sweet Death (13)
Gavina- female Adult Smothering Smokebreath (12) ll Mack- male Baby Smothering Smokebreath (2)
Horus- male Adult Sand Wraith (19) ll Bast- female Adult Sand Wraith (10)
Elfriede- female Adult Scuttleclaw (10)
Vilhelm- male Adult Triple Stryke (10) ll Alfdis- female Adult Triple Stryke (10)
Gerda- female Adult Elder Sentinel (9)
Cahal- male Adult Raincutter (11) ll Yanyu- female Teen Raincutter (8)
Light Fury (10)
Thanatos- male Adult Deathgripper (9)
Cattibrie- female Teen Snafflefang (5)
Thu, 05/30/2019 - 23:44
#1
~~~
This is common, very, very, annoyingly, common. i usually re-start he game, that usually works, if it doesnt, i usually go and do smth for a few mins then come back
__________________
Clan:
Member of:
Credit to: Janovia, EmeraldGemHuntress, SavyWolf and ElderChristen for the Clan Banners (I just pieced them together)
Thank you Janovia for showing me how to put images in my signature
Alias: OwO, Star, The Kraken, Hostile Skunk
Trophy Count: 22.9k (Main Account)
Racing Type: Hostile Skunk (I fart in people in TRR, the gas cloud)
Hobbies in-game: Watching Chat, Racing, Helping People in Chat, Dragon Screenshots
UDT: 400k (Big Platnium)
A few of my favourite dragons:
----------------------------------------------------------------
XWing
Species - Stormcutter
Stage of Growth - Titan
Occupation (Former) - Primary Racing Dragon
----------------------------------------------------------------
Azriel
Species - Sand Wraith
Stage of Growth - Titan
Occupation - Racer
---------------------------------------------------------------
Abraxos
Species - Death Gripper
Stage of Growth - Titan
Occupation - None
----------------------------------------------------------------
TitanFlightmareGamin
Species - Flightmare
Stage of Growth - Titan
Occupation - Watching chat with me
-----------------------------------------------------------
Tearnach
Species - Skrill
Stage of Growth - Titan
Occuptaion - None
-----------------------------------------------------------
Ares
Species - Triple Stryke
Stage of Growth - Titan
Occupation - Firing at people only if they act aggressively towards me
——————————————————————————
Backstory:
I was born a Carpenter, we were quite poor, I helped my parnets as much as I could but ever since I broke my arm, I couldn't help much, the best I could do was to care for our rumblehorn, Bolverkr. Bol was very sturdy and was the perfect dragon for carrying lumber from the nearby forest and back home, I always made sure he was fed and well-rested. When my arm healed, it was a patchwork of scars, I could use it atleast, I got back to helping my Dad cut down the trees like normal.
One time, I was getting Bol ready to fly back home, I heard a loud roar, followed by a torrent of flames. Since I always watched the dragon races, I could tell different dragon fires with ease, this one was clearly a stormcutter. The fire barreled through the forest and towards Bol, of course, he had already taken off, all the lumber had fallen into the clutches of the wildfire, onky thing I could do was run. And that's what I did.
I darted from the forest, I could hear powerful wingbeats above me, stormcutter might've thought I was invading it's home, by the sounds on the beats, it was getting closer. I ducked into a cave, bad idea, from what I've heard, stormcutters were one of the most intellegent dragon species and I just cornered myself to one, perfect.
The stormcutter landed and seemed to show off it's immense size with its wings, it snarled and flared it's wings slightly and peeled back its lips of some sort. I backed into the corner, I heared pounding footsteps barreling towards the cave, only one dragon I know, Bol. He used his horn things at the front of his head and slammed into the stormcutter, the stormcutter roared in anger and spewed a spiral of flames at Bol, I wanted to help but there's not much I could do.
The stormcutter tried to lure Bol into the skies, I've seen them fly enough times to know they were more agile and faster than most dragons than they are on the ground. Bol was stubborn enough to stay on the ground where he had his advantage, the stormcutter seemed agitated and dived at me, I ducked, of course, the stormcutter had fast reflexes and a powerful turn that it managed to stay in the air and not barrel into a wall.
It beat its wings and growled at us, Bol was pulling his "defence" face, I was slowly mounting Bol, preparing for flight until I heard yelling, a battle cry of some sort. Dad, he swung an axe at the stormcutter, it roared and spewed fire at him. My heart skipped a beat, we didn't have the money to afford the fire-proof armour, or any type of armour at that so, my Dad would be incinerated. I was astonished when he emerged from the flames, he was badly injured but I was glad he was alive, the stormcutter snarled and flared its wings once again. At this point, I had mounted Bolverkr and was ready for aerial combat, well, Bol was, I was wearing my every-day clothes...
The stormcutter took off, Bol chased after it, I didn't even tell him to, he just did, my Dad called after me but I couldn't do much against an enraged rumblehorn.
The stormcutter was graceful in flight, rythmically beating its four wings in perfect sync, when it noticed Bol however, it went faster, I've seen fast stormcutters but this one was probably able to keep up with a snow wraith. Bol, being a rumblehorn, struggled to keep up but, the guy was so determined bless his soul. The stormcutter was a mere spot in the distance, Bol was flapping wildly, I did my best to calm him down but, to no avail.
Finally, the stormcutter took a sharp down dive, Bol, of course, followed it down. Bol landed and slowly went towards a cave at the foot of the mountain, I have a bad feeling...
Before we even set foot in the cave, I heard a loud roar, the stormcutter, it was louder than before, way louder. I dismounted and investigated the cave, first thing I noticed, was the amount of blood all over the place, then the egg, then the headless body, then the head and the cavern crasher. Cavern crashers don't usually come up this close to the surface but, now we know why the stormcutter was so protective of this area, it was rearing an egg.
Bol had charged in, the cavern crasher did fight but, I guess it didn't want a fight since it fled, thankfully, Bol was no longer aggressive, but now, we have a stormcutter on our hands.
I picked up the egg, I guess it'll have a few weeks until it hatches, "Otrera!" I heard my Dad call, I took off my cloak and wrapped the egg in it, I went out to my Dad. He wanted to sell the egg since we were having financial problems, I wanted to hatch the egg and race with the stormcutter, they were very fast and agile, perfect for racing. My Dad didn't like the idea of me racing, especially when the Tournament was on, all the experienced racers would be on and probably be using all the traps and trying to kill each other.
When I brought up the fact I could still make a bit of money, he agreed but only if it didn't interfere with helping him, I agreed, I've always admired races but now I can be a part of them.
Hatched Stormcutter, later named XWing
Banners
Who's online
There are currently 21 users and 90 guests online.