Limited-Time Sale on Stormcutter Eggs!
It looks as though the famed Sharp Class dragon, Cloudjumper, decided to pay a quick visit to Berk, and he brought along a crate of Stormcutter eggs ready to hatch and bond with ready and willing Dragon Trainers such as yourself!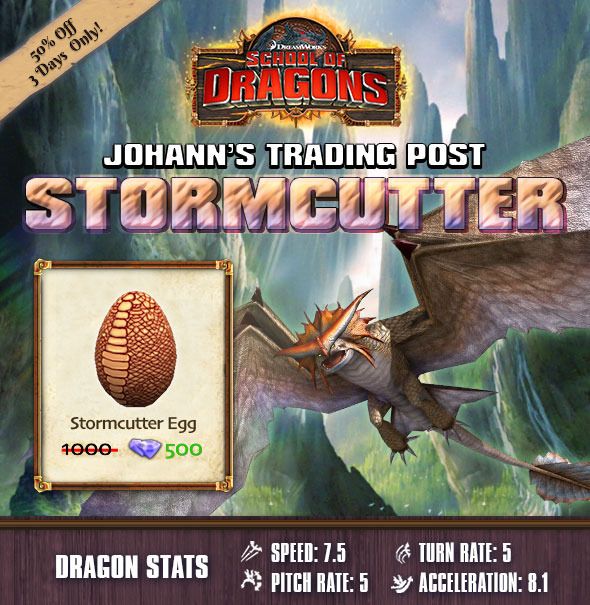 It was one early morning when Trader Johann himself got to behold the sights of this terrific creature as he was on his way to Berk. Souring the skies on two sets of wings that form an X-shape, this Sharp Class dragon was certainly came swooping down on his ship! Expecting to turn around and greet Hiccup and Toothless, Johann was startled to find this magnificent creature perched on his sails with a curious gaze. What a marvelous encounter, indeed!
Feeling jolly from the recent Snoggletog spirits, Trader Johann began to sing bold praises for its intelligence and how delighted he is to be graced by his presence! And for a while, the dragon seemed to listen - that is until Johann had to turn his attention to prepare to dock at Berk. Just as he was about to turn back and ask if Cloudjumper was here to visit the Vikings, he found the owl-like dragon taking off and leaving behind a rather large crate of dragon eggs on deck!
Absolutely ecstatic by this surprising gift, Trader Johann could not wait to offer fellow Vikings like yourself a chance to bond with your very own Stormcutter! And to make sure his unexpected visitor's find caring homes, he marked these eggs HALF-OFF for a limited time only. Stop on by at the Trading Post today! http://smarturl.it/StrmcuttrEggSale