LIMITED-TIME sale on SNAFFLEFANG eggs!
The first time Hiccup set his eyes on a Snafflefang dragon, he wasn't entirely sure of what it was. From its bulky build and rough demeanor he deduced that it might belong to the Boulder Class, but how was he to know for sure? While exploring the wild Dragon Sanctuary, his curiosity got the better of him and he advanced forward to learn more about one he had been observing from a distance. The Dragon, having an innate understanding of Hiccup's love of dragons sweetly crept over, allowing for the dragon trainer to lay his hand upon his head.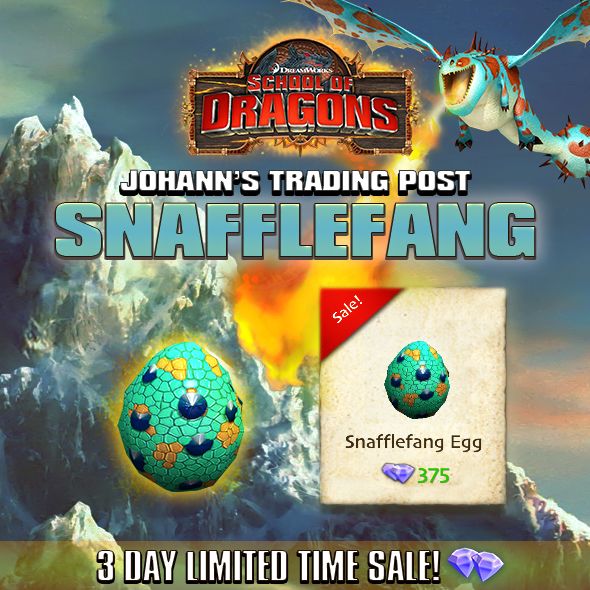 Hiccup and the dragon felt a bond and mutual respect for one another, which allowed the dragon to feel safe, safe enough to lead Hiccup to its nest of eggs. The dragon nudged one slight toward Hiccups direction, signaling for him to have it. Dragons were not always safe in the wild, so knowing that her eggs would end up at the School of Dragons brought this Snafflefang great peace of mind.
Initially unsure of what to do, Hiccup eventually accepted that there was no better way to learn about this dragon than to raise one himself, so he collected the egg and promised the Snafflefang that he would do what he could to take care of its growing brood. Hiccup brought as many eggs that he could safely carry back to campus to help teach his fellow Vikings about the ways of this mysterious Boulder Class dragon, requesting a special 3-day sale on eggs at Johann's Trading Post. And now this dragon can be yours for just 375 gems! Have you picked up yours? http://smarturl.it/SnaffleEggSale