Limited-Time Sale on SLIQUIFIER Eggs!
Vikings have been rushing to Johann's Trading Post in droves at the news that SLIQUIFIER dragon eggs are now on sale for 50% off for the next 3-days! And 'why?' you might ask... It's all thanks to Fishlegs! Knowing that his trusted Gronckle, Meatlug, was in need of a few fish, Fishlegs headed out to fish on the shores just below campus. After all his dragon would need fish for energy before she could continue training. And while they splashed around, reeling in fish, Fishlegs heard something swim by at unrivaled speeds. "Was that a fish?" He thought to himself as he saw a blue fin graze the surface of the glistening water. The fin appeared to belong to a creature much larger than any fish this Viking knew, and then it hit him... It was the acid spewing and fastest of Tidal Class dragons - the SLIQUIFIER!
http://smarturl.it/SliqEggSale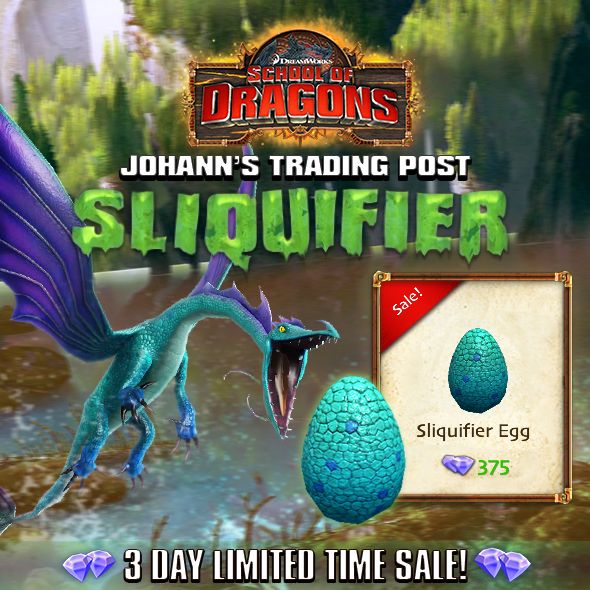 Fishlegs had read about the SLIQUIFIER in the Book of Dragons and knew this specific one belonged to one of his fellow dragon trainers. But for some reason the dragon was burrowing down in on of the caves near the water instead of settling back at the stables. Fishlegs followed the Sliquifier deep into the cave, discovering the best where it had been keeping close eye on a large nest of eggs. Immediately, he went to notify the dragons Viking so that they could bring the dragon back up to the safety of the stables and assure that the soon-to-be-dragons from the nest would fall into the right hands, the hands of ULTIMATE Dragon Trainers like YOU!
And you're just in luck as Trader Johann has decided to slash the price on this latest influx of dragon eggs! Get yours now and show us your new Tidal Class companion!