Limited-time Sale on Nightmare Eggs!
It was a beautiful sunny day in Berk, and seeing as those were rare, Astrid decided she wanted a small break from dragon training to enjoy a picnic. Color her surprise when she returned home with a nest of Nightmare eggs!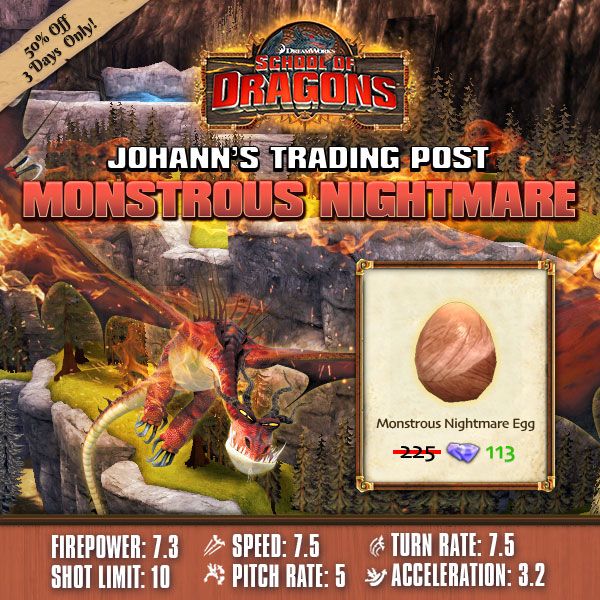 Astrid and Stormfly packed a basket of their favorite snacks and headed to one of the many forests in Berk. They were in the middle of eating when a disgruntled Nightmare burst into the clearing. At first Astrid thought the Nightmare was possibly hurt or sick, but the more she followed its movements the more she realized she was wrong. It seemed the Nightmare was actually looking for something!
Astrid along with Stormfly volunteered to help the Nightmare search, while looking Astrid became separated from the two dragons. She was glancing around in hopes to see Stormfly whens she tripped and fell face first in a dragon's nest; nightmare eggs to be exact. This was what the dragon was looking for! Asrtid used her dragon call and within minutes Stormfly was there along with the Nightmare.
The dragon was so grateful that Astrid was able to find her eggs, that she has allowed for them to be trained. They are now waiting at Johann's for a viking like yourself to train them!