Limited-Time Sale on Moldruffle Eggs!
Although we all know how cat-like Toothless can be with his keen senses and quick reflexes, the Night Fury certainly isn't the only natural hunter around. Known as the Stoker Class, the Moldruffle has stalked its way to a new egg sale at Trader Johann's!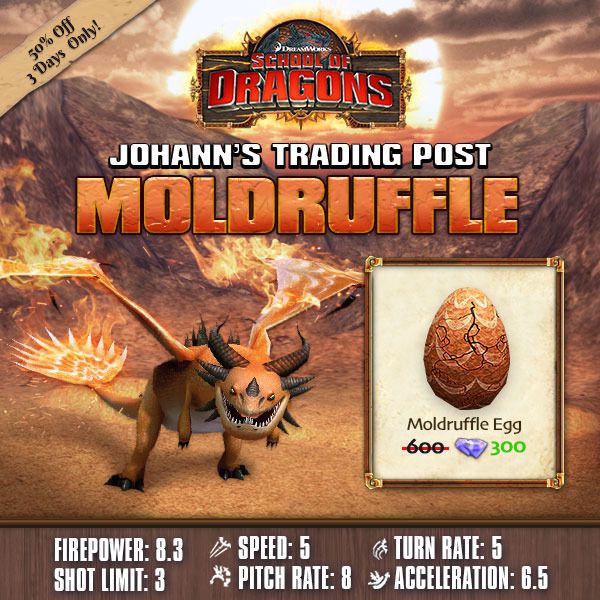 After Astrid's encounter with the dragon hunters last time, it seemed like it was time to see about making Dark Deep more defensive again. So Fishlegs went on a scouting trip to Dark Deep to experiment what other rocks could make better material like the Gronckle Iron. He certainly wasn't expecting to meet a Moldruffle!
Extremely agile and wonderfully curious, the Moldruffle can sure make its enemies turn tail with its immense strength in firepower. Fishlegs certainly had the pleasure of encountering its fiery fury when Meatlug suddenly tackled him - and out of the way of a massive fireball! Nearly panicking upon seeing Meatlug face off with this quick-footed dragon, Fishlegs hurried to find out why it was attacking when it clicked - it was to protect its eggs!
Now knowing why, Fishlegs immediately worked to calm both dragons down and appealed to this great traveler's curiosity so that he and Meatlug could guide it and its eggs to safety at Dragon's Edge. And because of that encounter, now these eggs are on SALE for a limited time only! http://smarturl.it/MldrffleEggSale
Tue, 02/09/2016 - 10:29
#2
Moldruffle for the win
THIS DRAGON IS AMAZING, I LOVE IT. Its design is really good, I hope one day it gets it own animation. Plus the image gives us an idea of its ability to set its wings and tail on fire.
(Although I strongly believe its firepower damage should be pushed up to around 35. You also described this dragon as fast on the homepage, yet its stats seem to contradict this :/ maybe its speed should also be increased to 8.0 or over.)