Limited-Time Sale on Hotburple Eggs!
When you're having a day off from duties, wouldn't you want a dragon companion who can take time out of the day to snooze away with you? Don't give up that lazy day dream just yet, because now Hotburple eggs are on sale at the Trading Post!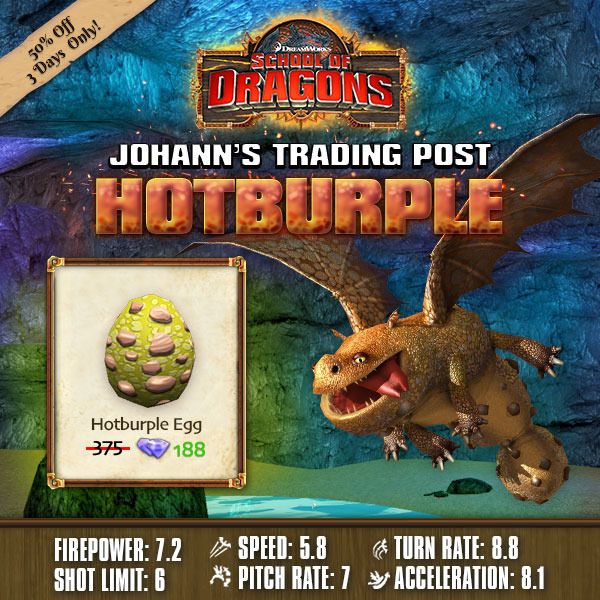 Hotburples are known to be the laziest dragon of the bunch, but don't underestimate its strength by its laidback disposition. Gobber could attest to that when his own Boulder Class buddy decided to snooze on his newly-built wagon of weapons, only to end up crushing it into a flattened mess of metal and wood splinters! Dumbfounded and angered, Gobber could do nothing else but get to work on repairs.
So how did Gobber end up heading to Trader Johann's for a Hotburple sale? Well, it was while he was walking to the Wilderness (on foot no thanks to Grump) to chop some wood, when he caught sight of the dragon sleep-flying to a nearby cave. Annoyed that his winged companion seemed to ignore him, Gobber stomped his way to the cave with a whole stream of complaints all the way. Just as he was about to deliver the final proverbial blow, though, it was then that he realized he'd been yelling at a different Hotburple just as she was nurturing her nest of eggs!
After a sheepish guffaw and a lengthy set of apologies, Gobber decided to strike a deal with the dragon: help with wagon repairs in exchange for finding Vikings to help nurture her eggs - and he's asking you to take care of one today! http://smarturl.it/HotbrpleEggSale