Limited-Time Sale on Groncicle Eggs!
Do you know which dragon is the coolest of them all? Well there's at least one dragon that can be practically frozen solid. It's the Groncicle! And with the Archaeologist's help, this Boulder Class dragon has brought its eggs to the Trading Post for a limited time only.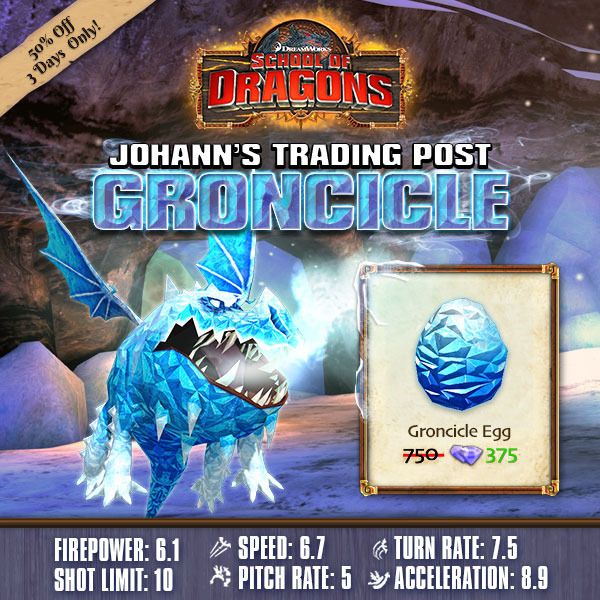 It was during one of the Archaeologist's nostalgic visits to his favorite haunt, Icestorm Island, when he had to hide in the cave to wait out a surprise blizzard. Without fail, though, the inquisitive explorer just couldn't resist strolling through the cave to pass the time - until he happened to notice that the local Groncicle nest was left unprotected! Worried about what could have happened, the Archaeologist set out to look for them as soon as he could.
Just as he was emerging from the cave, he discovered faint remnants of prints belonging to two different dragons. Suspecting that the Speed Stinger might be behind what happened, the bold explorer decided to take a peek at the nearby pack. Thankfully for him, he didn't have to go far before he found a Groncicle on the way. Realizing that the Boulder Class dragon was digging through an avalanche for some of its missing eggs, he pulled out his excavating tools to help the dragon out.
After gaining the Groncicle's trust, the Archaeologist felt that it was better to recruit some more experienced dragon trainers to help. And as a result, now you can swing by Trader Johann's to train one of the coolest dragons on campus! http://smarturl.it/GrncicleEggSale
Tue, 03/15/2016 - 17:35
#2
This is just cruel...
It's not that I don't like the Groncicle, it's cute and all and I adore my sweet Garnite I obtained from completing Icestorm Island. But when the game randomly decides to give you another teen for no reason when you're specifially trying to save room for other new dragons one doesn't already have, that is not cool...*glare* Mind you this is great for people who don't have access to Icestorm Island and have been waiting to add one of these winged ice cubes to their fleet, all the power to you guys, but I personally was hopin' for something else...Guess I'll just have to wait for the next sale... @_@
Seriously though, Brynjolf is there ANY way at all to have Frostbyte the angsty teenage Groncicle rightfully removed from my lair..? He's freeloading!.. :/