Limited-Time Sale on Grapple Grounder Eggs!
Vikings all around campus know that the Night Fury's firepower is nothing to sneeze at, but did you know that it is not the only dragon that can blast its opponents with pulses? The Grapple Grounder sure can, and it's causing ruckus at the Trading Post with a new sale on this Boulder Class dragon!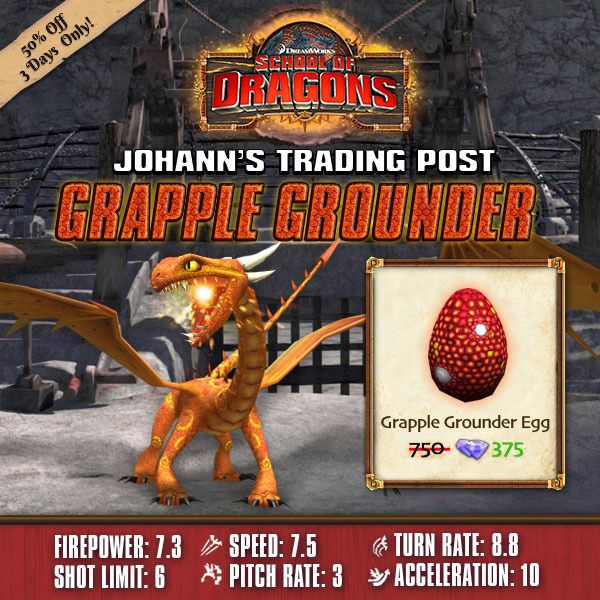 With even more species of dragons joining the ranks of Vikings to create a cooperative environment, sometimes it's taken for granted that a dragon trainer is obligated to bring any abandoned eggs they find into the fold. Of course, with some nasty encounters from certain dragons that can blend into the background, trainers typically make sure that the eggs are abandoned first before they go on to help Johann find vikings willing to take care of these hatchlings-to-be.
Sometimes, vikings like Clueless aren't always quite so meticulous about it like today. It was while he was taking a walk from the Lookout while thinking about how he'd love to train a sturdy Boulder Class dragon with his fellow vikings, when he caught sight of a lonely Grapple Grounder nest! Unable to resist any longer than a few minutes, Clueless quickly made his way to the Trading Post, sadly failing to catch sight of a sneaky Grapple Grounder following close behind.
Unfortunately for Johann, this incidental occasion led to his poor post becoming home to a disaster! Thankfully, Hiccup stepped in just in time to calm the Grapple Grounder down, and even persuaded it to give trainers a chance by featuring its young in this latest egg sale starting today! http://smarturl.it/GrpgrndEggSale
Tue, 04/26/2016 - 19:21
#4
To repeat the repeated....
I'm so sorry Brynjolf but.... to repeat the posts above:
Please do a remodel devs! We do not have a real grapple grounder; we have a clipped and snipped, overly thin, long, stiff dragon. This is what the actual dragon looks like. (Huge credit to chakuu for taking these in the Wii game)
This is a majestic, springy, wonderful creature that I would totally spend my saving gems on. The creation we got is not worth my gems.... Not even at half price. Again, I'm sorry Brynjolf you are the messenger and how terribly boring and probably annoying it is to hear this a thousand times over.