LIMITED-TIME SALE on Fireworm Queen Eggs!
In the depths of the darkest caverns in Berk, Hiccup and Toothless were exploring and came across an unbearable sense of heat. Where could it be coming from? They couldn't find the source, but they could feel it getting stronger by the second. They backed out of the caves, unsure of what was ahead. When suddenly, they saw a bright flashing light! Toothless used his wings to cover Hiccup's eyes. And when the light died down, they discovered that the heat was coming from an intricate and unguarded firecomb!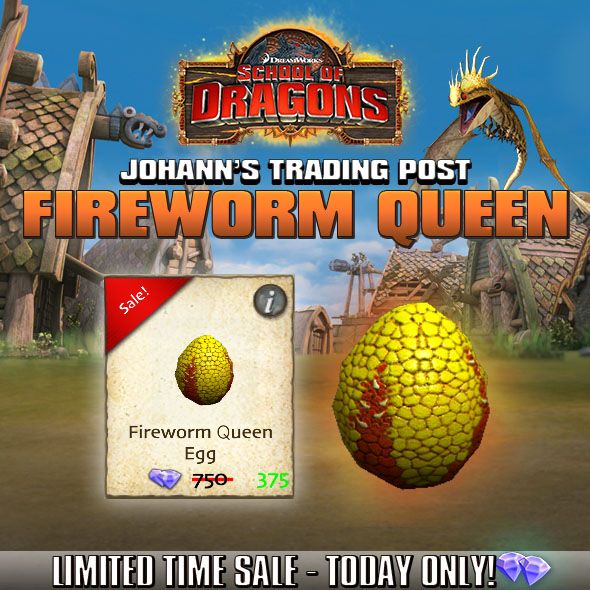 An unprotected firecomb of eggs was something that was simply unheard of to any knowledgeable dragon trainer, like Hiccup. A Fireworm Queen would never leave eggs around unless it wasn't able to come back. At that realization, he immediately knew what he had to do. He had to bring the eggs to Johann's Trading Post! The only hope these soon-to-be dragons had, was to end up in the hands of trained Vikings who would care and nurture them.
Help Hiccup and Trader Johann move this sudden influx of Fireworm Queen eggs by adding one to your stables! For Today ONLY they will be selling at a discounted rate of 375 gems! Hurry down to Trader Johann's today: http://smarturl.it/FirewormQueenEgg
Tue, 09/01/2015 - 08:20
#1
...
Ohhhhhh I really want one! Now I feel stupid about wasting my gems on the new chests! I would have had enough to buy a Fireworm Queen!
Well since the earning free gems option is not working I can't have one :( Well done Lucy, well done...