Limited-Time Sale on Death Song Eggs!
It looks like Trader Johann is developing the luck of Bork the Bold during his latest trips because the irresistable call of the Death Song has led our dear trader into bringing vikings a discount on its eggs!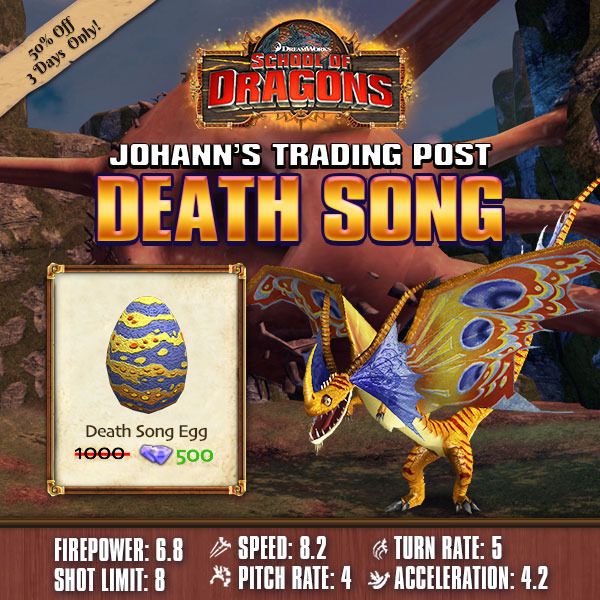 So how did Johann come across the eggs of this Mystery Class dragon? Well it happened not long after Siren visited the Training Grounds for the start of our exciting tournament, when she found a Terrible Terror perched nearby with a message calling for help from the Shipwreck Graveyard.
Thinking the friendly trader needed help recovering his ship again, Siren quickly rounded up the nearest dragon trainers to head out. Turns out that Johann indeed needed assistance in getting his ship out, but not without doing a daring rescue of Death Song eggs from giant eels eager to have the upperhand against this eel-eater! To say that they were surprised was an understatement considering the well-known knowledge of this dragon's preference for solitude.
However since this dragon is no stranger to Johann or the rest of the Vikings, it wasn't hard for him to convince this winged creature to let him feature its eggs in this latest sale! So for a limited time only, now you can stop by the Trading Post to tame the Death Song. http://smarturl.it/DthSngEggSale
Tue, 03/01/2016 - 13:23
#1
;)
Awesome! Personally I've already got the amount of deathsongs I'm happy with (which is 1) but I'm glad to know that if some people wanted another one, they have the perfect chance right now!
Also, I can't seem to get into the game. It keeps getting stuck loading before I even reach the select screen :/