LIMITED-TIME SALE on Boneknapper Eggs!
In the returning journey to the depths of a mysterious island, Snotlout heard a loud and thundering roar. Carefully through the gloomy night, he followed the sounds and discovered an abandoned Boneknapper nest.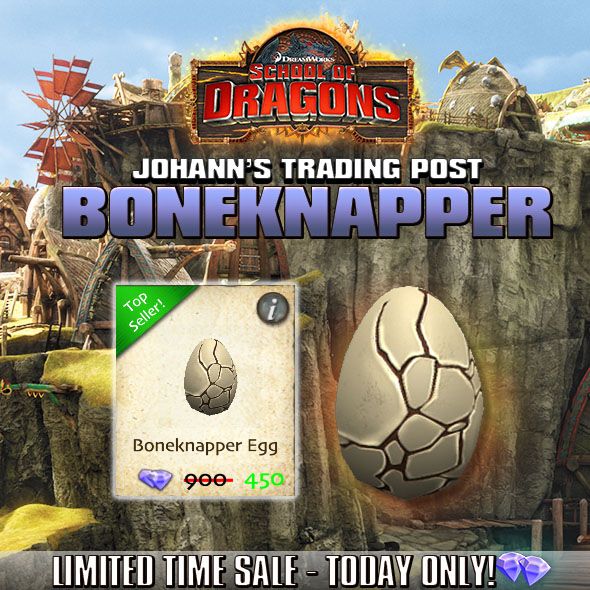 He camped out and observed the nest for a few days, and found no sign of the dragon that it belonged to. He thought to himself, "What if this dragon has been captured and taken away? Who will care for all these eggs? They surely won't survive without proper attention!" Then suddenly it occurred to him that he would need to fly the eggs back to campus, where fearless Vikings could raise, train, and bond with each of these winged creatures.
He knew that Trader Johann would be able to help make sure that these dragon eggs ended up in the hands of proper trainers, so he sent a message back to campus for Johann and his crew to help collect these exclusive eggs. With the new influx of Boneknapper eggs now lining the shelves of his shop, Trader Johann has decided to cut the price on these eggs, making them available for only 450 gems for today ONLY!
Will you be flying into campus for this LIMITED-TIME deal? Hatch a Boneknapper in time for your next adventure! http://smarturl.it/boneknapper
Thu, 08/20/2015 - 08:31
#3
No I didn't. I have already
No I didn't. I have already got two Boneknappers and only 3 stable spaces left. I am saving space for the expansion.
Do you think you can tell us when The Stable of Dreams will be avalible?
Thu, 08/20/2015 - 08:38
#4
I dont think they will add
I dont think they will add the stable of dreams cause only hackers have it
Thu, 08/20/2015 - 08:42
#5
:)
Stable of dreams?..... I must know more :)
Thu, 08/20/2015 - 08:44
#6
The stable of dreams is a
The stable of dreams is a stable seen in many a hacker video on SoD.
It's crest is like the dreamworks symbol but the fishman is a terrible terror.
It is unknown what is inside.
Unless someone has
a video of inside the stables.
I'm not sure.
Thu, 08/20/2015 - 09:22
#7
:D
Cool... maybe it comes with the expansion or update.
I shall ask upon the wise Google... he shall find me videos.
Thanks for letting me know :)