Light Fury Adopts!
For a full list of information, I suggest you head directly to DeviantArt now! The link to the artwork is HERE

Light Fury Adopts!

On DeviantArt, I presenting my first ever batch of Light Fury Adopts! For ten points each, you can adopt your own Light Fury! This is a first-come, first-serve deal, so comment on the post on DA in order to claim which one you are interested in. Then, I can DM you how to complete the process.
RULES:
● Unless you have purchased one of the adopts, under no circumstances are these designs to be redistributed or recreated in any way.
● These are NOT BASES IN ANY SHAPE OR FORM.
● Once you have purchased an adopt, you as the owner now have the freedom to redistribute and recreate these designs in your art. This includes the ability to resell them.
● You may also change any information about the character if you purchase an adopt.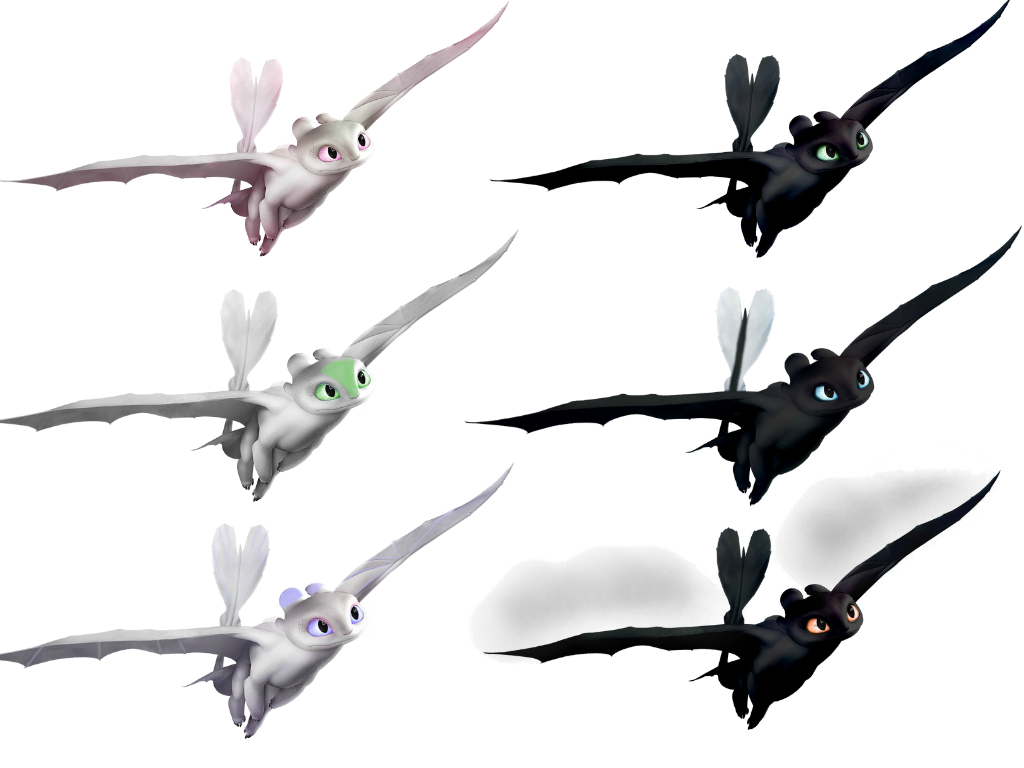 Here is information about the adopts from left to right:
Adopt #1
Name: Blink
Blink hatched as the same batch of eggs as the Light Fury seen in HTTYD3. Unlike her sister, Blink is much less skittish, presenting herself with a proud personality. While the Light Fury would prefer to spend more time in The Hidden World, Blink prefers to go outside, as she is the hunter type.
Adopt #2
Name: Night
She is often mistaken for a Night Fury, hence her name. She tends to be the reserved type, but if need be, she will stand up for herself. She tends to be menacing without anger in her expression.
Adopt #3
Name: Bristleluck
As ironic as her name is, Bristleluck is quite clumsy when it comes to utilizing her power. Light Furies are a very powerful species, but if one doesn't know how to use their power, they're like a bomb ready to burst.
Adopt #4
Name: Raindance
Many dragons love taking to the skies. Not necessarily this dragon; her dark scales lets her dive into the dark depths of the ocean in order to blend in. She can hold her breath for an immense amount of time and her tail fluke allows her to propel herself through the water swiftly. When she must come to the surface, vikings tend to mistake her white tail for a mermaid.
Adopt #5
Name: GoGo
GoGo is very elegant in the way she presents herself. This also means that she is very vain; she tends to groom herself more than she actually flies, usually licking her feet and stroking her ear flaps to ensure they're in the right place.
Adopt #6
Name: Fierceflare
She was hatched from the depths of a volcanic structure, giving her adaptations for immense heat. With extremely fire-resistant wings, fire can bounce off of her easily. When she spits a fire blast, the smokey remains cling to her wings, giving her wings a smokey cloak.
Wed, 06/19/2019 - 17:06
#1
tracking!
My Light Fury Starwave and her big sister, my Night Fury Dusk, need a sibling. Starwave is curious, eager to explore and likes shiny objects just like her sister. Dusk is more reserved, but she's kind, caring and protective of her baby sister. Mess with her baby sis, you get the claws out if she hears about it. She WILL find you, and she WILL make you regret messing with her favorite sibling. Which of these lovely dragons would you recommend I pair with them?
Thu, 06/20/2019 - 10:56
#3
bloop
Too bad I don't have any points on deviantart *pouts* also, I don't know your Deviantart name, mine's the same there as it is here. Maybe we can do an art trade if that's OK with you? If you have any dragons you need art for, I can find some line art and do them for you
Thu, 06/20/2019 - 18:29
#8
Tracking :)
Hi!
Just wanted to swing by and check out these. I really do love Night, because she seems like a Night Fury to me. I don't like Light Furies, which is why I was more drawn to Night. Beautiful edits, though! :D