Kujali?
Can anyone di art of my Indoraptor Kujali? He's like a regular indoraptor except his markings are blue instead of gold
Personality: puppy dog personality, EXTREMELY intelligent, caring, quick witted, sympathetic, compassionate, playful, friendly, extremely curious, loyal, affectionate, brave, daring, energetic, courageous, hot headed, extremely protective, tough, fearless, mischievous, reliable, attentive, problem solver, fiercely loyal and dependable, self aware, can be extremely fierce, vicious and ferocious if his family is threatened, extremely clever, a little wild,
Mon, 09/21/2020 - 13:13
#2
Never fear, for Blobby's here!
Is it a Jurassic Park indoraptor? Or is it something else?
Mon, 09/21/2020 - 13:14
#6
Yes!
I would like to draw Kujali, I've been wanting to draw some dinosaurs. I do have some requests I need to finish first, so it might take some time. Do you want a digital drawing or a traditional drawing? Did you want a background?
Sat, 10/03/2020 - 14:39
#8
Is this the right color blue?
Is this the right color blue? I finished the sketch, and I just wanted to make sure I was using the right blue before coloring it.
Sun, 10/04/2020 - 13:42
#10
Chicken is a friend, who will see you till the end.
Thank you! Is that from Jurassic World Evolution? I've never played it before, but I've been wanting to. Is it good?
Kujali is finished! (If the images don't look right, open them in a new tab.) Let me know if there is anything that needs to be changed.
Without background:
With a background:
I tried to make a background similar to the picture.
Mon, 09/21/2020 - 14:45
#11
Never fear, for Blobby's here!
Sorry, I don't know how to do digital, so I hope you're okay with traditional. It's not that good, but here he is: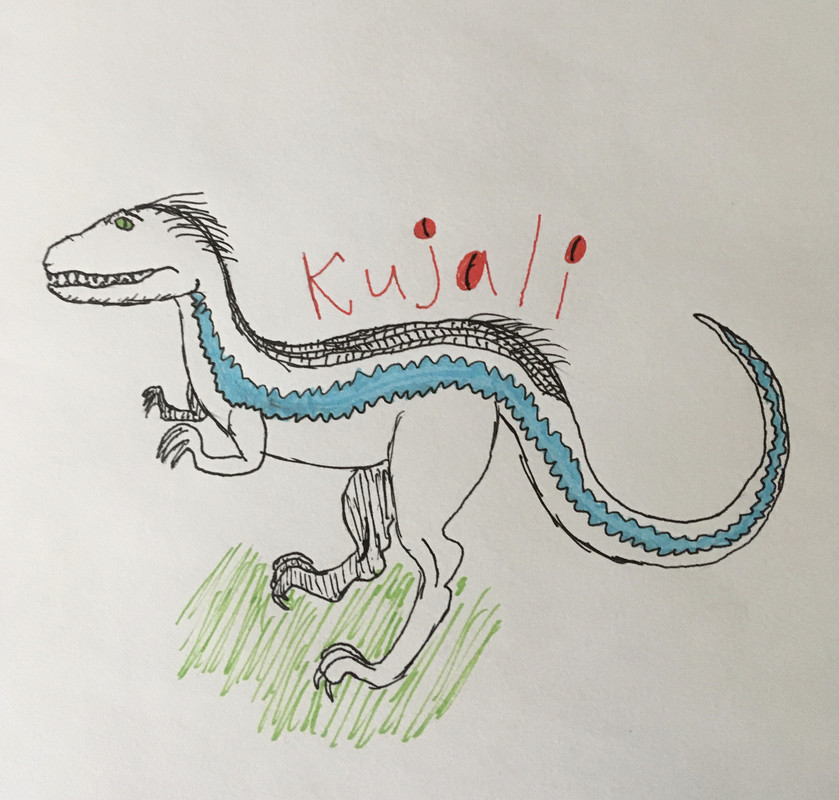 I hope you like him!