Kasanelover's HTTYD OCs and Their Dragons
After not being satisfied with my original post like this (even with all the "clean up efforts"), I decided to make a new post for this. So look forward to this new and improved thread! ^^
__________________
Aliases: Kas or Kasane
Main Dragon: Papa Moon the Titan Stormcutter
Favorite Dragon Breed: Stormcutter
Other Favorites (in no particular order): Buffalord, Skrill, Prickleboggle, Triple Stryke, Woolly Howl, Thunderdrum, Deathgripper
Somehow interested in my opinion on dragons? I (re)made a Dragon Review Here: My Dragon Review 2.0
Information about my dragons can all be found here: My Grand Dragon Family
Information about my HTTYD OCs and their dragons can all be found here: My OCs and Their Dragons
Requests From Others!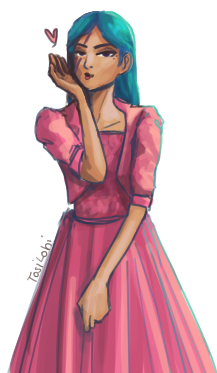 "*Banshee screech* You look so cute!" - Comet Burst
-Insert Wise dying on the inside here-
Drawn by the terrific TosiLohi!
Sometimes Papa's ego becomes as big as Jupiter. . .screenshot edited by Zeezur!
Happy wife, happy life. Made by Snowflake12298!
The main character for my story made into a beautiful Snowy Griffin. Made by LissaFish!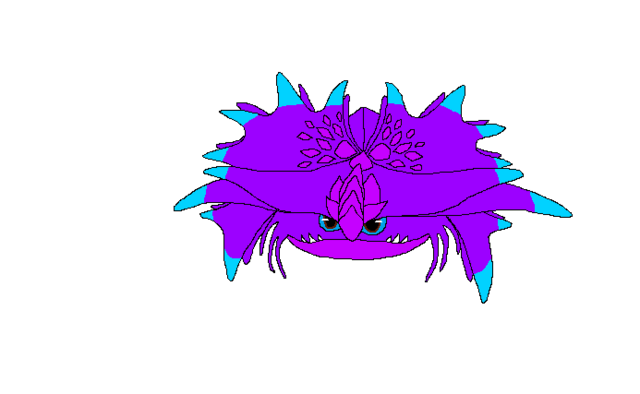 A cute Papa headshot made by HoneyCloudy!
As much as I love the big guy, it's fun to occasionally spite him. ewe Made/edited by SilverNight!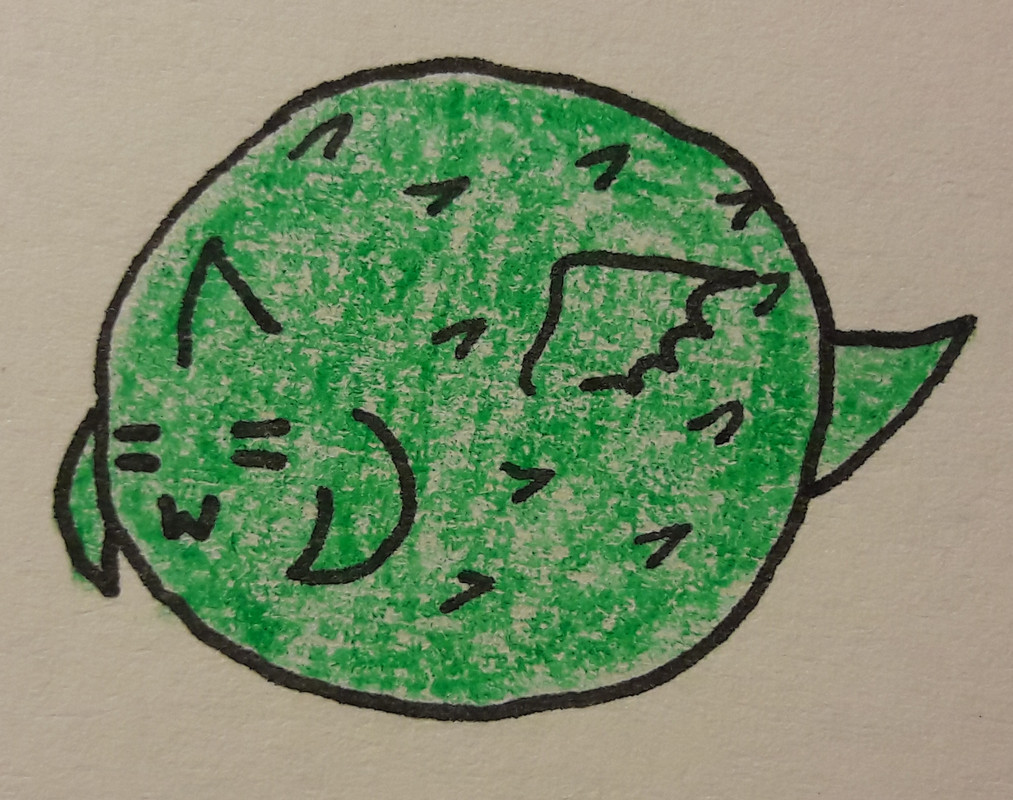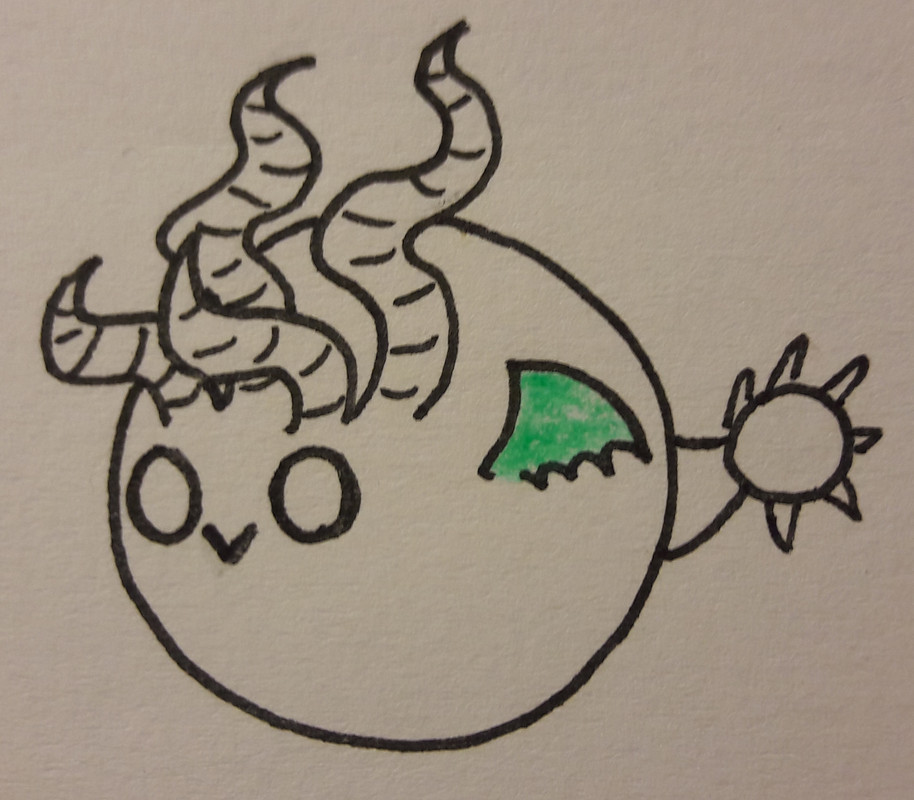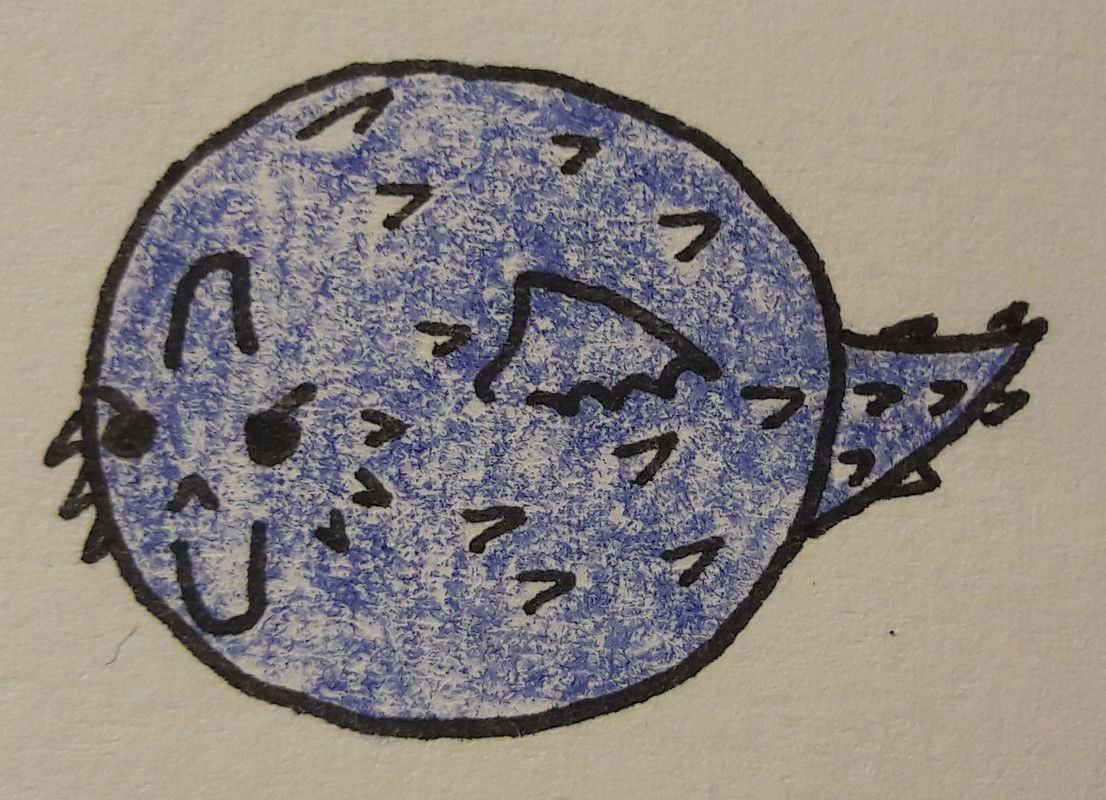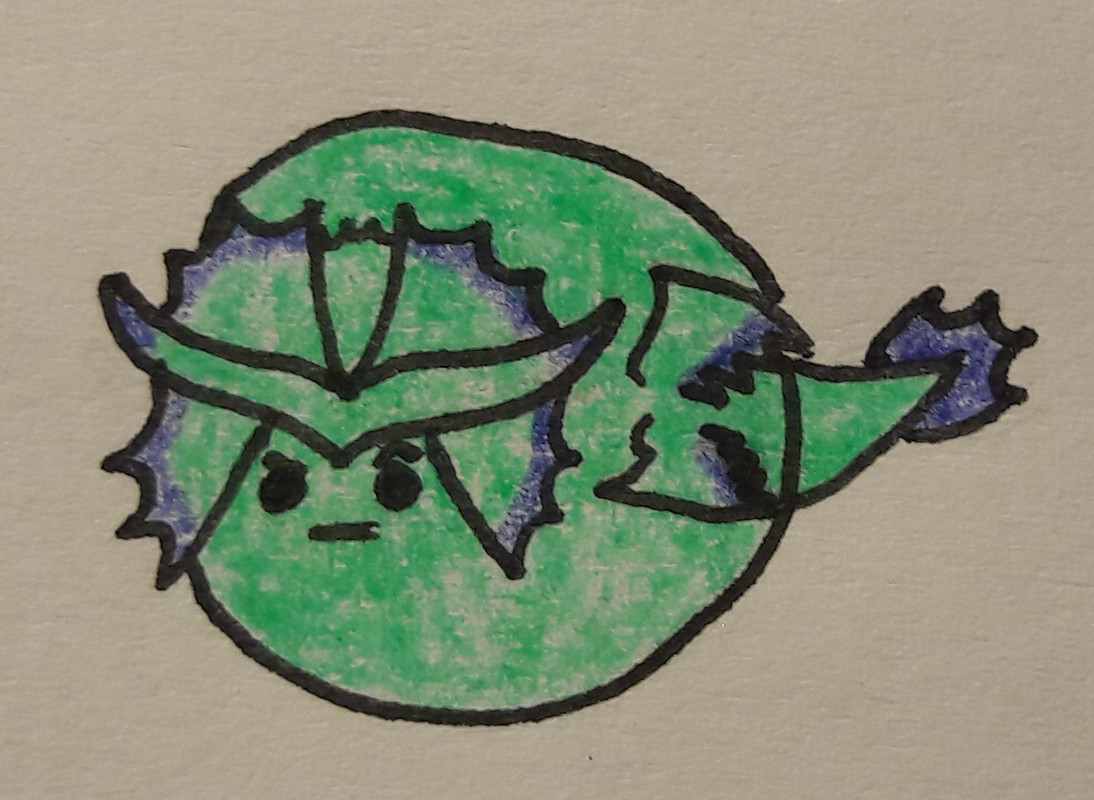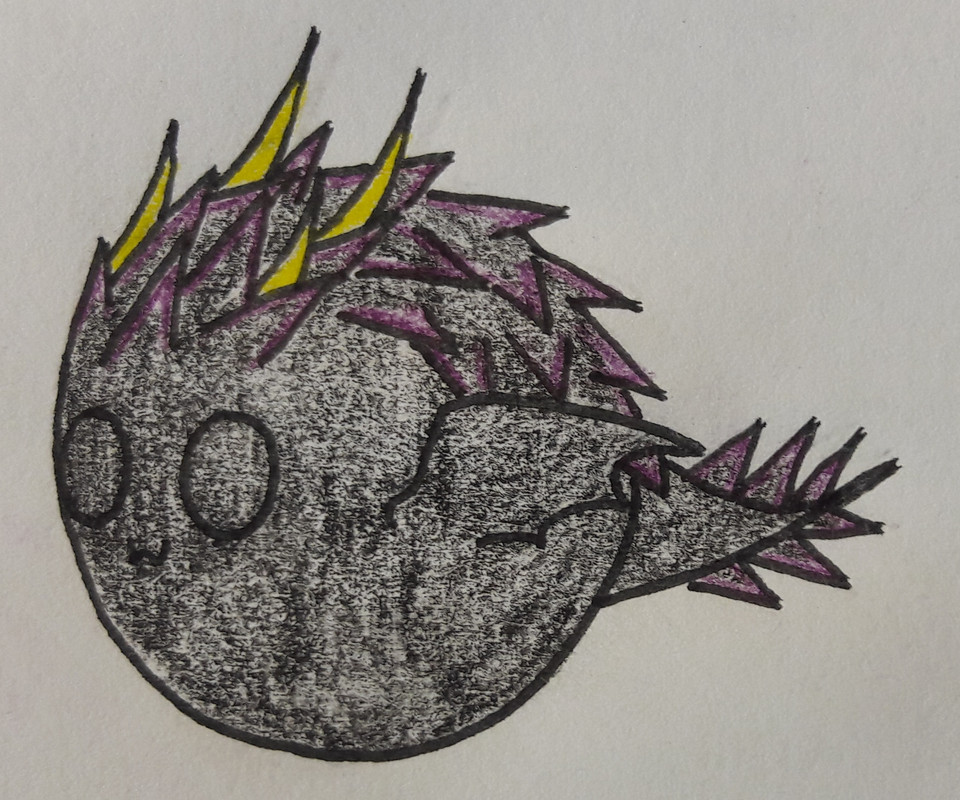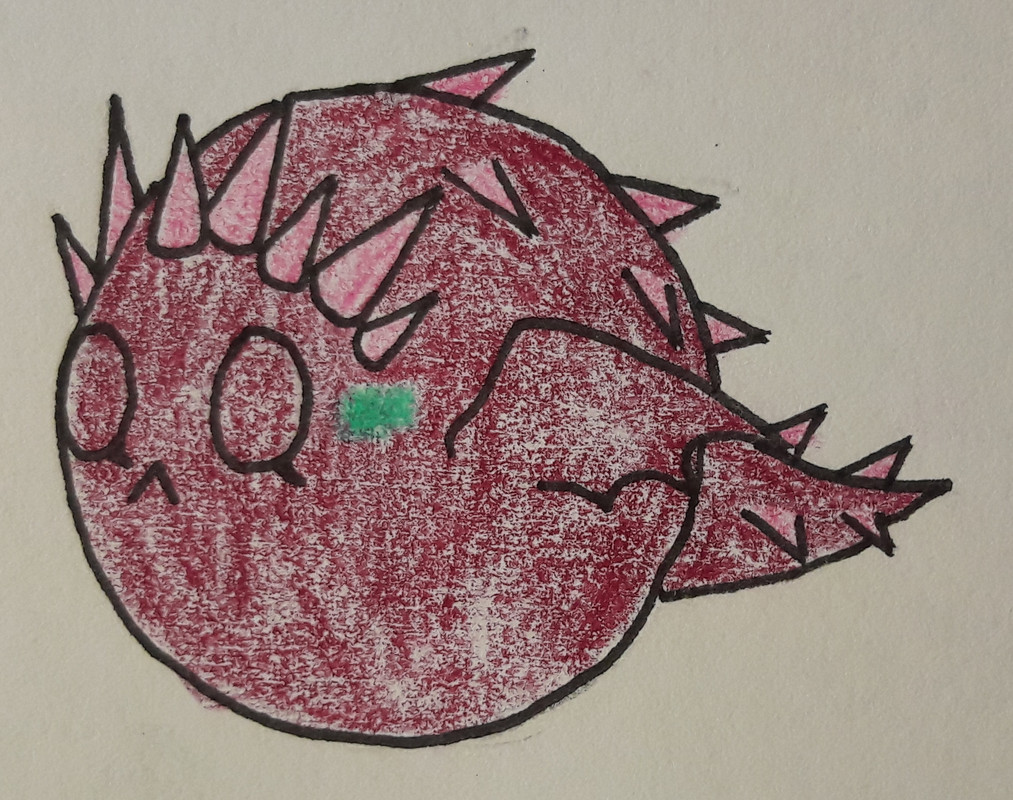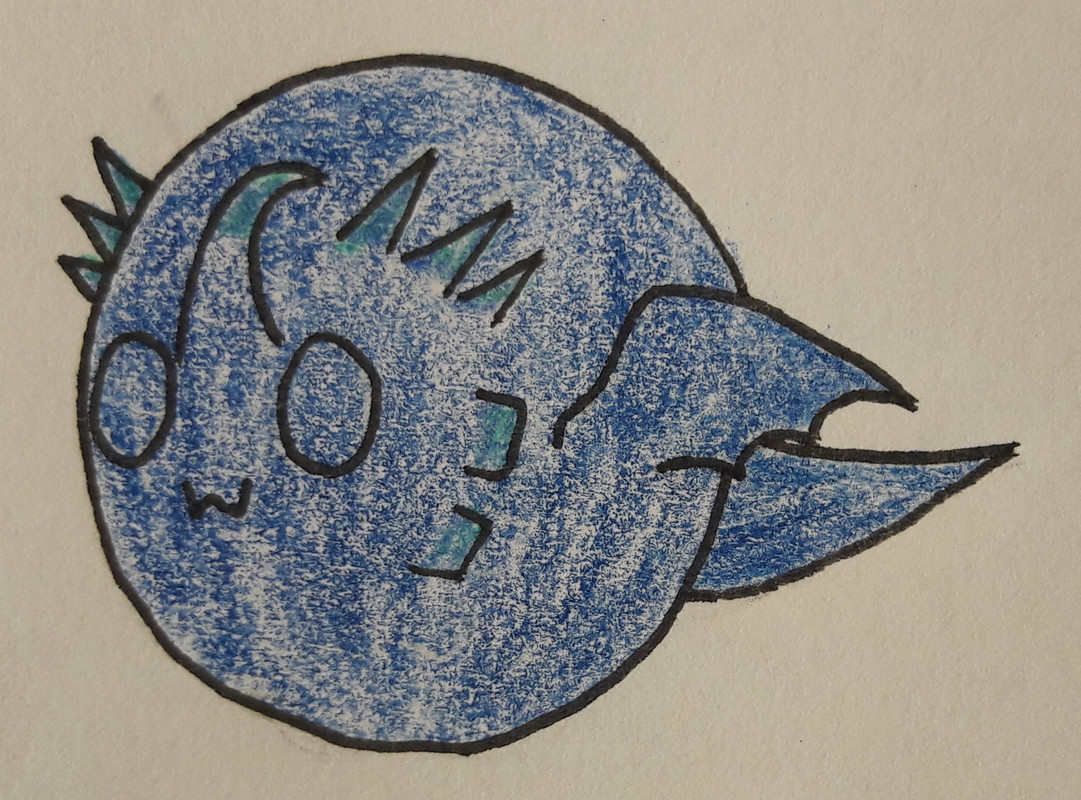 Drago once said the strength of will over others is true strength. . .and Hiccup says friendship is true strength. . .but they're both wrong. Cuteness is the one and only true strength! These faces will be the death of evil, I'm telling you. Made all by Zitka!
Hobbleslicer, the male Tingecutter made my AndreaEaston!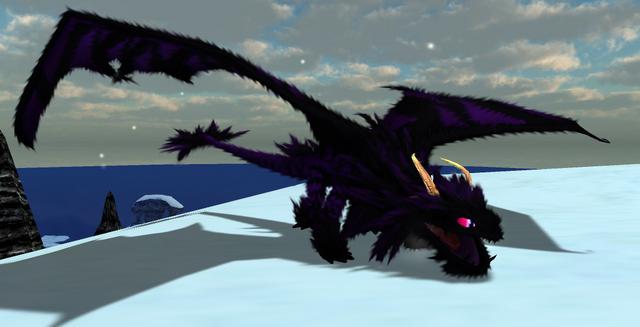 A truly fuzzy Moon made/edited by HoneyCloudy!
Fri, 10/22/2021 - 02:31
#3
Mystery Class
Note: You may noticed I put the Prickleboggle under the Mystery Class instead of the Sharp Class. This is because Richard Hamilton has provided a "cheat sheet" of dragons and their dragon classes on Twitter and the Prickleboggle is under the Mystery Class instead of the Sharp Class. You can view the chart here: https://twitter.com/RegardsRichard/status/1071470653860044800
Bittersweet the Male Sweet Death
Background: Bittersweet's home was safe until dragon hunters began to slowly invade it. The hunters set up traps, one of which poor Bittersweet flew into and was blinded by. For days, he was well hidden and silent but was immobilized. Once Wise and her dragons found the island, they quickly destroyed the dragon hunter operation and tended to the trapped and wounded. Bittersweet would've been completely overlooked if Wise hadn't tripped over him while doing one last sweep of the island. She quickly freed the dragon and tended to his wounds while her dragons retrieved food and water. He was eventually transferred to Wise's home island so she could closely monitor him. He was trained once he made himself comfortable in his new home and is learning to fly on his own.
Finding Tinker: Not too long after getting trained, Bittersweet was brought along to Icestorm Island. While exploring the new territory with Wise, he found a then-baby Tinker trapped in the aftermath of an avalanche after hearing his cries for help. He quickly pulled the dragon out and brought him to Wise. After his rider fixed him as best she could, he returned Tinker to his pack, only for the dragon to follow him. His kind gestures towards the Speed Stinger made Tinker significantly easier to train.
Personality: Bittersweet is incredibly docile and shy. He doesn't interact with other dragons or humans often, aside from Wise and Tinker. The few times he does, he's very quiet and doesn't move much but tries to enjoy the company. He doesn't fly around on his own anymore due to his blindness and doesn't go too far without Wise or Tinker but this is being worked on slowly.
Fun Facts
Bittersweet was named for his blindness--the "bitter" part--and his warm heart--the "sweet" part.

Bittersweet was my first ever Sweet Death.
Pumpkin the Male Sweet Death
Background: Pumpkin was one of 12 eggs Wise recieved from a fellow trader. Once he hatched, she introduced him to Bittersweet in hopes of getting the older dragon a new friend. Unfortunately, Pumpkin didn't really like the apparent cold shoulder he was always getting and seldom interacted with Bittersweet. As he matured, he learned Bittersweet was just shy but still doesn't like hanging out with him that often.
Personality: Pumpkin is very active for a Sweet Death. He'd rather chase his food than lure it to him and engages in plenty of races on the ground with his fellow dragon bretheren. He gets along well with other dragons and riders fairly well but doesn't like being ignored for too long; if he is, he will passive-aggressively nudge the Viking or dragon in question until they focus on him.
Spark and Flare the Male Titan Hideous Zippleback
Background: Spark and Flare was caught in a dragon net while wandering about on Zippleback Island when he was just a baby. Fortunately, he sustained no injuries but he was stuck in it for a few hours. Wise managed to find him after hearing him struggling about and freed him. He was then trained and brought back home. This Zippleback caused all the dragons trouble but acted like an angel in Wise's presence; he would pull pranks on the dragons and use his cuteness to get away scotch free. As with all things, Spark and Flare eventually grew up and his cuteness couldn't protect him anymore. Borealis finally put him in his place and the dragon doesn't do as many pranks anymore. Spark is the head that produces the gas while Flare is the head that produces the sparks.
Personality: Spark and Flare is very mischevious and loves to pull pranks. However, he has a lot of determination and when he puts his heads together for things other than pranking, the results are usually good. While he's doing his best to resist the urge to prank others, dragons like Frost Streak make it near impossible do to so.
Knotty and Nice the Male Titan Hideous Zippleback
Background: Knotty and Nice was one of 12 eggs Wise recieved from a trader. Of all the dragons from the bundle, this dragon proved to be the most difficult to train and ride due to his high energy, love for exploring, and giving whatever he finds away. However, all of Wise's work paid off as Knotty and Nice has grown to be an excellent Zippleback. Knotty is the head that breathes gas while Nice is the one who ignites it.
Personality: Knotty and Nice is a much more calm and collected dragon than when he was little. He loves giving things away, Knotty giving away rocks and Nice giving away fish. While he generosity is always appreciated, sometimes he goes too far and forgets to save himself some food. He loves to fly around the Archipelago.
Fun Facts
Knotty and Nice is a play on "Naughty and Nice". He was originally going to be named this but the game didn't allow it.

Knotty and Nice's colors are partially inspired by the naughty and nice lists, with red representing naughty and green representing nice.
Dusk, Dawn, Night, and Day the Male Snaptrapper
Background: Dusk, Dawn, Night, and Day was an interesting dragon to train. Each head was active during the time of day they were named after. Wise lost a lot of sleep training this Snaptrapper but fortunately it paid off; Dusk, Dawn, Night, and Day has become a loyal sentry dragon alongside Almighty. He is currently working on keeping all four of his heads awake at the same time but progress has been very slow.
Personality: Dusk, Dawn, Night, and Day is a loyal, docile Snaptrapper. He is a hard worker and takes his job as "co-sentry" very seriously. While he wants all four of his heads to be active at the same time, he does use them to his advantage; there's always one head awake to keep an eye out throughout the day while the others rest.
Sweet, Sour, Salty, and Spicy the Male Snaptrapper
Background: Sweet, Sour, Salty, and Spicy was like training a four-headed Zippleback: Play with all of the heads at the same time and feed them. The only problem Wise faced was feeding them; the heads would only eat a specific type of food. Sweet would only eat honey or chocolate, Sour wanted lemons, Salty wanted fish drenched in a tremendous amount of salt, and Spicy wanted peppers.
Personality: Though he's a picky eater, Sweet, Sour, Salty, and Spicy is a good dragon. He's incredibly obedient for the most part, as long as the right head gets the right food; otherwise, he'll be grumpy and refuse to move.
Fun Facts
Comet named Sweet, Sour, Salty, and Spicy but Wise is his official trainer.

Sweet, Sour, Salty, and Spicy were colored after table cloths.
Hopemaker the Male Prickleboggle
Mate: Medic
Background: Hopemaker was found on an island riddled with fallen dragon hunters and empty dragon hunter ships. Much to Wise's surprise, the dragon was incredibly docile and easily trained. However, he initially refused to go anywhere with her. A few days later, he randomly showed up at her home island but left only a day later. He would continue this cycle of showing up for one day and leaving for at least a week for months. Then one day, he showed up with Comet's shield. This gesture boggled Wise but it restored hope for her and Comet's family, hence his name. Eventually, the Prickleboggle pieced the puzzle together and realized Wise was Comet's girlfriend. He quickly brought her to Comet and brought them back to Comet's home for a family reunion. He has since become an extremely valued member of Comet's family, getting extra fish and neck rubs (which often gets the other dragons jealous).
Meeting Medic: Medic showed up randomly on Wise's home, just like Hopemaker. Hopemaker gave him a mini tour of the island and began to bond with him. One day, Medic decided to bring Hopemaker the most vivid flower he could find and flattered the Prickleboggle. Hopemaker returned the favor with a makeshift flower crown, though it quickly fell apart. Despite this, Medic appreciated the gesture and the two became closer with time. They are now happy mates and frequently watch Wise and Comet to learn about how a relationship should go.
Personality: Hopemaker is a very friendly dragon who likes helping others. He doesn't like fighting and would rather heal allies or flee from conflict instead of partake in it. He seldom leaves Medic's side.
Fun Facts
Medic was originally going to be Hopemaker's name.

Hopemaker's existence is the reason Comet's story changed; she was originally going to be killed by the dragon hunters.

Comet didn't name Hopemaker because she saw him as a roommate; needless to say, she and Hopemaker are happy with the name Wise provided.
Medic the Male Prickleboggle
Mate: Hopemaker
Background: No one knows how or why Medic showed up in the middle of Wise's home but at the same time, no one's really questioned it either. Fortunately, he was quickly trained and now helps tend wounded dragons with Hopemaker.
Meeting Hopemaker: Hopemaker was the dragon who gave Medic a tour of the island when he first arrived. The dragon quickly fell for Hopemaker and decided one day to bring him the most vivid flower he could find. In return, he recieved a flower crown, though it fell apart very quickly. Nevertheless, Medic greatly appreciated the gift and his love for Hopemaker only grew stronger. Eventually, the two became mates and frequently examine Wise and Comet for a lesson or two on relationships.
Personality: Medic is incredibly mysterious, even more so than Hopemaker was in the beginning. He hardly makes a sound and the few times he does is only in Hopemaker's presence. He is friendly but would rather watch others from afar than interact with them. He never leaves Hopemaker's side.
Fun Facts
Medic was colored after ambulances.
Impish the Male Prickleboggle
Background: Impish's egg was found hidden in a bush during Dreadfall. What or who left the egg there, let alone why, remains a mystery. He hatched in the middle of the night and frequently scared Wise for randomly showing up in places she least expected him to be. Things only got worse when he grew up; not only did he continue to show up in random areas but he's also bigger than other Prickleboggles and roars as loud as a Thunderdrum when he wants to get Wise's attention.
Personality: Impish is a dragon of few words but when he does say something, he makes sure he's heard. As intimidating as he may seem, he is a friendly dragon.
Fun Facts
Impish was originally named "Devillish".

Impish's colors were inspired by demons.
Scorch the Male Dramillion
Background: Scorch was one of many Dramillions used to teach dragon hunters in the making how to hunt dragons. Fortunately, Wise was able to shut down one such operation before Scorch could be killed but the same couldn't be said for the rest of his family. It took months to rehabilitate poor Scorch and even then, he is still emotionally and mentally scarred. He is close to Wise and Borealis but is weary towards others.
Personality: Scorch has a good heart but the pain he went through makes him weary of other dragons and fearful of most humans. He is playful and energetic towards those he trusts but becomes the complete opposite near anyone else: Quiet and even hostile at times. If too many people and dragons surround him, he will become overwhelmed and start firing until everyone is gone or he is back in the comfort of someone he trusts.
Ashes the Male Smothering Smokebreath
Background: Ashes was just a hatchling when Comet and Sparkler found him. He was alone, hungry, and very sad, for his nest had been destroyed by controlled Deathgrippers and his pack was either captured or killed. He was quickly taken in and nursed back to health. He has grown to be a strong, healthy Smothering Smokebreath.
Personality: Ashes is a friendly, brave, very loyal dragon. He is always looking out for shiny items to bring to Comet as a gift and is willing to hunt eels for Sparkler (though he has gotten eel pox quite a few times because of it). He would rather fly with Sparkler or Comet than on his own. He likes to curl up in laps and be picked up.
Fun Facts
Ashes' love for lying in laps and getting picked up was inspired by lap dogs.
Skeletal the Male Titan Boneknapper
Background: Skeletal lost his mother to an aggressive Typhoomerang after she stepped into its territory. Wise had to take him in after seeing he was malnourished and missing vial pieces to his bone armor. For years, he had a fear of Typhoomerang but kept it surpressed since he hadn't encountered one since; when Sparkler came into the picture, the fear was re-ignited and he became incredibly aggressive. It took months for him to finally trust Sparkler but even then, he is still weary towards the dragon.
Meeting Skully: Wise introduced Skeletal to Skully when the latter was still a Tiny Tooth so he could finally have a dragon to bond with. Initially, Skeletal paid little mind to the tiny Boneknapper but soon grew to like him and now sees him as a son.
Personality: Skeletal is a reclusive dragon and primarily interacts with Wise and Skully. He doesn't take too kindly to strangers and will roar them away. He is especially hostile towards Typhoomerangs and isn't afraid to attack them, trained or not, but he is getting help for this.
Skully the Male Boneknapper**
Background: Skully was found playing around in the Whispering Death tunnels on Berk. His mother was nowhere to be found and the Whispering Deaths seemed to be getting agitated by his high energy so he was quickly removed from the area. He was then introduced to Skeletal in hopes to give him a new friend; initially, Skeletal didn't pay much attention to Skully but now sees the dragon as a son. Days later, Skully's father came to retrieve him but, upon seeing how happy he was in Wise's care, left him be.
Personality: Skully is like an oversized puppy: Full of energy and always up for a game of fetch. He is incredibly friendly and likes giving others a lift, though he isn't the best at navigating. He gets easily distracted, making him a bit of a challenge to ride.
Detector the Male Armorwing
Background: Detector was rescued and trained during the events of Battle for the Edge. After being freed from the hunters' clutches, he wanted to help fight but his wounds were too serious and Wise instructed him to stay put. . .unfortunately, this backfired because he came into the fight anyways. He had good timing at least; Screecher was shot down and before any hunters could get to him, Detector surrounded him with a ring of fire to keep them at bay until he could be taken to safety. Now that he's full healed, he is one of Wise's top line of defense and acts as a distraction during combat. He'll swoop down and either blind hunters with his fire or make use of his magnetic skin and add their weapons to his armor. True to his name, he is able to find some of the finest metals in a short amount of time.
Personality: Detector is a hard working dragon who puts the safety of others long before his own. While he constantly adds to his armor, he'll sometimes find metal and bring it to Wise for the sake of giving it to her, even though she doesn't make weapons or armor much anymore. He is incredibly loyal and protective of Wise.
Fun Facts
Detector was named after metal detectors.
Frost Streak the Male Titan Flightmare
Background: Frost Streak was the Flightmare egg on Scuttleclaw Island; Wise spent weeks monitoring it, only for Crunch to fly in and take it. The egg hatched only a day after being transferred to its new home and was raised by Wise and Crunch. Frost Streak was so influenced by Crunch that he almost took up the dragon's rock-based diet; Wise was quick to stop this before he could swallow a rock. He now lives comfortably with Wise and her dragons.
Personality: Frost Streak is incredibly mischevious and a master prankster. He even pranks the Alpha dragons among Wise's flock, much to their dismay. However, he does have a good heart and makes it up to them one way or another. He doesn't get along with other Flightmares, especially since so many have nearly paralyzed Crunch. He looks up to Crunch as a father and will attack anyone who harms the Snafflefang.
Heartkeep the Male Deathsong
Background: Heartkeep was obtained during the events of Call of the Deathsong; he was abandoned by his parent on Berk and nearly eatened when Wise attempted to return him. He feared other Deathsongs for sometime but Wise helped im get over the fear and he can tolerate them. Wise gave him his name to remind him that he always had a special place in her heart whenever he felt down or abandoned.
Personality: Heartkeep is an extremely docile Deathsong, so long as Wise likes the person and/or dragon in question. If she doesn't, he'll gladly encase them in amber, though Wise is trying to break this habit. He doesn't like being alone because it reminds him too much of his abandonment.
Carnelian the Male Titan Buffalord
Background: Carnelian was found grazing on some grass on Wise's home island. No one is sure where he came from but he did bring something with him: A dragon trap, clamped right on his foot. He seemed completely oblivious to it until Wise managed to pry it open and Hopemaker used his healing blast in an attempt to mend the injury. At that point, he took a deep breath and deflated. His foot, for the most part, has healed but he now walks with a limp. Contrary to other Buffalords, Carnelian doesn't constantly eat and doesn't seem to mind going from island to island. However, if he senses something wrong with an island he's about to set foot on, he won't land.
Personality: Carnelian is a solitary dragon, seldom interacting with others. He's really close to Sky Slice though and watches him and his step-son from afar. He has an incredibly high pain tolerance and doesn't get angered all that easily. However, as with most dragons with great patience, once he is angered, he's like two raging bulls crammed into one. While he doesn't mind going from island to island, he doesn't like being forced onto an island if he senses there's something wrong with it; if he's forced onto it, he'll be on edge and may accidentally launch his spikes until he can get off of it. He's fine with hovering above the ground.
Fun Facts
Carnelian was named and colored after a gemstone of the same name.

Carnelian was obtained to celebrate Wise's two year anniversary at the school (May 22nd 2019).
Disruptor the Male Chimeragon
Background: Disruptor's exact origins are unknown, other than he was in hunter captivity for at least a year. Hunters sent him to the School of Dragons in hopes he'd destroy everything in his wake but along the way, he got distracted by a Chimeragon on Hobblegrunt Island. Though the Chimeragon took off upon sensing his presence, he remained on the island. Here he met Wise and lashed out, almost burning the place to the ground. It wasn't until Anchor Tusk gave him a sting to the head that he finally settled down. He was initially relocated to a land yet to be tainted by dragon hunters but he returned quickly, determined to settle the score with Wise and Anchor Tusk. Dragon hunters had a different plan; the moment they saw him flying overhead, they restrained him with chains. Thankfully, Wise got there in the knick of time and had Anchor Tusk melt the chains off of Disruptor. The Chimeragon is now one of Wise's most powerful dragons and helps ensure potential trespassers don't even get the smallest glimpse of his new home. He also tails Wise on rescue missions, hiding in the water or high in the clouds until Wise deems his brute force and elemental attacks necessary.
Personality: Dragon riders who aren't familiar to Disruptor consider him a malevolent dragon held back only by Wise, who can make him act with just a snap of her fingers. The reality of it is he simply doesn't care about anyone outside of his circle; he's often cold towards them and focuses more on Wise and the flock. A bad look is enough to get him riled up but he won't cause chaos until Wise gives him the signal. To those lucky enough to be consider allies, he is like a guardian. He ensures the safety of all of his allies, even if it costs him a tusk or wing. Though he won't show it, he's somewhat jealous of how close Comet and Wise are, still unaware of their relationship.
Growl and Snarl the Male Zapplejack
Background: Growl and Snarl was in the hands of dragon hunters for decades. He was intended for dragon fights but after wealthy viewers noted how great his hide was, he was thrown into dragon auctions. Most of the time, he was only purchased to be resold again at a much higher price but his final buyer had plans to make him into a trophy. Wise and Comet saved him. . .sort of. As soon as Wise destroyed his chains and removed his muzzles, Growl and Snarl did everything else. All seemed dandy when he made quick work of his buyer and destroyed the ship but the two were quickly proven wrong when Growl and Snarl chased them right afterward. He pursued and fired at them for almost an entire day before Screecher and Borealis intervened, forcing him to settle down. With the help of these dragons, Wise and Comet were able to bond with and eventually train Growl and Snarl. He now gets along with the two and the rest of the flock without the Alphas' supervision but anyone else, even the legendary Night Fury himself, is a completely different story.
Personality: Growl and Snarl's poor treatment from hunters has left him extremely bitter and aggressive. He is very untrusting and if he's given the chance, he'll attack without second thought or warning. That said, he seems to be the opposite on his home island; with his family, he's very calm and he avoids fights with his flock mates when possible. Though he prefers to be alone most of the time, there are rare instances where he will seek out his riders for a little attention.
Who's online
There are currently 11 users and 415 guests online.