Johann the Trader (SPOLIERS ALERT)
This is for anyone who wants to rant about Trader Johann or now as commonly known as Traitor Johann!!! Hereyou can yell, complain, and rant about Johann!!!
Project: RANT has begun!!!!
Tue, 10/17/2017 - 21:09
#1
Spoilers ahead! Tread lightly!
Squiid's opinion on the topic:
BLEEEP BLEEP BLEEEEEEEP BLEEP BLEEEEEEEEP BLEEP
bleep.
In case anybody didn't catch that, the bleeping was my rage expressed in children-friendly terms. So much rage. So mMUUUUCH RAGEEEEE.
I've been watching the show long enough to say I remember when Johann ever first appeared: Dragon Flower, in CartoonNetwork's Riders of Berk. He was the funny, enjoyable comedy relief who seemed to have bad luck follow him wherever he went. He is- ahem, was- a lovable character who was always great to see, as the seasons passed and he made more appearances. Of course, I was thrilled to see him return in Race to the Edge. "Yay, Johann the Comedy Relief is back!" my naive self cheered with glee.
As the seasons went on, I never once doubted him. NOTTA ONCE. All the mistakes, all those slip-ups that he ended up making (just rewatch with "Traitor Johann" in mind, you'll see), and I didn't catch it. Not a wink or a blink. And I wasn't around on the forums ever, so I had no idea he would even do something, much less...
That.
So that day, my sister and two friends and fellow fans got together to watch the seasons. And that night (got a little delayed, but that made it SO MUCH BETTER) we watched Sins of the Past.
The episode was a high-intensity one anyway and we were all on the edge of our seats, and then...the plot twist dropped.
It was 1 AM and I can safely say I have never heard 4 teenagers shriek "HOW COULD YOU!" at the top of their lungs, all at once. Swearing, loud yelling, and rolling around ensued as we dropped to the floor and screamed into our pillows as the episode ended.
1 AM turned into 2 and 3 AM and we stayed up all night, raging at Johann and discussing conspiracy theories about the seasons to come. So, in summary, I am not happy with Johann. My friends are not happy with Johann. THE PRESIDENT IS NOT HAPPY WITH JOHANN. THE WORLD IS NOT HAPPY WITH JOHANN.
*takes deep breaths*
Oh, thank you. I needed that.
Tue, 10/17/2017 - 21:12
#3
*burps*
I honestly didn't that one coming, so I commend the writers on catching me off guard with it! Lol, I was legitimately shocked. While I know Johann is most likely a traitor, part of me wants to believe that the "evil" dude at the end actually captured the real Johann, and posed as him to get information. Maybe the real Johann that we know and love is locked up somwehere...
Tue, 10/17/2017 - 22:00
#5
A wild post appeared!!!
I feel like I was the only one who actually saw this coming. Ever since the beginning of that episode I had my suspicions. Traitor Johann would say things like "I am so sorry, why do I always have to be so clumsy?" And I would think back "because your evil'!" It was really more of a joke. Then... As the episode progressed I became even more and more sure that he actually was. When they dropped the plot twist I just stared at the TV blankly, completely and utterly unsuprised. I honestly want to see where this goes, I'm not mad by Turn Coat Johann, it intruges me.
Wed, 10/18/2017 - 19:24
#6
Testify!!!
I'm with you there, sista; as soon as the episode "Searching for Oswald... and Chicken" ended with Trader-- *ahem* excuse me, TRAITOR Johann informing Heather with some news that Oswald the Agreeable was still alive even though we, the audience, already came to realize that he's *spoiler alert* passed away back at Vanaheim, and at that point I thought "Okay, yeah, there's Trader Johann-- once again, he's clumsily leading one of our heroes into danger..." Then while watching "Sins of the Past" throughout the time, I thought it was just gonna be another cat and mouse chase episode like most of the others, but with Heather's involvment and a notice that she's had a Dragon Lens stashed onto her belt buckle THIS WHOLE TIME?!?! I'll rant about that later-- anyway, as soon as the part where Johann was riding alongside Snotlout on his dragon, Hookfang, as the whole cast was playing "Hot Potato" with Heather's Dragon Lens, I noticed at the very, VERY moment both Snotlout and Johann reach up to grab the lens and I saw with my very own eyes Johann's own hand LITERALLY ON PURPOSE smacks Snotlout's hand out of the way to let the lens fly right by out of their grasp and it lands right in Kroger's hands-- or whatever his name is!!!
I was dumbfounded at first, like this reaction gif here: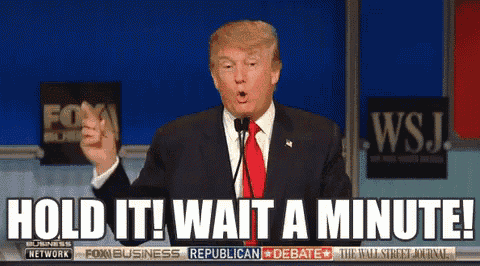 I play back that bit several times over, because I thought I was seeing things...
And after seeing the end of that episode, this is the reaction-- in my mind, mind you--
after finding Trader Johann becomes Traitor Johann:
I'll rant a little more about Johann later; goodnight.
Tue, 10/17/2017 - 22:18
#7
The Heart Of A Chief And The Soul Of A Dragon
I know most of you think that they planned this so perfectly, dropping subtle hints every now and then, but I couldn't disagree more.
I don't think they thought this through, and I don't think they actually wanted Johann to take this route, I think they were trying to come up with some huge plot twist and came up with one that wasn't so good.
I mean, what? They've been planning this one episode of RTTE years before the show even came out? That doesn't really make sense.
I think, they added all those "hints" because it's a part of his character. Unlucky, slightly obnoxious, trouble follows him everywhere, seems like an awesomely hilarious character. Until they needed a twist. And they were able to turn pretty much everything about his character into a perfect set up for him being evil.
I never once doubted him, and honestly, this didn't exactly surprise me. Something was off about him, but I don't think this is the route that had in mind for his character.
I never doubted him and I still don't. Probably never will. Johann betrayed our trust, but I will always trust him.
Wed, 10/18/2017 - 08:22
#8
A wild post appeared!!!
You are right. The writers probably did not even think that Johann was going to be evil until that episode, so, they only dropped hints there. It was only on that episode when I started to come onto Johann as a traitor.
Wed, 10/18/2017 - 08:43
#9
Time is the security blanket of the human race.
Trust me, there was planning. RoB and DoB, probably not as much, but I rewatched all of RTTE solely for that purpose. There are so many hints it's ridiculous, right up to Sins of the Past. Edge of Disaster? Johann purposely lured the Riders away so the Hunters could take the Edge, that wasn't happy coincidence. Easily something of Viggo's planning. Warning them to stay away from the Reaper? Hiccup got the Dragon Eye after going aboard. The list goes on and on, and from someone who has been writing for many years, that's an easy "he's gonna go bad". Just angry I missed it.
Those are only a few examples, when there are actually explanations in basically every episode Johann is in. Even back in Riders of Berk, when quite possibly Johann wasn't even planned to be evil, that can be marked as something darker and shady. He sold the Blue Oleander to Mildew, when he was likely fully aware of what it would be capable of. Though this might just be coincidences, it also points to Johann possibly even being shady before that. After all, he does state he's spent years building their trust. This can only mean he was planning something dark and devious during RoB and DoB, though I'm not sure on what it was. My theory on what Johann is doing is another matter entirely and pretty much plainly obvious to those who've been watching.
Also...isn't it a little bit of a daft move to trust someone who's clearly just betrayed you? I mean...that's not...that's not how you do things...
Wed, 10/18/2017 - 10:52
#10
The Heart Of A Chief And The Soul Of A Dragon
Are you sure that was the sole purpose of watching it? *Coughs* Dagur! *Cough*
Yeah, people are saying that, I just disagree.
I suppose. I just am that way.
Wed, 10/18/2017 - 10:58
#11
DISCO GIRL *wheeze*
Oh honey, if I wanted to rewatch for Dagur, I wouldn't have started with RTTE. Would have gone all the way back to RoB and started from there. (Spoiler alert: I did.)
by now everyone knows I'm obsessed with Dagur and I have zero shame
Wait, are you saying you'd just disagree to disagree? I mean, for example, if someone stated something that had enough facts to amount to truth (not necessarily this, because it doesn't), but you didn't like the idea of it, you'd just disagree...? hwa
Wed, 10/18/2017 - 11:14
#13
Time is the security blanket of the human race.
Oh heck yeah, Dagur's the best. I love both antagonist and protagonist Dagur with equal adoration. I remember younger me watching the first episode he was ever in very shortly after it was released and going "oh yeah, that's my favorite character". Don't know why. Well, bless my soul because he turned out to be one of RTTE's best characters. Oh dang, shut me up quick, I could talk about Dagur for ages.
Anyways, yes, he's fantastic. And since he is now a good guy (yess!!!!) I can now state without shame Viggo is my favorite villain, lol
*quietly raises "#ViggoProtectionSquad" sign with a very sad expression*
Shh, don't tell anyone. But he's awesome too.
Wed, 10/18/2017 - 11:44
#14
The Heart Of A Chief And The Soul Of A Dragon
Yeah, like you with Dagur, that was me work Viggo. From the moment I saw him I loved him. And my sister thinks I'm crazy for actually liking him, instead of liking to hate him.
Wed, 10/18/2017 - 12:31
#15
Oh, do I remember that
Oh, do I remember that day.
Wasn't even the release. One refresh on the grapevine and BOOM- a new clip just a few days before the release. And it was Viggo's introduction. I was literally bouncing in my seat. He's been the villain I've always wanted for the show; cunning, intelligent, manipulative. And he just got better and better. I...may or may not have cried a lot during Shell Shocked. Like dang. That wasn't the villain death I ever wanted. But okay.
Then Season 5, and a whole lot of breaking down the trailer I found out that there was almost a 90% chance he was actually alive, and I found the two frames with him barely in it...I screamed in my room. My sister can testify to this. Then the clip with his sword: screamed again, loudly. Then the first episode he was in during Season 5- my friend and my sister were there as I clung to my friend and cried. I'm insane. I'm so, so insane but it was worth it.
Season 5 Viggo has definitely been the best so far. He's grayed out as a villain now, and there's clearly an unrest with Krogan. He literally has nothing to live for anymore. And I so cannot wait to see where his character goes for Season 6. So. Much. Hype.
So yeah. That's another character Squiid's completely in love with.
Wed, 10/18/2017 - 11:10
#16
The Heart Of A Chief And The Soul Of A Dragon
DAGUR!!!!!!!!
Not if the thing was true, but for now, (like you said) this doesn't have enough facts to amount to truth.
Wed, 10/18/2017 - 11:19
#17
Time is the security blanket of the human race.
It won't ever be "truth" until it's canon-confirmed. I'm just saying that you're ignoring some piled up facts that it was, in fact, planned. Of course we really have no way to know that unless something happens to let us know. I was just saying that not only myself have made enough connections via RTTE to conclude that the writers were likely planning it. And anyway, you don't just make someone bad on a whim. It basically has to be planned. Even if they were only planning it from the beginning of, say, Season 5, they didn't just come to Sins of the Past and go "oh, okay, let's make him evil now". There's just too much stacked against it.
Just like they didn't go to Shell Shocked Part 2 and say "oh, let's make everyone think we killed off Viggo". No, he has to be playing a bigger part in the show that they've planned, otherwise they would have killed him off. That's just how stuff works, or at least usually.
hek now I gotta go drink some tea because Johann is stressing me out
Wed, 10/18/2017 - 11:28
#19
Time is the security blanket of the human race.
AAAAAAAAAAAAAA Johann y
i will never sleep again
forever doomed to stay up all night in anger
Thu, 10/19/2017 - 14:14
#22
Thu, 10/19/2017 - 14:38
#23
The Heart Of A Chief And The Soul Of A Dragon
Nope! I'm a member of the Berk Watch. I do quite the opposite.
I block the shots.
If course, it doesn't really work because game, but yeah, I do it anyway. Same with Mildew. I saw a group on the chat Talking about going to insult Mildew, so I immediately flew to Icestorm Island and defended him.
Why? I don't really know. Because I believe in them, and that's what I do. That is who I am.
Thu, 10/19/2017 - 16:39
#25
The Heart Of A Chief And The Soul Of A Dragon
Yeah, I took the whole "joining the Berk Watch" thing really seriously. I fight to protect everyone in the school and out, not because they deserve it, but because I love them.
I personally always ask questions first and shoot later. It drives me crazy Ellen people just start fighting and neither of them know why they are fighting. *Cough cough Avengers when they meet Thor cough cough*
Yeah, sometimes it doesn't end well, but I believe in people, and sometimes it can change them, I've seen it happen myself. And trust me, it is worth every time it didn't end well.
Wed, 10/18/2017 - 09:49
#27
Deathsong ate the subject. Run!!
Trader sounds like traitor and I never really liked him from the beginning because he's annoying like Snotlout once said. But the ending was a big surprise and I love it when that happens. A character in the series that seems like he would never betray the Riders but at the end he does. Or so we think. It could just be a map of an island that used to have dragons but they became extinct or they moved on.
Wed, 10/18/2017 - 10:14
#29
Sandy is very very very angry
Aaaaaaaaah stupid traitor me and my dragon are coming here to ki.ll you and then re-ki.ll you
aaaaaaaaaaaaaaaaaaaaaaah I'm so angryyyy!!!!!!!!!!!!!!!!!! >:o
I've ha.ted you since the first HTTYD series!!!
ok I've done :)
Wed, 10/18/2017 - 10:45
#30
Johan
What can I say? I mean, that hasn't been said?
Sure there where points where he might have been evil all along, but then why?????
He helps Heather, I mean, helps her for years to avenge her parents! And like, she had the lenses all along.
GASP!!! WAIT!!!!
Heather showed up in I believe episode nine in RTTE, and guess what? She had that lenses all along!
I mean, I saw the lenses when we met her again and was like, "Could you give that to Hiccup? When are you gonna give it to him? Someone notivpce please! Hiccup: We found another lenses! We will unlock more dragon secrets! Me: Hiccup seriously, your girlfriends best friend wears one on her belt!"
When Snotlout pointed out that they never noticed I was all "Yes!!! Finally!! Someone said it!!!
I mean, the designers gave her this at the beginning of the show, and I mean, if they did that,then they might have been planning Johan for a baddy since the beginning of RTTE!
Not saying there's a lot of evidence, but still, that lenses has to make you think.
Wed, 10/18/2017 - 10:48
#31
DISCO GIRL *wheeze*
Yeah. The fandom has been raving about Heather's lense ever since the first episode she was in, it's pretty obvious it's there. And so I thought it was pretty funny that Snotlout (and Hiccup later) literally said what we've been saying all along: HOW DID YOU NOT NOTICE THE LENSE??
Guess the writers knew we'd see it first and wonder why the Riders missed it, so the characters mocked the fact they missed it. Ah, good times.
Thu, 10/19/2017 - 14:22
#34
GUys, even if he is evil. I
GUys, even if he is evil. I still can't imagine him not messing up in some way. I bet you somehow he's just gonna go be making way too many mistakes. Sometimes the actor becomes the actee, meaning: if he has acted clumsy and cowardly for so many years he may accidentally develop that persona.
Thu, 10/19/2017 - 18:02
#35
The Heart Of A Chief And The Soul Of A Dragon
Yeah...it is. But lucky for me, I had help.