Is it just me or...
Is it just me or does anyone else think that there might be a chance that Skulder is evil?
If you don't know who I'm talking about then it's Skulder the Archiologist. (This guy):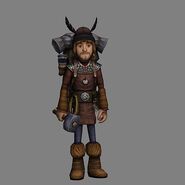 Not sure if this is worthy of a post, or if this is an old theory, or if this is canon, I've only done two of the expansion packs.
I don't really have anything to back it up with its just... idk. He reminds me a lot of Johann, and I feel like it would be something the SoD people would do would be to make thier own sort of major plot twist thing.
Then again, I could be totally wrong, or just deprived of httyd villian conspiracy theories now that rtte is over and a certain few people are dead that were at the centerpiece of the whole theory.
Anyone else share my thoughts?
Wed, 04/25/2018 - 17:35
#1
I don't agree he is a secret
I don't agree he is a secret villian, however, I totally understand where you are coming from though. I don't remember why, but I do remember having that thought cross my mind a few times in the past. And yes, I agree, he does have a kind of "pre-traitor-reveal Johann" aura about him. Or something like that. Maybe because he is a bit clumsy, somewhat nervous around dragons, and more brains than brawn kind of guy, which is similar to Johann, or rather his Trader persona.