It's Time for a Scavenger Hunt!
Vikings - get ready to begin searching high and low across the School grounds as you solve this riddle and venture into a scavenger hunt!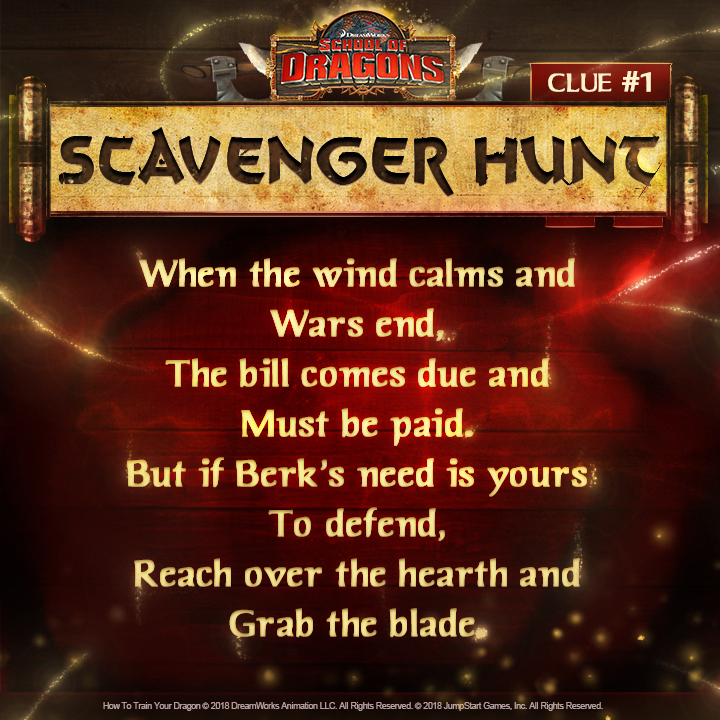 Welcome to Week 1 of the School of Dragons Scavenger Hunt! Each week we will reveal a new clue through that leads to a destination in game, where you will experience a brand new quest! Once all 4 quests are completed you will receive an EXCLUSIVE in game item! Decode the riddle below and begin the adventure of a lifetime as you search the School grounds!
Did you solve it? Grab your dragon and fly over to the secret location as you begin this journey. Be sure to tune in next week as we share the second riddle.
Thorspeed, Vikings!
Tue, 07/03/2018 - 10:59
#3
What if I don't have all the
What if I don't have all the expansion maps? And the treasure is in the maps I can't get to?
Tue, 07/03/2018 - 11:53
#4
Cheesecake and Chill.
Wait, will a quest open up when we reach the map(training grounds, berk, dragons edge) or do we have to be closer.
Do we revive the quest from a character(hiccup, astrid, valka) or does it pop up with the quest arrow?
Tue, 07/03/2018 - 13:23
#6
I went to every map i could
I went to every map i could go to but I didn't see anything. Do I need to reinstall the game?
Edit: Never mind I got it.