Introducing the Starstruck - Customize bases
Whew, I'm back again with another fan dragon O' mine, my school just started so now there won't be any regular update so don't be surprised if I will be gone longer than usual. I hope you like this dragon seeing people have voted it! I spent quite a lot of time on this dragon mainly because I have to come up with the marking for this mostly single colored dragon (so of course I have to looked up NF's marking)
------------------------------------------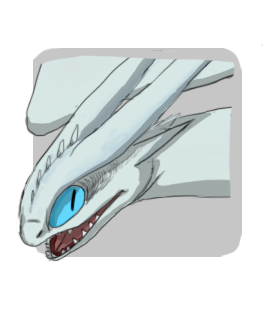 Starstruck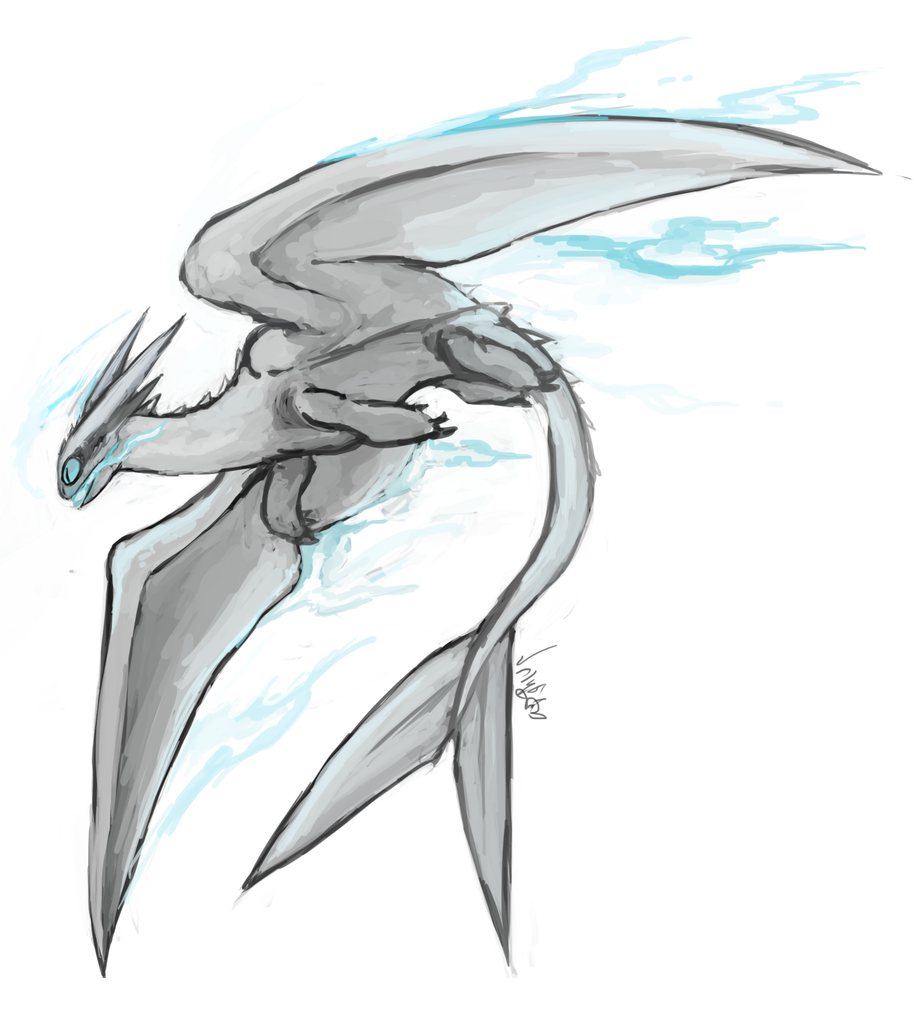 Class: Strike
Attack: 16

Speed: 17

Armor: 19

Firepower: 14

Shot Limit: 6

Venom: 0

Jaw Strength:6

Stealth: 13
Like a Hotburple to Gronckle, Starstruck is a close relative to Night fury.
Its biggest difference other than the pure white color are its noticeable larger size, its longer neck and its long beautiful horn. With that, Starstuck tend to be slower than its relative, however it have something to make up for that. Its unique wings are made of hard bones which they can be use both defensively and offensively. It also share the ability of the monstrous nightmare; it can coat itself in the blue flame.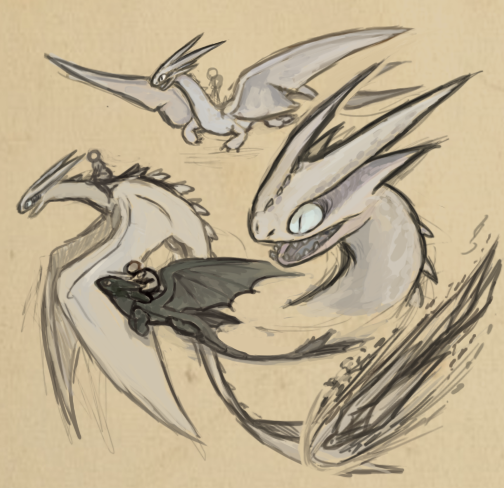 Personality: Intelligent and Proud, also very loyal
Fire Type: blast of blue flame
Hidden abilities: If the Starstruck lights itself while dive at the fullspeed and clap its wings, it will create a small explosion, hence the name starstruck
--------------------------------------
If you are a fan of Night fury, then these dragons might suit your taste, being physically stronger than a night fury however due to their size, color and slower speed, they are not as well hiden as the night fury and being an easier target than their cousins. Hunted down to near extinction, theu become very very rare dragon, with that this dragon will be available for only 5 spots , you can choose between two version, the baby or the adult: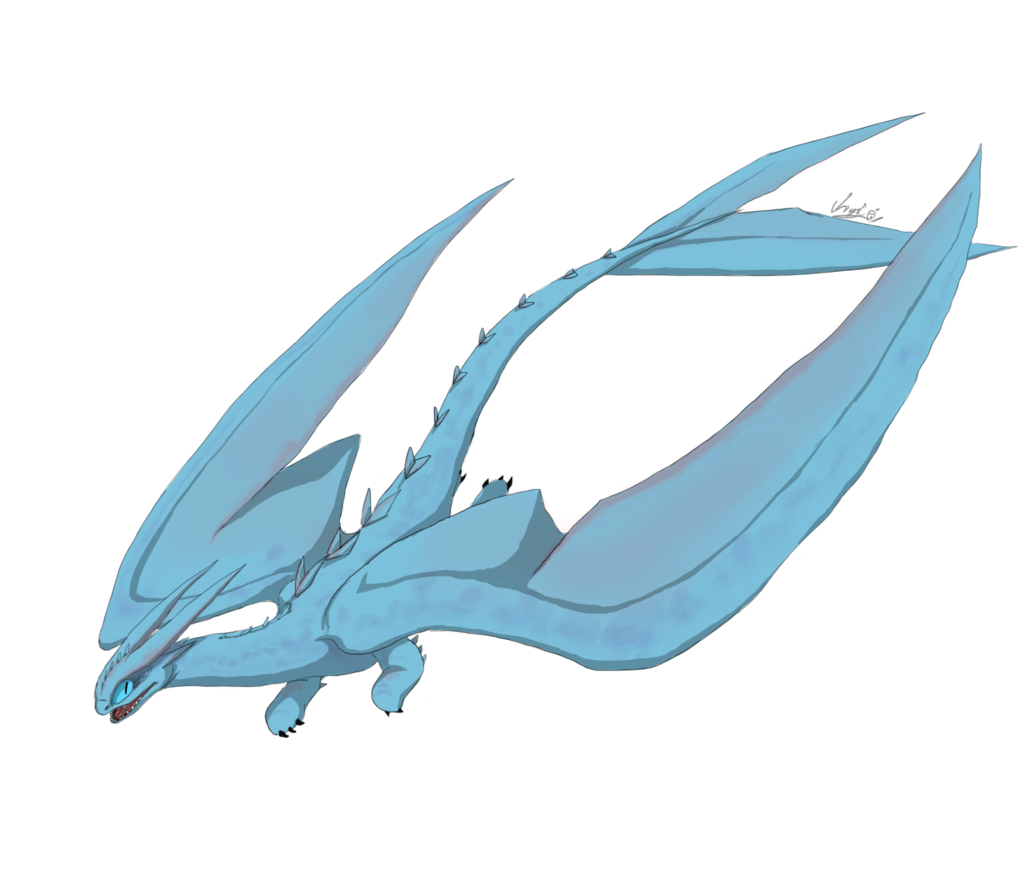 Then tell me the color
Main color: (Currently light blue)
secondary color: (Currently red)
Marking: (currently dark purple)
((please note that like Night fury, Starstruck is mostly single color, you will see mostly the main color while the secondary and marking will be very very faint for the adult as seen in example, chose darker color for marking if you want it to visible (or lighter color on the dark main color)))
Then tell me a little about your new companion
Name:
Gender:
history:
Rules:
1.First come first serve!
2.Only one dragon per user!
2.Please credit my dragon or link it back here, you don't have to keep it in your signature all the time but you can't put it on other sites or post it elsewhere, blogspot is the exception (please ask first too)
3.Don't reply to the second post since I will post the spots and tracking
4.Please respect the other and do not fight if you are too late for the spots
5.Please wait until I post the tracking comment to post
a reminder that if you have any fan dragon do you want to see next, simply comment here, PM me or in the fan dragon post to let me know what dragon should I do next, if it's doable then I will consider making them!. you can check out gluespit and Boomballoon and for those of you still waiting for the return of Ballistic silentwing to return, don't worry I haven't forgot, they are around the corner!
Mon, 08/03/2015 - 13:13
#4
Hi! :)
I will fill out the form now that I'm back. :)
Edit: Filled out form! Please save me a spot :)
Name: Asteria
Gender: Female
Likes: Toasted salmon and egg sandwhich, giving rides to younger vikings, going on adventures/exploring , racing (she is a fierce competitor), and blowing things up
Dislikes: Smokebreaths and Yaknogg
Personality: Protective, charismatic, exuberant, and adventurous
History: I was exploring Breakneck Bog again trying to learn more about the mysterious Smokebreaths. I had taken one of the boats to get there because I didn't want any of the Smokebreaths to feel threaten. And I remembered to hide a bit of metal in my pocket in case I needed a quick getaway. I had grabbed a notepad and pencil and I was studying Smokebreath habits as I watched them make nests and collect cool treasures. I even thought I saw a piece of the dragon's eye and I quietly reached over to grab it. I stuffed it in my pocket and hurried away when I heard a low growl behind me. There was a very territorial dragon behind me I quicky took out my makeshift magnify glass and I used it to make it a little light that the Smokebreath followed. It tried to pounce on it. I brought the light closer to me curious and the cautious Smokebreath came closer. I reached out slowly to pet it. Then it looked up at my hand and snapped at it. It seemed to remember it didn't like me and started to attack me. I ran as fast as I could the angry Smokebreath shooting fireballs at me. Then I saw a flash of purple or maybe white something hit my head and my vision went blurry and I fell to the ground. Next I knew I was waking up to find a light purple dragon standing guard over me. Confused I backed against a tree and held my spiining head in my hands. I look up to see the most magnificent dragon I had ever seen protecting me from the Smokebreaths. I was confused I had never seen a wild dragon protect me so willingly. Then my confusion turned to understanding when I saw its wing was broken and it had no where to go. The reason the dragon was protecting me was because I had stumbled into its nest and it saw me as one of its own and decided to protect me even though from the hard eggshells I was sitting on its offspring were long gone. I sat up as it tried to flap its two wings together in the front repeatedly only making a tiny flame that made a popping sound. My dizziness gone I rushed up and threw my tiny metal knife into the fray which seem to please the swarm and they flew away. The dragon flopped down in exhaustion and I knelt down beside it. It moaned and I did my best to comfort it. Then I looked around for some sticks and vines to brace its wing. It gladly let me help it but it didn't get up anytime soon. I sat and waited for nightfall which I had told Hiccup earlier that if I wasn't back by nightfall to come looking for me. Nightfall came and the Smokebreaths came back then I heard a familar roar and smiled. Hiccup was here. I started yelling overhear and began to worry as the swarm headed my way. Hiccup and Toothless got in front of the swarm and started firing into the fray which made them turn around. Hiccup and Toothless landed and Hiccup jumped off Toothless "What happened?" he demanded "Why are you still here? I thought I told you to come back before nightfall." He said looking disappointed and frustrated. I just pointed to the injured dragon "He protected me from the swarm when I got attacked by a Smokebreath and I just couldn't leave her here by herself." Hiccup frowned "Her? How do you know she is a female?" I looked up "Because I fell into her nesxt and there were borken eggshells in it". Hiccup quickly walked over to the injured dragon which growled and stood up looking defensive. I got in between the two and held out my hands "Wait she's a friend don't hurt her", The dragon titled its head to the side before bringing it down to rub against my cheek. Hiccup smiled "She certainly likes you. Interesting I've never seen a dragon like this before. Let's get her back to Berk and let Gobber look at that wing." We got the dragon back to Berk and as Gobber inspected the dragon I talked to Hiccup about letting this dragon be trained at the academy. Hiccup nodded "It would be great to find out what she can do she truly is a magnificent dragon. Do you know what to name her yet?" I nodded "Yeah her name is going to be Asteria (as-tear-ia) because she is magnificent and amazing as any star." Hiccup couldn't agree more with me and after that Asteria and I became bonded closely together. We go out on night rides and watch the stars together out on Dragon's edge. Asteria also gives rides and tours of Berk and other islands for younger vikings and me being the tour guide teaching them about dragons and their habitats. Afterwards during a lunch break the kids get to feed Asteria and ride her if they wish to. Asteria loves making people happy and doesn't mind giving daily rides or tours as long as she gets a bite of toasted salmon and egg sandwich.
THE END (or is it?)
What ever happened to Asteria's offspring?
Did I ever give Hiccup the piece of the dragon eye?
I will post what happened to Asteria's offspring in my sig. I hoped you enjoyed it. ;)
Main color: Amethyst purple
Secondary color: Magenta
Marking: White
Tue, 08/04/2015 - 07:39
#5
Hi! :)
LOL I have the longest story good luck reading all of it. ;)
For the color shades:
And then the last color is white I don't think you need a picture of that.
Tue, 08/04/2015 - 11:52
#7
Hi! :)
OMG OMG she's amazing!!!!! I love her! She's perfect! Thank you thank you thank you thank you!!!!
Since I got her now you can finally know what happened to her hatchling and the dragon eye piece:
While the gang was helping Asteria into my boat Hiccup and I followed the trail of dragon footprints from the nest. We continued to follow them through the forest. The deeper we went the darker it got. Luckily Toothless was with us and he lit a torch for Hiccup and me. It was getting cold and we almost couldn't see where we were going Hiccup stopped and turned towards me. "Skye I think I see something up ahead", I squinted and saw not one but six pairs of glowing eyes. Toothless started to growl. I took out my double axe and Hiccup took out his shield. "No sudden movements Skye" I just rolled my eyes at him. We waited and the eyes seemed to move closer until there were three dragons on fire standing in front of us. I got a good look at them and couldn't believe my eyes. They were Asteria's hatchling's. All three of them looked like her and they were small only coming up to my knee and very scared. They had scratches all over them. The smallest of the bunch was white with blue eyes, the biggest was dark blue with a huge gash on his neck, and the middle one that was standing closest to me was mint green and seemed to be missing the top of her left horn. I strapped my double axe back behind my back and knelt down threw them each a piece of salmon. All three of them eagerly gobbled it up and I wondered how long they had been out here without food, water, or protection. I knew their mother hadn't abandoned them so why did they leave the nest so early? Hiccup had knelt down to the biggest one and was looking at the gash. "Hmmm this is too neat to be a dragon bite" I cupped my chin with my pointer finger and thumb and tapped it thoughtfully. "Who do we know would take a dragon's horn for a trophy? Who? hmmm?" Hiccup finally caught on I saw the lightbulb over his head. "Dagur!" I nodded "Dagur must of found the hatchlings when Asteria was out hunting. I found the evidence of a dead bunny in the bushes. So Dagur must of tried to take them. But Asteria defended them and told them to hide. So the hatchlings ran and hid in the forest for awhile and Asteria fought off Dagur but was not able to find her hatchlings!" We gathered the hatchlings and took them on Toothless and headed back to my boat where Asteria was reunited with them. I gave Hiccup the dragon eye piece I had found which turned out it was info about Starstruck dragons.
I hoped you liked it! ;)