Introducing ALL-NEW Titan Sand Wraith!
Ready to take campus by storm is the never before seen Titan Sand Wraith, who has landed in the shores of campus giving Vikings quite the surprise!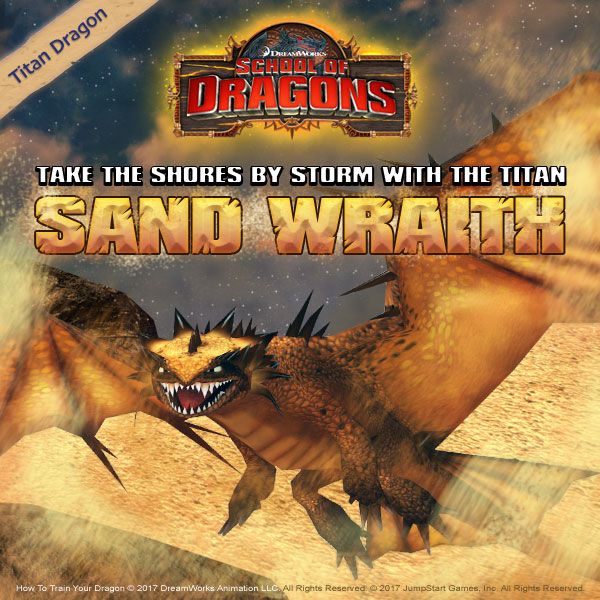 It was a group of startled Vikings that saw the Chief of Berk flying into campus while being followed by none other than a Titan Sand Wraith! Most Vikings backed a few feet away, as this Titan can strike fear in even the most daring of Vikings. This is, of course, no surprise as the Titan Sand Wraith now sports larger claws, bigger and sharper teeth, as well as larger wings. Resulting in the Vikings on campus putting some distance between them.
However, the Titan Sand Wraith was actually quite friendly among the Vikings and was curious to explore its new surroundings. It seemed receiving help from Hiccup had warmed him to humans. Valka was the first to approach the latest Titan to arrive on campus, and was curious as to how Hiccup had befriended such an intimidating dragon.
It seemed that while on its visit to Impossible Island, the dragon trainer realized there was a dragon hiding underneath the layers of sand. Inching closer, the dragon trainer realized it was a larger than normal Sand Wraith who appeared to be thirsty but too tired to complete the trek down to the cenote. Deciding he couldn't leave the dragon, Hiccup made multiple trips to quench the dragon's thirst until he felt it was safe to continue on his flight back to school.
The Titan Sand Wraith, though had some different ideas and had followed the Chief back home. Valka was glad to hear her son was able to help a dragon in need and quite excited to see a new Titan dragon on campus.
This latest arrival is giving the Vikings on campus the opportunity to bond with a Titan Sand Wraith of their own. Whether they already have this Tidal Class dragon in their stables or will soon be adding one, the Titan Sand Wraith is ready to take over the school grounds.
Tue, 04/18/2017 - 09:33
#1
I wait for no one
oh my gash that looks epic at first glance! downside is i dont have enough gems :\
__________________
This user will be inactive!
I will be inactive for quite a while, so I will be dropping out of all Rps at the moment and take a break from social media life for a few months.
~~~~~~~~~~~~~~~~~~~~~~~~~~~~~~~~~~~~~~~~~~~~~~~~~~~~~~~~
Welcome to my Siggy!
First off, I am a girl. Most people mistake me as a guy (due to my username), so now you know.
You can call me Nav or Fury. In real life, I am like this, but whenever it's not face-to-face, I am like this. I love to read, draw (digital drawings) and play SoD. My favorite genres of books is mostly everything besides classic (PM me if you wanna complain about my taste in books).
Feel free to PM me for anything!
~~~~~~~~~~~~~~~~~~~~~~~~~~~~~~~~~~~~~~~~~~~~~~~~~~~~~~~~
Learn of my characters' origins in Faze Idolz!
Faze Idolz ~ The Official Tracking Thread
A perilous Game of War is at hand!
Game of War ~ Official Tracking Thread
Enjoy a break with my characters at Conversatoin Cafe
Get to know me through my other threads!
If you could? ~ For Avid Readers
Take a look at my Request Threads!
Taking Requests for Viking IDs!
Play some Forum Games with me!
Riddles in the Dark - Forum Game
Two Truths and A Lie - Forum Game
~~~~~~~~~~~~~~~~~~~~~~~~~~~~~~~~~~~~~~~~~~~~~~~~~~~~~~~~
Introducing Hobbs, my fearsome Siggy Guardian!
~~~~~~~~~~~~~~~~~~~~~~~~~~~~~~~~~~~~~~~~~~~~~~~~~~~~~~~~
Rogue Wolf - Loud and Proud (as usual)
Clan: The Dragon Racers
Clan Status: Member
Clan Leader: JbMiler (httyyd)
Viking Name: Rogue Wolf
Friend Code: PM me
Dragons: too many to put here, but i have more than 22
Main Dragons: Saebyn (Woolly Howl), Dagro (Sand Wraith), Tundragon (Snow Wraith), Skeil (Razorwhip), Reaper (Screaming Death), Clay (Mudraker),
Favorite Place: Training Grounds
~~~~~~~~~~~~~~~~~~~~~~~~~~~~~~~~~~~~~~~~~~~~~~~~~~~~~~~~
~Some Things About Me~
I am the person who makes a lot of mistakes irl and on the forums
I prefer limited spot RPs over unlimited spot RPs
I love dragons and wolves
I'm a booknerd
My brain never lets me be in reality for too long (in other words: my imagination is on 24/7)
I am in the Percy Jackson fandom, and ship Percabeth
I ship Hiccstrid too
I am obsessed over archers and medieval stuff (particularly hot archers XD)
Somedays I'm introvert, sometimes around friends I'm extrovert
I'm Never in the Ever-Never Army (and in thefandom)
A Ravenclaw and proud of it! (don't kill me please I haven't read the books yet but took the official test anyways)
My favorite color is black
My second favorite color is red (ike blood red)
I tend to get stuck in Lor more often than Reality
My Fandoms
Percy Jackson and the Olympians (PJO)
School for Good and Evil (SGE)
Wings of Fire (WoF)
Ranger's Apprentice (RA) / Brotherband Chronicles
Keeper of the Lost Cities (KotLC)
Ships
Percabeth (PJO)
Hiccstrid (HTTYD)
Sokeefe (KotLC)
Tagatha (SGE)
Hophie (SGE)
~~~~~~~~~~~~~~~~~~~~~~~~~~~~~~~~~~~~~~~~~~~~~~~~~~~~~~~~
I'm proud to be part of...
The Dragon Racers - httyyd
The Forgotten Racers - Knight of Fury
The Messengers - The Messengers / Megaboltphoenix
The Resistance - Megaboltphoenix
The Dragon Racers (In-game)
The Dragon Racers are hard working racers, and loyal members to each other and the clan! We are constantly changing rank, so I'll just way we are one of the Top 10 on the Clan Leaderboard.
I will be posting Clan RP Events every once in a while!
The Dragon Racers RP Event: Snow Day on Berk
The Forgotten Racers (In-game)
Are you interested in joining The Forgotten Racers? PM Knight of Fury. if he isn't on, PM Tamra Diamond. She will be able to notify Knight of Fury in game. (Dia plays often)
The Forgotten Racers is a good place to be in the Top 100 (25 to be exact), we encourage other players and race often.
The Messengers (In-game)
Are you interested in joining the Messengers? Then here are the clan threads!
The Messengers~ Ultimate Clan Thread | The Messengers~ Artwork | The Messengers~ Code of Conduct | The Messengers Clan~ Newly updated thread | The Messengers: Rules and Requirements* | The Messengers FAQs |
*must read the Rules and Requirements in order to join. Also, read The Messengers, signature
The Messengers is meant to help other clans (hacking clans not included, thus the Resistance,). We welcome new members and are not competitive as to who has more trophies and who doesn't. Our main 3 goals are to reach Top 100, spread the light of Christ as we do so and encourage other anti-hacking clans.
The Resistance (Forum and In-game)
Wanna be part of the fab society? read these threads to learn more!
The Resistance Recruiting page | The Resistance Anti-Hacking Forum Society ~ Ultimate thread | The Resistance FAQs |
I advise you either PM megaboltphoenix or read the Resistance FAQs and the recruiting page to learn more.
I am part of the Forum clan/society The Resistance. We hunt down hackers and report them on the Forums. The Resistacne can be found in-game as The Resistance Society I believe. I'm not sure tho. You can mak a Cyber Dragon by nicely asking Mega or using her bases, which the links can be found in her signature.
~~~~~~~~~~~~~~~~~~~~~~~~~~~~~~~~~~~~~~~~~~~~~~~~~~~~~~~~
~Gallery~
Nazu my Whispwing by Zikta
Viriad by Megaboltphoenix
Clan Banner by Knight of Fury
Clan gif by Mega
Resistance Badge by Mega
Rogue Wolf edit by Archery and Dragons
Rogue Wolf gif edit by the fantabulous Zit!
Zier by 1flower
Clan banner found on httyyd's siggy
Rogue Wolf by donnala
Dagro by grumpyforlife2
Maelstrom by Archery and Dragons!
Jensi the Notorious Nadder by Lululu6161
Rogue Wolf edit by Werewolfgirl1253
Saebyn by Feenix the Fire
Namica the Vesupa by Bavelly
Yenzi, Lunar Dragon Adoptable by snowflake12298
~~~~~~~~~~~~~~~~~~~~~~~~~~~~~~~~~~~~~~~~~~~~~~~~~~~~~~~~
~Quotes~
"There is no easy way to say 'I'm sorry'" - me
"Fix me Foster. You're my only hope." - Keefe (Keeper of the Lost Cities)
What was surprising though, was what Starflight got up to when he was bored - Wings of Fire, The Hidden Kingdom
"Somebody needs to tell Shade Boy the role of Troublemaker with Daddy Issues is already filled" - Keefe (Keeper of the Lost Cities)
"Just tell them to stare into each other's eyes and they'll be good" - Keefe (Keeper of the Lost Cities)
"Too much flab and not enough ab!" - Joker (LEGO Batman Movie)
"What is the password?" "Iron Man sucks!" - 'Puter, Batman (LEGO Batman Movie)
"Winning is no fun when there is no loser," - My mom
"Take the pain!" - my friend's dad
"When you write with a bird, it's called tweeting," - Maui (Moana)
"Because I'm one of the idiots who live in it!" Peter Quill (Guardians of the Galaxy)
"You said it yourself, ****, we're the guardians of the galaxy," - Peter Quill (Guardians of the Galaxy)
~~~~~~~~~~~~~~~~~~~~~~~~~~~~~~~~~~~~~~~~~~~~~~~~~~~~~~~~
~Welcome to Lor!~
The past, present and future all clash in my world of Lor! Dragons, knights, mythical creatures, etc. mingle with technicians, robots of all kinds, and much more! The history of Lor goes far down within the heart of my imagination. From fan creations to alredy made worlds, Lor is a world of wonder and myth, a place where only the mind can reach and never the body. Which is super unfortunate because if it was real I'd never leave. I have big dreams for Lor, and I want the whole world to know about is someday before I d.ie.
My Beloved Characters (Do not Steal!)
Humans
Faspian
Lyzerek
Zadak Yagari
Ashter
Zenzin
Targrym
Nitai
Merlin
Zaruta Wolfmage
Wolf Strange
Zale Tydlwaev
Kazei Yagari
Rynn
Crisis
Tetris
Siren
Furiess
Creatures
Deathstrike
Darkstrike
Winshreke
Viperess
Moonryt
Anaconda
Vixen
Nazu
Carn
Saebyn
Zaradi
Tor
Zeke
Viriad
Darkrai
Fox
Who's online
There are currently 20 users and 116 guests online.