An interesting set of observations
So, for no good reason, I was re-looking through the "How to play" instructions for dreadfall, and on the page about the Stable Quests, a few things really stood out to me.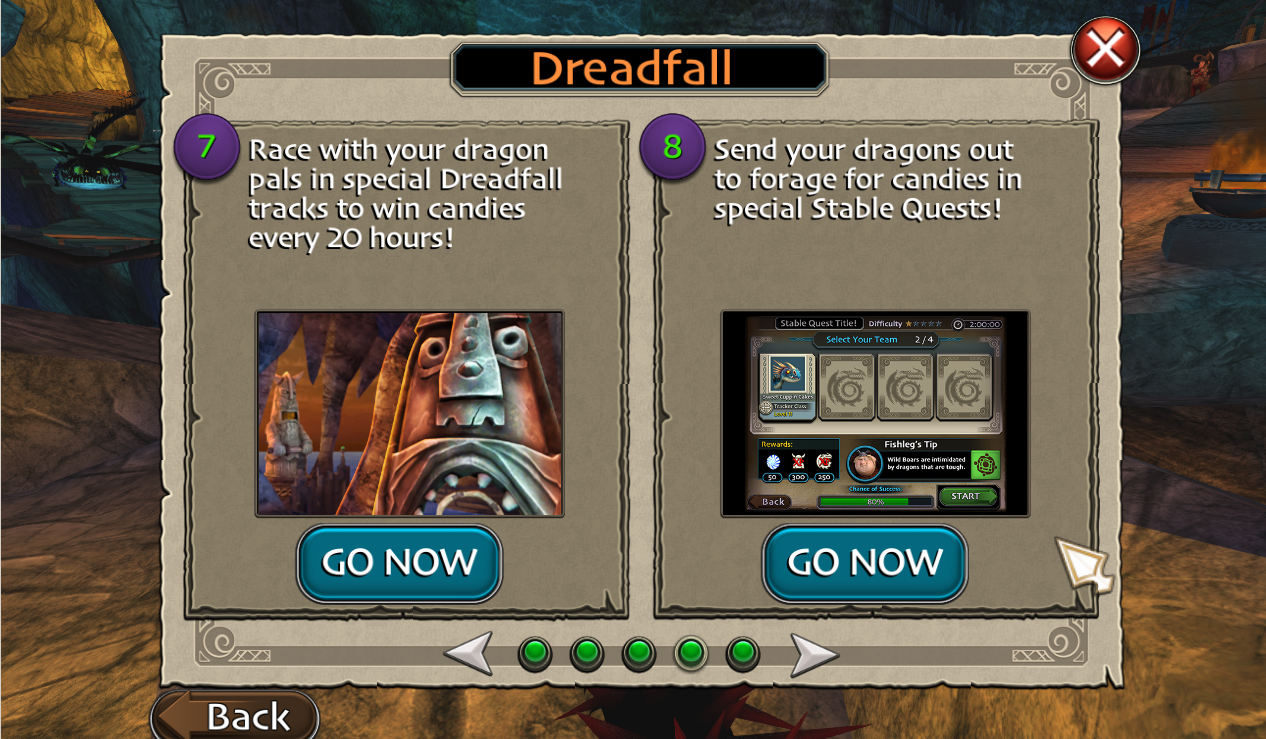 Now, you'll probably have to enlarge the image to really be able to see this, but here are the things I noticed in no particular order:
The name of the quest (or lack thereof). If you notice, it gives the quest name as "Stable Quest Title!" Perhaps it was unfinished?
The UI. If you notice, several things about this user interface are different. Have a sublist: (XD)
-The difficulty rating. You'll notice it's shown as 1 highlighted star out of 5. But hold on a sec! Since when is difficulty rating shown like that? In-game, it just shows 1 to 5 stars, not 1 to 5 highlighted stars out of 5. Here's a screenshot for comparison:

-The background. In the first image, you can clearly see that the stable quests screen is shown on a paper-like background. Compare that to the transparent BG that we have in-game.
-The time indicator icon. It's a little difficult, but you can see that in the image, the time indicator's icon is a clock, rather than an hourglass.
-The "Replace" button. Or rather, how it doesn't exist in their image.
-The quest description box. Again, it's nonexistent.
-"Fishleg's Tip" VS "Fishlegs's Tips". Self explanatory, but amusing nonetheless. Who is this "Fishleg"? XD
-Fishlegs' picture. You can see that in their image, Fishlegs isn't wearing his HTTYD3 outfit.
The dragon's name. It's tricky to read, but it seems to be "Sweet Cupp n Cakes". Brynjolf, I'm calling you out! (Not really, don't worry. XD) I was told that the game doesn't allow spaces in a dragon's name, but that has not one, not two, but three spaces in it. Some dev been flexin' on everyone with their powers? XD
Wait, how many dragons?? It clearly says "2/4", but I'm only seeing one...
I could go on, but that will do for now. Got any observations of your own to add?
Thu, 11/07/2019 - 17:28
#2
:D :D
Wow, you have a good eye!! :D
Maybe that Nadder was named on a mobile device or something. I don't know about computers... but I use an Android phone and I can put spaces in dragon names. Is it different for computers? :)
Thu, 11/07/2019 - 22:27
#5
"I do not get distracted eas- ooh, look at that bird!"
Only one space in a dragon's name? I named one of my dragons, a Zippleback, Night and Hawk, which has two spaces, and it allowed that.
Thu, 11/07/2019 - 21:39
#17
Here is an up-close look at
Here is an up-close look at the photo.
Fri, 11/08/2019 - 08:53
#19
Gxjgxjjgxvjx vj
Wow that poor nadder eheheh
Anybody willing to test and see if 'sweet cuppin cakes' is an allowed name?
The more you look at the stable quest image, the less sense it makes
Sat, 11/09/2019 - 09:03
#21
Yup it's allowed
So now I have a Speed Stinger named that. But I'll definitely rename her later.
Fri, 11/08/2019 - 14:46
#23
Another one!
It says two hours long... And fifty candies? An eight hour quest or more gives fifty candies, a two hour one only gives about five to ten.