I'm not new but I have a question!
I was wondering if there was a way to replay expansion packs? because if seen people make videos on expansion packs with the contraptions in the backgroung that would only be there if the pack was finished and they in the video they started from the beginning.
__________________
My dragon: RiverRider - Sand Wraith - Adult
​Dragon level: 30
​Dragon color: Coral blue and Black
​I LOVE HIM MORE THAN ANYTHING IN THE UNIVERS!!!!!!!!!!!!
​He LOVES swimming with me, He LOVES splashing in the mud, we both enjoy mud fights with eachother! He is even more Loyal then StormFall!!!!! He loves flying AS FAST AS HE POSSIBLY CAN!!!!!!
​He loves flying over the ocean and LOVES flying with me as much as he loves the mud! He loves me as much as Toothless loves Hiccup
​Our story:
Let me tell you a bit about myself. I was a young Viking, about 9 years old. My parents one day decided they didn't want me anymore. So they dropped me off at an Island and left me to die. I started walking along the beach to see if I could find anyone on the Island. As I was walking I stepped on something.... I wasn't sure what it was so I reached down to grab it. When I touched it, it jumped. It scared me so I fell backwards and landed on my butt. A Dragon sat up from the sand. It was a Sand Wraith. I knew that because before my parents abandoned me I spent a lot of time studying Dragons on my home Island. But this sand wraith was coral blue with a little bit of black on it. It wasn't like any other Dragon I've ever seen. I was so little and I didn't know what to do so I put my hand out hoping it would just fly away. But it gave me a curious look and took a step towards me. I closed my eyes thinking it was going to eat me. Instead, He touched my hand with his forehead and after a few seconds I opened my eyes. He pulled his head away and tilted his head at me. I saw that it was male. I jumped up and started running. The Dragon started following me on foot and I thought he was trying to kill me. After running for a few minutes I stopped and accepted my fate. But when he caught up to me he didn't attack me..... He smiled at me. So I thought I'd try to touch him again. I reached my hand out and touched his head. He let out a soft purr and I jumped back in fear. He lowered his head in apology and I smiled at him. I thought he was cute. So I walked with him until we found the perfect spot for a campsite. So we used resources from shipwrecks on the Island to make our campsite livable. He took care of the fire and the fish. While I gathered wild berries and hunted wild boars. After about 6 months of bonding and taking care of each other, I decided to try and ride him. So I sat on his back and he got so excited he leaped into the air and I nearly fell off. He dove and floated over a wide river. That's when I decided to name him RiverRider
My dragon: StormFall - Deadly Nadder - Titan
My Viking: IzzyTheNadderLover
Dragon level: 30
​Dragon color: Teal
I LOVE MY DRAGON WITH ALL MY HEART MIND AND SOUL!!!!!!!!!!!
​She LOVES flying with me,She enjoys Racing other dragons, She is VERY protective of me!!! She'd do anything to keep me safe... Just like I'd do for her, We would both give our lives for each other, Last but not least she LOVES playing FireBall Frenzy!!!!
​Our story:
​I found StormFall when I was 10 years old (in the game)
​(This was after I found RiverRider) On the island a storm came,
​I saw a teal blob falling from the coulds, so I ran to catch it
as soon as I cought it...
​I saw that it was a baby dragon... A Nadder so I nursed her back to health.....
​I Didn't fly on her back until she was 2 years old
​I saved her, raised her... And we've been the best team since!!!!
​Since you read our story, You know how she got her name!:)
​My dragon: Lady lesso - Woolly Howl - Adult
​Dragon level: 26
Dragon color: all purple
​She loves LONG exhausting flights, She likes the cold, She likes competition, she LOVES shooting things, And we both would do anything for eachother... She is almost as loyal as StormFall!
​She LOVES flying slowly, smoothly and loves flying in the cold night air!
​Our story:
I was flying my Razorwhip - Blue was her name, and I saw a cave so we flew in for a rest... I almost stepped on an egg... I wasn't sure what type of egg it was and I didn't see it's mother... So I thought I'd wait until it's mother returned... I waited for two and a half days and her mother never came...... While I was there I kept the egg warm by making a fire and I eventually took the egg home and watched it until it hatched.... I saw that it was a girl and decided to name her Lady Lesso (I read a book called The school for good and evil... Lady Lesso was a teacher for the school of evil and her dress was always purple)
​I liked that name so I decided to name her after a teacher of evil...
​Lets just hope she doesn't turn into an evil dragon!!!! Just kidding! She would never do that!!
Tue, 09/12/2017 - 15:38
#1
:)
As far as I'm aware, the only way to replay an expansion is to make a new Viking. A replay option would be really cool, though!
__________________
Hello! I'm Brynne.
This gorgeous lil' gem of a picture drawn by TosiLohi. :)
By the wonderful Katarile!
Made for me by the lovely Georginia47
so cute XD
by me
Pudding Cup by ShiroKageFox. TYSM! :D
~The Amazing Pudding Cup~ by the talented KittyLlama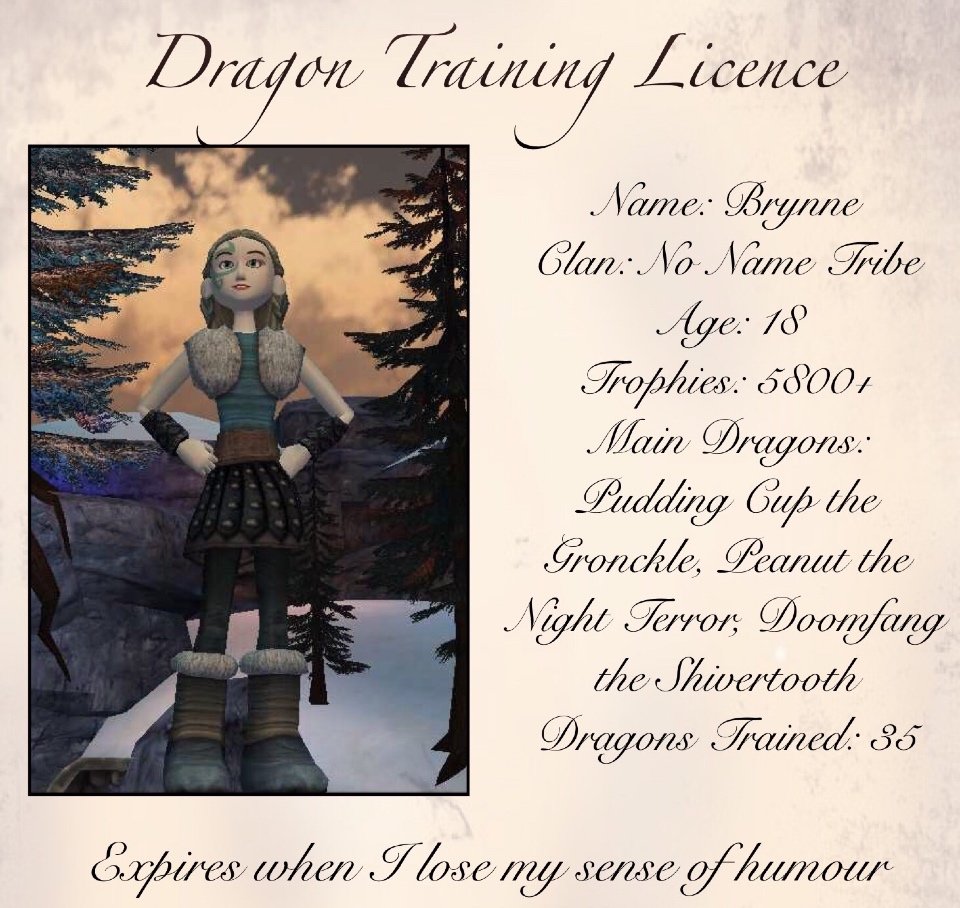 license by the sweet Hestia82 :)
UDT:
400,000 points. >:D
Friend Code:
ENJIYH
Dragons:
Pudding Cup, Female Gronckle- Sweet and always dependable. She sleeps cross-eyed.

Violet, Female Changewing- Named after Violet from The Incredibles. Fond of swimming, and up for any adventure.

Norbert, Male Death Song- Really likes firing at other players. He's... not quite right in the head, and may retain some cannibalistic instincts. Not afraid of the disgusting smell of the Dragon Bloom.

Zappy, Male Shockjaw- Fast. Really fast. We do a lot of racing together, and he doesn't put up with nonsense.

Oddmund and Dinkly, Male Zippleback- When I first

hatched

these guys (this guy? who can tell), I took them to practice their fire skills at a fire pit. They lit it successfully, then promptly laid their heads in the flames and went to sleep. True story.

Lucius, Male Groncicle- Named after Frozone from The Incredibles.

Adelaide, Female Raincutter- Named after Snotlout's little sister from the HTTYD books. Likes battling Berserkers.

The Hulk, Male Rumblehorn- Likes going on stable quests, doesn't really like to be ridden.

Dash, Male Speed Stinger- Again, named after Dash from The Incredibles.

Puddles, Female Mudraker- She's pink, and lives up to her color.

The Whisperer, Male Whispering Death- Cranky, stubborn, tries to eat me occasionally. His name sounds uncreative, but I love the Mysterious Benedict Society. :P

Horrorcow, Female Razorwhip

Eggingarde, Female Flame Whipper- Helpful and good at racing.

Tony

Stank

, Male Armorwing- Iron Dragon? No?

Dr. McCoy, Male Boneknapper-

hurhurhur

i'm

so punny

Doomfang, Male Shivertooth- Named after the Doomfang from the books. Affectionately nicknamed Dinosaur.

Old Wrinkly, Male Smokebreath

Susan Storm, Female Typhoomerang- Because she looks like Torch's sister.

Cinnamon, Female Monstrous Nightmare

Emergency, Male Singetail

James, Male Eruptodon

Florence, Female Hobblegrunt

Squirrel, Female Moldruffle

Dottie, Female Sweet Death

Furious, Male Terrible Terror- Even Furious was a baby once. Hard to imagine, isn't it?

Max, Male Skrill

Madgesty, Female Stormcutter

Thunda

From Down Unda, Male Thunderdrum

Lloyd, Female Thunderdrum

Tricycle, Female Triple Stryke

Peanut, Female Night Terror

Innocence, Arrogance, Patience, and Huh?, Male Snaptrapper

Tater Tot, Female Hotburple

Hairy Scary Librarian, Male Wooly Howl

Fulgurite, Male Ruby Wraith

Beatrice, Female Fireworm Queen

Hokey Pokey, Male Thunderpede

Luna, Female Silver Phantom

Twigs, Male Timberjack

Kateena, Female Sentinel
Second Viking:
CrystalSnowdrop
Clan:
Isle Of Gazoo
Main Dragon:
Icy Boi, Male Groncicle
You can PM me for art requests if you like. :)
Tue, 09/12/2017 - 16:02
#2
Tracking. I wanna know too. :o
__________________
------------------------------------------------------------
Drawn by Katarile!
Brodie/Fury|15|She|Wolf/Trico| Realm Keeper
Character List
Clickable links
Alicornbrodie, is a fun-loving artist who dreams about fantasy and magic. She likes Dreamworks Dragons, Ace Attorney, Professor Layton and Stampylongnose. Her YouTube channel is going to be packed with videos in The Realm (Animations and Minecraft). With so much to come, and many adventures awaiting, she can't wait for you to join her in this epic Journey!
YouTube (Coming soon...)
Discord (Coming soon...)
Tue, 11/28/2017 - 19:48
#3
You wish...
I certainly would've LOVED if there was such a thing. But...*sigh* there is nothing like that. You can't replay expansion packs unless you have another viking in your account. If you have membership or 250 (i think...) gems, then you can create another viking. Hope this helps. :)
__________________
My Signature

Table of Contents
Bunch of Boredom
About Me
Artwork
Other Stuff
Warning: Bunch of Boredom up ahead!
She shall not be betrayed, nor disrespected,
for she is part of a prophecy long forgotten.
She shall slay every Dragon Hunter alive,
and recreate this into a peaceful world full of dragons.
The God of Lightning stated that this unique human being shall be gifted with untold powers, and take control of all Strike Class dragons.
The trainer of the powerful Skrill, Phantom.
And the legendary Night Fury, Nightwing.
She shall call upon the arrival of the Woolly Howls.
And the Snow Wraiths shall obey her.
The Triple Strykes shall arrive into the world.
And the Bewilderbeast shall rise from the depths of the northern sea.
When the power is given to her, Darkflower the Brave shall rise with the dragons by her side, to lead the battle against Drago Bludvist and the Dragon Hunters, and regain her role as the ruler of all dragons.
~~~~~~~~~~
About Me
What's up everyone? Welcome to my signature! You can call me DF, Dark, or just simply Darkflower.
Viking Name: DarkflowerTheBrave
Friend Code: PM me or friend me in the game
Likes: Dragons, Video games, Movies, Books, Reptiles
Personality: Friendly, Passionate, Fierce, Short-tempered, Emotional
My Dragons:
Earthquake-Rumblehorn
(Male)
[Adult]
Fireclaw-Deadly Nadder
(Male)
[Adult]
Toothless-Night Fury
(Male)
[Adult]
Icicle-Groncicle
(Male)
[Adult]
Windslicer-Razorwhip
(Male)
[Titan]
Amberfang-Deathsong
(Female)
[Adult]
Armorclaw-Armorwing
(Male)
[Adult]
Flamethrower-Singetail
(Male)
[Adult]
Eruptor-Eruptodon
(Male)
[Adult]
Threadwing-Hobblegrunt/Threadtail
(Male)
[Adult]
Gecko-Flamewhipper
(Male)
[Adult]
Zap-Shockjaw
(Male)
[Adult]
Whisperer-Whispering Death
(Male)
[Adult]
Duskwing-Triple Stryke
(Male)
[Adult]
Sonic-Thunderdrum
(Male)
[Adult]
Dawnstar-Raincutter
(Female)
[Teen]
Moonstryke-Triple Stryke
(Female)
[Baby]
Goldheart-Razorwhip
(Male)
[Teen]
Main Racing Dragon(s):
Toothless-Night Fury
(Male)
[Adult]
Windslicer-Razorwhip
(Male)
[Titan]
Zap-Shockjaw
(Male)
[Adult]
~~~~~~~~~~
Artwork
Coming soon...
~~~~~~~~~~
Other Stuff
Coming soon...
~~~~~~~~~~
BYE!!!
Who's online
There are currently 33 users and 154 guests online.